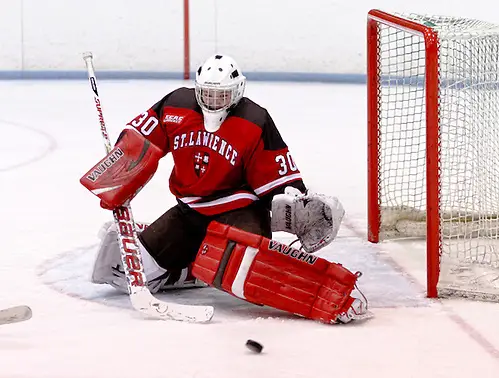 "We have a lot of kids who've experienced some highs in our program, winning the championship a couple years ago," coach Chris Wells said.
The problem for St. Lawrence is that other teams remember them winning that ECAC tournament championship; it's hard to sneak up on somebody who is looking right at you. The Saints gave it their best shot in March, but their latest playoff push came up just short against eventual champion Cornell.
Now Wells and his players start the climb over again. SLU didn't graduate a big class, but it included a couple of stalwarts in leading scorer Kelly Sabatine and defenseman Brooke Fernandez.
"I think the greatest thing about what we do is you get to reinvent yourself every year as coaches in a program and putting kids in the locker room as well," Wells said. "Each year, kids come back and they're dying to step up, and I think we have that just with the way some of the kids have come back. I think we're going to rely heavily on our senior class, as small as it is."
The class of four includes Rylee Smith, who has tallied over 100 points in her career at Canton, N.Y., and a pair of blue-line veterans in Mel Desrochers and Dayle Wilkinson. That duo will be all the more vital due to the loss of offensive dynamo Amanda Boulier to a medical redshirt.
"The person who is probably going to dictate which way we go the most is our goalie Carmen MacDonald, who has been excellent for us for two years," Wells said. "[She was] the playoff MVP two years ago and got us pretty darn close last year as well."
MacDonald was especially clutch in the ECAC quarterfinal versus Quinnipiac, shutting out the Bobcats in the first and third games. After the last couple of seasons, teams in the league may not be as anxious to secure home ice if the visitor that comes calling is St. Lawrence.