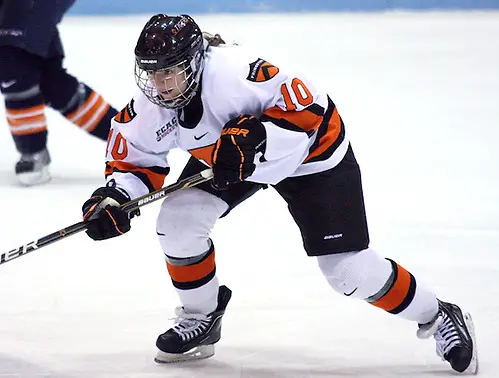 Princeton lost out in the playoff race last season as injuries had the Tigers by the tail.
"Last year, we played with 14, 15 skaters almost every game, which didn't bode well for us on the Saturday afternoon games," coach Jeff Kampersal said.
Despite the graduation of leading scorers Corey Stearns and Kelly Cooke, Kampersal looks to have the slack picked up by seniors such as Olivia Mucha, Sally Butler, and Denna Laing, who have been among those hit by the injury bug in recent campaigns.
"Those guys were our leading scorers their freshman year," he said. "I think they have a lot of potential."
He also expects to receive a boost from the other end of the roster.
"We have really good seniors and solid players throughout, but I think we have a really good freshman class coming in as well," Kampersal said. "Seven new kids, and then we have Jaimie McDonell, who was a really good freshman player for us last year who didn't play because she got injured. We'll have eight new players, so it is pretty exciting."
After a mediocre season defensively by his team's standards, Kampersal expects that aspect to rebound as well.
"We have a great goalie in Kimberly Newell," he said. "Last year, she was really young. She pretty much played all the minutes for us, and that took its toll on her. She pretty much took all the minutes in practice as well. Our other goalies were hurt, so we had to deal with pretty much overextending her. I think she had a really good summer. She's trained really hard. She made a select group to play against the Canadian national team players this summer, so she had a lot of training, a lot of conditioning this summer playing against the best players in her country. I think she's ready to step up and be better than she was last year and be really good for us."
Depending on how the offense comes together, how Newell handles the workload, and whether the team fares better on the injury front, Princeton could possibly end up hosting an ECAC quarterfinal series, or be out of the postseason all together. The ECAC playoff races figures to be that wide open.
"Anybody can finish in any position," Kampersal said. "Points will be tough to come by, so we have to be really good all the time."
In 2012-2013, Princeton was unable to get on a roll, never winning more than two consecutive ECAC games and winning back-to-back games on only one occasion in conference.
"We have a big home stretch after our first few weekends," Kampersal said. "That will be really important. Hopefully, we can get some points right in there."