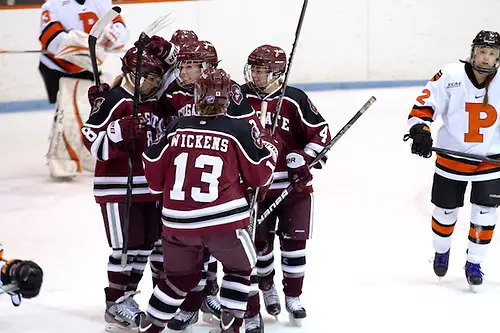 Coach Greg Fargo's introduction to Division I women's hockey was a trip to Minnesota a year ago with his new team to face the defending national champions. To the credit of Fargo and his players, they were undeterred by being outscored 18-0 in that series and went on to have a successful season, including a return to the ECAC postseason.
"For sure a different feeling coming into the second season and already having established expectations for the girls," Fargo said. "It's different than last year, when everything was new for us coaches and the players to get to know one another. We certainly feel like we're looking forward to getting things off and going. More than anything, we're just looking for our group to pick up right where we left off in that series against Cornell and start our year from that point."
The Raiders gave the top-seeded Big Red all they could handle in a quarterfinal series, holding final-minute leads in both games before losing heartbreakers. Colgate definitely didn't conduct itself as though it was content to just reach the postseason or act awed by being there.
"We knew that coming into the season, we were going to have to figure out ourselves a little bit because there were so many unknowns early on," Fargo said. "I think we hit a turning point around Christmas with our trip up to St. Lawrence and Clarkson, and that's when I think the kids really started to buy into what we were selling as coaches. From that point on, we felt like we could have a chance to win every single game that we played. The goal at the start of the year was to make the playoffs, and were we surprised? No, I don't think so. Certainly happy to reach that. I think looking forward now, everybody understands where our team could go and so we've raised our goals even more."
Though not graduating a large class, that class did include the Raiders' top two scorers in Brittany Phillips and Jenna Klynstra.
"Obviously, we're losing some scoring and some leadership in the seniors that graduated the last year," Fargo said. "I think for us this year it's going to have to be scoring by committee. Taylor Volpe is somebody that comes to mind first and foremost, had a good year last year, played extremely well down the stretch, but maybe didn't fill up the score sheet as much as she can. Melissa Kueber is another one who comes to mind who has a whole lot of ability to score. I think she's one of the fastest players. She sees the ice really well. She can make plays. We're going to look to her to contribute offensively. Miriam Drubel is another one who had a great offensive year for us. I wouldn't call her a goal scorer, but she works so hard that she puts herself in position to get her points every night."
Colgate appears to be set in goal.
"Ashlynne [Rando], like our team, finished off her season extremely well," Fargo said. "Down the stretch, when our team was on a run, she was one of our best players. I think having gone through what she went through last year as a freshman, with some of the ups and downs that you go through when you're a freshman, I think it's going to make her stronger in the long run. We're excited to continue to see her development, and hopefully, she'll be able to play an even bigger role for us this year as we make another playoff push."
As a whole, the players and coaches for Colgate are just more seasoned and prepared this time around.
"We've got six freshmen on the team, as opposed to having 22 freshmen," Fargo said.