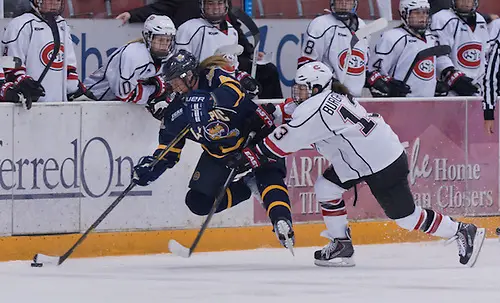 The 2014 NCAA National Collegiate Frozen Four will be held at High Point Solutions Arena at the TD Bank Sports Center, home to Quinnipiac hockey.
Bobcats coach Rick Seeley and his team are very aware of that fact.
"Anything can happen, but we're certainly not going into this year saying if we don't make the Frozen Four, it's a disappointing year," Seeley said.
It is, however, an intriguing opportunity. Minnesota-Duluth won NCAA titles on its home ice in 2003 and 2008. Minnesota triumphed at home in March after falling in Minneapolis in the final in 2006 and the semifinals in 2010. Each program also missed out on competing in a Frozen Four that it hosted.
For other programs, the timing of hosting has been just a little bit off. New Hampshire hosted in 2005, and then reached its first NCAA tournament and the Frozen Four a year later. Boston University was the host in 2009, but didn't start its run of four straight NCAAs, including two trips to the final, until the next season. Mercyhurst came up a game short as the host in 2011 after being a Frozen Four participant in each of the two seasons prior.
The Bobcats may not appear to be on the brink of a title run.
"This program has never gotten past the semifinals of our conference," Seeley said.
Quinnipiac doesn't need to look beyond its own conference to see an example of a program making a historic postseason push. Cornell hadn't won a postseason game in the NCAA era before it tore through the conference and national tournaments in 2010 and fell short of the title by the slimmest of margins.
So why not the Bobcats? What is to stop them from taking another step forward this season, and playing their way into the NCAA tournament? Once there, the lure of advancing to their own Frozen Four would be a great motivator.
"It's definitely something we've talked about as a team, and it's something we've talked about in the summer, but we've kind of made it a group effort to focus on each game," said junior goaltender Chelsea Laden.
Laden is still settling into the role of number one goaltender for Quinnipiac. She made her 17th career start over the weekend; Victoria Vigilanti, a senior a year ago, started 130 games for the Bobcats. That relative inexperience in goal is one of the hurdles that must be cleared to make an NCAA dream a reality.
"We have Syd Rossman, but she's a freshman and she's got some learning to do, but we think in time she'll be a great challenger to Chelsea for that starting job," Seeley said.
Rossman, like Laden, played her high school hockey in Minnesota, which would seem to make Quinnipiac in Hamden, Conn., an unlikely destination.
Laden said, "When I first heard 'Quinnipiac' and I got the email, I literally was like, 'Who is Quinnipiac?' I didn't even know how to say Quinnipiac. My dad was like, 'Don't leave any doors closed.' It was the very first visit I had. I had Yale and Princeton after that. I knew I was going to go to Quinnipiac as soon as I visited. I just felt like I clicked in and I loved the team, loved the coaches. It just felt like a good environment that I could succeed in."
In the environment Seeley has created for the Bobcats, there are certain steps to success.
"We have a team bible, and every year, we're supposed to follow it," Laden said. "We love 0-0 games, we're going to be hard to play against — it's something that's expected, and it's not an option."
A team can't play low-scoring games without strength on the blue line. As in goal, defense is a position where Quinnipiac is light on experience. A pair of defensemen made their NCAA debuts over the weekend, and so far, so good.
"I thought our two freshmen 'D,' Taryn Baumgardt and Emma Greco, just stepped in and played like veterans," Seeley said.
Three more defensemen are sophomores, along with one senior, Shelby Wignall. Despite the position's youth, Seeley sees stars in the making.
"Cyd Roesler, who had a great year for us, but she was a freshman and made her share of freshman mistakes, has just shown up with a focus," he said. "We were happy with her last year, but her conditioning is outrageous. She's already looked to as a leader as a sophomore. While I think most teams we played noticed her, I think she could be scary this year on the point. She's big, she's strong, and she's an intelligent player. She's gotten a lot better in her own zone. She's already running one of our power plays. We expect a lot of great things from her."
"Kristen Tamberg, while she's not going to be as offensive as Roesler, was getting a lot of attention last year," Seeley said. "It's just great seeing the difference. The biggest time for growth generally for a college player is between their freshman and their sophomore years. They come back, obviously knowing a lot more when they come back than they did the year before. She's just a different kid with so much confidence. Even though they're sophomores, those two could be leading us this year, that's for sure."
If that unit comes together well, it could make life easier for Laden or whomever winds up in goal. It helps as well if the forwards can make plays to prevent the puck from ever reaching their own zone in the first place. The Bobcats' offensive star, Kelly Babstock, proved to be particularly adept in that area in Quinnipiac's game on Saturday, picking off a number of St. Cloud State passes and turning them into scoring chances for her team.
"She's got a great offensive mind, so she's reading the play even when the other team has got the puck," Seeley said. "She does a lot of that. She does a lot of great back-pressures and just 180s back the other way."
Babstock has had to operate thus far this season without her usual offensive sidekick.
"Nicole Kosta might be our best all-around player, and she's out with a pulled groin," Seeley said. "So when she comes back, all of a sudden, we're pretty strong through our top three lines in terms of potential scoring. Kosta could be back in a week or it could be two months; we're not sure. In the past, that kind of injury would have killed us, but we're still a pretty good team without her, so we're really excited about how we might be when she gets back."
That excitement is based in part on how the Bobcats have evolved since Seeley took over the program in 2008.
"I would say the second and third year we got there a little quicker than we thought, but we basically leveled off for the last few years," he said. "I thought last year we took a great step. The first couple years we were successful, it was basically Vigilanti stopping 50 shots and us scoring a couple on 15. Last year we outshot every opponent I think all year and just played with a confidence we hadn't had."
Confidence is often bred from success, something Quinnipiac was able to find over the weekend despite its offense being stuck in neutral for five and a half periods. Babstock teamed with sophomore Nicole Connery and freshman Emma Woods to fuel a third-period comeback and earn the Bobcats a nonconference win.
"For how early in the season it is, they've really come together and solidified even without Kosta," Laden said. "She's a great playmaker; we could really use her out there. But just knowing that we have people to come in and fill in for her, and we can still find success, it's a really good feeling."
After opening the season with a tie at St. Cloud, a win in the second game of the series was huge for Quinnipiac should its postseason fate come down to a comparison with a WCHA team.
"We understand every game from a national standpoint is as important as the last game of your season," Seeley said. "Pulling out three out of four points here gives us a good position as far as common opponents, and obviously, a loss today would have eliminated any chance of going head-to-head with any team from the West."
Admittedly, we may be getting too far ahead of ourselves to consider NCAA selection criteria when the season has just gotten underway.
"We're learning as a group of girls that we can't look too far ahead," Laden said.
From past experience, I've seen that March and such PairWise Rankings considerations are not as far away as it may seem in October. Even if the PairWise numbers do not shake out in the Bobcats' favor, with the ECAC's automatic bid, a team like Quinnipiac can also play its way into the NCAAs by getting hot in the league tournament like St. Lawrence did a couple of years ago.
"If it happened — it's an Olympic year, there are some star-quality players not playing this year in the NCAA that will be back next year; that will level the playing field a little bit," Seeley said. "But there's still some really strong teams, and I have a hard time saying, 'Yeah, we'll be one of the top four.' With that said, that's why we play the games; anything can happen."
Even if nothing happens on that front, March can still be a positive time for the program.
"One great thing about Quinnipiac is I think it's a place that can do really well in the Frozen Four, whether we're in it or not," Seeley said. "I don't think there's many places like that. The buzz is about bringing in four great teams and making sure they have the best experience possible."