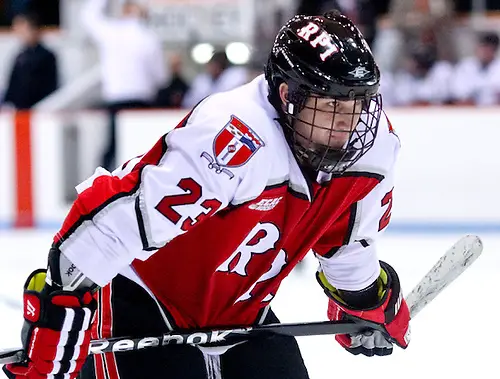 I swear, I just had the craziest dream … and so vivid, too. Bobcats, bulldogs, running amok in Pittsburgh … fighting over a trophy, while all the other animals watched. It was uncanny, it seemed so real.
But anyhow, no time for that; a new season's afoot and all bets are off. Our first column of the year makes an early examination of two programs that have tasted success recently but are dealing with different outlooks entering the 2013-14 campaign.
PE = mgh
You physics phanatics might get this one, but for the rest of you, that is a formula. Specifically, it dictates that potential energy equals mass times gravity times height.
It applies pretty well to Rensselaer this fall. With almost all the production from last year's second-place team back in the saddle, it's easy to see why the media picked RPI to finish atop ECAC Hockey come March.
"We return a good team; a team that showed a willingness to play the right way through much of the second half of last year," coach Seth Appert said. "It worked hard over the summer in order to put itself in a position to be successful, and now we have to take advantage of that."
To put that into physical terminology, we can consider the momentum built to be the height: The experience and success developed by last year's Engineers have put them in an advantageous and elevated position, to be sure.
Then there's the mass.
"We have the chance to be the best of any team I've had here," Appert said.
That's some heavy stuff, considering the 2010-11 team boasted names like Chase Polacek, Tyler Helfrich, Nick Bailen and Allen York, and qualified for the NCAA tournament for the first time in 15 years.
"We're trying to make that step, to being a top-10 team and a team that can contend for very important things at the end of the season," Appert said. "We're capable of that. This team is more capable of it than any other team we've had."
Appert's assessment is worth minding, given that he is a former national title-winner as an assistant at Denver, as well as the former president of the American Hockey Coaches Association. To put it one way, his words have gravitas.
"We don't have a Polacek or a Pirri or a Bailen — I don't see a guy up front or at our blue line that's going to be an All-American from an offensive perspective," he said. "But what we do have this year is the greatest depth, the greatest quality of depth, that we've had in the years that I've been here."
Mass? Gravity? Height? Check, check, check. Lots of potential energy for this batch of Engineers. Fans back in Troy, N.Y., hope to see it evolve into kinetic energy soon, and not wane under the weight of expectations and pressure like they did at Boston College last Sunday.
"Championship teams don't care who they play. They just don't. You play the same way. That's the lesson we learned — we hopefully learned — against Boston College," Appert said after Rensselaer was drubbed 7-2 by the Eagles.
What BC did that RPI failed to do, in his estimation, was "respond to adversity."
"Once something bad happened, we panicked," he said.
That result came just one day after a 6-0 beat down of Sacred Heart in Bridgeport, Conn., and Appert warned that such fluctuations in performance are unacceptable, regardless of opponent, location, or game time.
"What I think the early season schedule needs to teach us is that no matter who the opponent is, no matter where you're playing or the situation, this is who we are no matter what, and we're never going to waver from it again. That's what we've got to strive for."
The coach will see just how much of that message has been internalized in the coming weeks, as Rensselaer visits Boston University, then hosts Sacred Heart, New Hampshire and Harvard.
Height is one of the three critical factors in determining potential energy; too many negative results will leave fans and team members alike wondering where all the energy went, lamenting the wasted potential.
Bobkittens finding their footing
While RPI is trying to see exactly how tall it's standing in relation to the rest of the nation's elites, Quinnipiac is simply trying to stand.
The Bobcats may as well have had the rug pulled out from under them/been cut off at the knees/shot themselves in the foot (pick your most appropriate idiom) this offseason, graduating a considerable bulk of their Frozen Four runner-up squad.
Now, coach Rand Pecknold is just trying to get his team on its feet. It's far too early to worry about running.
"We're a drastically different team than we were last year," Pecknold said. "A lot of those seniors were very good hockey players with a lot of game experience, so we're trying to work the freshmen in. We're trying to work some sophomores in who didn't play a lot last season. We'll be a much better hockey team in December and January, once we get some of those new kids some games under their belts."
The team kicked off its season with an NCAA-approved trip to Italy and Switzerland, playing exhibition games against local pro teams. By all accounts, the trip was a productive, educational and enjoyable team-building endeavor, and one that is permitted by the NCAA once every four years.
That trip wasn't much longer than Quinnipiac's season-opening trek to Alaska for the Kendall Hockey Classic.
"I think it was positive. We didn't play very well in the Anchorage game — I called it the Frozen Four hangover — our better players were pretty bad in that game. We just expected to win because, we thought we would win," Pecknold said about Friday's 3-1 loss to Alaska-Anchorage.
"We completely forgot that we have to compete and we have to work hard. Credit to Anchorage; they outworked us and they deserved that win."
The Bobcats rebounded with a 4-1 victory over well-regarded Alaska the following evening, salvaging the split. Next up for the Bobcats: a home-and-home series against preseason No. 1 Massachusetts-Lowell.
"We definitely need to worry about Lowell, but I think ultimately it's more about us, being sure we can compete and do the little things well, and establishing our identity," Pecknold said.
While casual observers might presume an immediate need for five-on-five consistency, Pecknold pointed to his special teams as an urgent priority.
"Our biggest stumbling block is learning our penalty kill, which was No. 1 in the country last year," he said. "That's our biggest gap right now, in our team, is what we lost there."
What was lost was immense. What could be gained, however — with a little luck and a whole lot of work — could be nearly as monumental for the newest litter of Bobcats.
Around the league
St. Lawrence's sweep of Maine in the North Country was the cake. Goalie and player of the week honors for Matt Weninger and Greg Carey, respectively, was the sweet, sweet icing. Carey picked right up where he left off last year, scoring twice and adding three helpers, while Weninger stopped 58 of 61 Black Bears shots.
Union freshman Michael Pontarelli earned the rookie of the week award for his two-goal, two-assist weekend against Bowling Green. The Dutchmen tied Friday and won Saturday.
Clarkson is scoring by committee in its first four games (3-1), as 10 different Golden Knights have contributed exactly one goal apiece. Sophomore Greg Lewis and freshman Steve Perry (no Journey — nor, therefore, "Baseketball" — jokes, please) are battling it out in net, with each playing two games. That competition will be worth a watch.
Colgate went 2-for-5 on the power play in last Thursday's 4-1 win at Rochester Institute of Technology. The Raiders are 4-for-13 (30.8 percent) on the advantage in the early going.