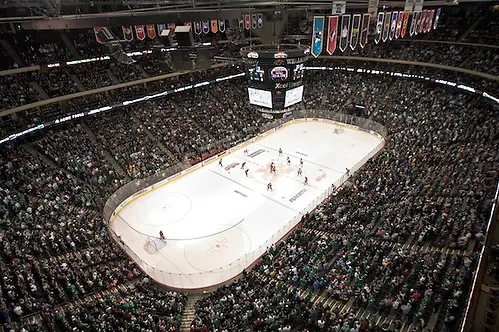 The NCAA released the list of 10 finalists to host the 2015 through 2018 men's Frozen Fours on Wednesday, and we asked our followers on Twitter and Facebook which of those sites they would most like to see host the event.
Here are some of the responses:
@USCHO my guess with Pegula funding Penn States program and the brand new @HARBORCTR opening in 2015 Buffalo gets 2015 or 2016

— Jason Leisten (@jason_bluegold) October 30, 2013
@USCHO Minnesota! Because they will actually have a hockey atmosphere there!

— Stephen Minnesota (@mymetrodome83) October 30, 2013
@USCHO Chicago. New site and great city.

— Melissa Wade (@HockeyPhotos) October 30, 2013
And from our Facebook page, these comments:
By Adam Slander:
Should be played at the X in St Paul every year. Just like college baseball have it a one location every year.
By Thomas Schmeh:
after all this time, was hoping that the sites would be more exciting (i.e. – new and different)
By Phil Squattrito:
My choices would be Pittsburgh, Buffalo, Columbus and St. Paul. They're smaller cities that are within driving distance of a lot of college hockey fans.
We'll know which sites get selected when the announcements are made on Dec. 11.