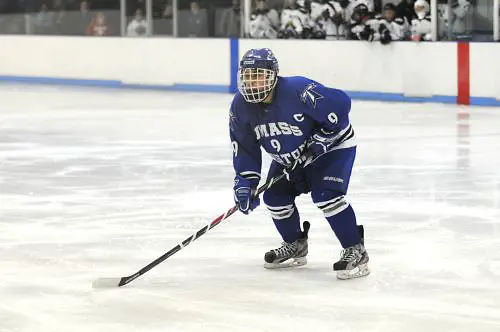 While some teams have already had a taste of regular-season action this past weekend with non-conference games, the real ECAC East conference play gets into full swing this Friday night.
As one might expect, the Norwich Cadets will be searching for their 16th consecutive regular-season title, but this year's path may be the most challenging ever with solid contenders found in defending conference champion Babson and their travel partner, Massachusetts-Boston.
While those teams may likely battle it out for the top spot, there is no lack of tough competition top to bottom in the conference this year and a home playoff berth is virtually anybody's to grab with a strong season and consistent play starting in week one.
Yes, it is a new season which brings new personnel, new chemistry and one new coach this year to build on the recent run of success for the Spartans of Castleton.
The coaches all rated the league this past week and for the most part, I agree with many of their predictions with a couple of exceptions. So here is a view from my crystal ball as we kick off the season and the short first half to the semester break where a good start and early points will mean a lot to the final standings in February where positions have often been determined by tiebreakers and head-to-head match-ups.
Expect no change in that occurrence this season.
Norwich Cadets
2012-13 Conference Record: 16-1-1 (First)
2012-13 Overall Record: 24-4-1
ECAC East Coaches' Poll: First
USCHO Predicted Finish: First
Overview: Captain and first-line center Travis Janke might have been concerned about his prolific linemates from last year's Frozen Four team, but opening night with fellow seniors Shane Gorman and Chris Duszynski showed the same productivity in a 10-4 nonconference win over Plymouth State. The first line accounted for eight points and 12 Cadets recorded a point in the season opener, showing great balance across the four lines. Last year's mid-season arrival Ryan Whitell had four assists on opening night and leads a solid returning group of defensemen that can play at both ends of the rink effectively. Goaltending is deep with three returning players that all saw significant time last season and gives coach Mike McShane options and the ability to keep the netminders fresh. A fresh face to watch may well be freshman forward Tyler Piacentini who, at 5-foot-4, plays very big around the net and has a knack for scoring goals like Friday night's game-winner against Plymouth State. The Cadets always are the big target for the rest of the conference and this year is no different. Despite the graduation of several key players who played in four consecutive Frozen Fours, this group is not likely to lose focus on the here and now in conference play.
Babson Beavers
2012-13 Conference Record: 10-5-3 (Third)
2012-13 Overall Record: 18-7-5
ECAC East Coaches' Poll: Third
USCHO Predicted Finish: Second
Overview: Last year's conference tournament champions, who also won their first NCAA tournament contest in 20 years, returns a solid nucleus to build on for success in the new season. Jamie Murray steps in for the graduated Zeke Testa between the pipes and looking to build on a solid freshman season behind what is probably the deepest group of experienced defense in the conference. Seniors Matt Furey and Ryan Heavey lead the defense that can shut down any opponent and transition to a balanced group of forwards led by Conner Berto, Andrew Bonazza and Nik Tasiopoulos. Newcomer Michael Phillips pivots a strong second line, while fellow freshman Joe Mleczko has found time on the first line to open the season. Babson finished 2-1-1 against Norwich last season including a victory in the conference championship game in Northfield, Vt. The teams play one of their two league games at Frozen Fenway next January in what should be a great matchup regardless of level during the first two weeks of the New Year. Lots of hockey between now and then, so expect coach Jamie Rice's squad to focus on just getting better every time out – you know they will be there when it counts in March.
Massachusetts-Boston Beacons
2012-13 Conference Record: 11-5-2 (Second)
2012-13 Overall Record: 19-6-2
ECAC East Coaches' Poll: Second
USCHO Predicted Finish: Third
Overview: The Beacons had a goal of winning three championships last season. They won the PAL Cup tournament at Thanksgiving and then the Codfish Bowl, which they host over the holiday break. The final jewel in the crown was to be the ECAC East title, but a semifinal overtime loss to eventual champion Babson eliminated the Beacons from the title chase. Nonetheless, coach Peter Belisle's team won 19 games overall last season and has many returning pieces of the puzzle, including senior forward Travis Daniel and a host of high-scoring forwards that will give matchup nightmares to most other coaches in the conference. Sophomore Zach Andrews returns in goal for the Beacons looking to improve on last year's 3.12 GAA and .891 save percentage stats, but also to build on his 17 wins achieved as a freshman. The Beacons can beat you a lot of ways, but their aggressive style and strong transition to offense will put pressure on teams to avoid turnovers and time in the penalty box. Just ask the Massachusetts-Dartmouth Corsairs, who surrendered four power-play goals on six chances to the Beacons in an 8-2 loss last Saturday night. The Beacons can score in bunches and if the back end holds up, they will contend for that elusive third piece of hardware this season.
Skidmore Thoroughbreds
2012-13 Conference Record: 8-9-1 (Seventh)
2012-13 Overall Record: 11-13-2
ECAC East Coaches' Poll: Fifth
USCHO Predicted Finish: Fourth
Overview: Skidmore returns its top three scorers from last season in Vlad Gavrik, Tony Giacin and Brad Schuler and the whole roster got a great tune-up for league play in their 11-1 win over Canton this past weekend. A total of 17 players recorded points in the nonconference matchup, which should help to build some confidence entering league play this weekend. It helps that the Thoroughbreds open at home where they were quite successful last season. In fact, improved play away from Saratoga Springs may be the key to success for coach Neil Sinclair's team that will be looking for more consistency and strong play from the goaltending tandem of Ben Freiberg and Spencer Sodokoff. Look for big things from newcomer Anthony Bird, who recorded four points in his collegiate hockey debut against Canton. The Thoroughbreds scored just 89 goals last season, so a more balanced attack will definitely help this team battle for a home-ice playoff berth and who knows how far they can go from there.
Castleton Spartans
2012-13 Conference Record: 9-8-1 (Fifth)
2012-13 Overall Record: 15-10-2
ECAC East Coaches' Poll: Fourth
USCHO Predicted Finish: Fifth
Overview: The Steve Moffatt era has officially begun at Castleton with the long-time assistant coach at Plattsburgh taking over for Alex Todd, who departed to take an assistant position with Nebraska-Omaha in the NCHC at the Division I level. Moffatt inherits a solid roster that struggled with inconsistency last year and Moffatt had the opportunity first hand to see just how good his current team could be when the Spartans defeated Plattsburgh in Rutland last season by a score of 5-2 during a stretch where they went 7-0-1 to end January. Four straight losses found them reeling into the playoffs where they eventually lost in the semifinals to cross-state rival Norwich. Ten freshmen have been added to this year's roster, which is led by seniors Ross Herzog, Ryan Delorme and Reid Lesswing. A new system, new team makeup and quick adjustment to overall team chemistry will be key to Castleton's success this season. With four goaltenders on the roster, including three returning players, the battle for playing time should be intense and give Moffatt an opportunity to build some consistent play from the crease on out.
St. Anselm Hawks
2012-13 Conference Record: 9-7-2 (Fourth)
2012-13 Overall Record: 16-8-3
ECAC East Coaches' Poll: Sixth
USCHO Predicted Finish: Sixth
Overview: The month of November is likely to hold the key to how St. Anselm's season will go as they open with six consecutive league contests against formidable opponents, including four of the six games on the road. Following the opening weekend at Babson and Massachusetts-Boston, the Hawks will then face Castleton, Skidmore, Norwich and St. Michaels to wrap-up the opening month. With four of last year's top five scorers departed and six new freshmen forwards on the roster, the team is likely going to rely on an experienced defensive core led by seniors Greg Crovo, Greg Merrill and Alex Pascal, along with the veteran goaltending tandem of Robert Kang and Nick Dries. Both goaltenders had pretty good numbers last season including goals-against averages below three and save percentages hovering around the 90 percent mark. They will need to get off to a hot start to show they can compete with the elite of the conference from the drop of the opening puck. If they mature quickly and have a good November, anything could happen for the high-flying Hawks.
New England College Pilgrims
2012-13 Conference Record: 7-8-3 (Sixth)
2012-13 Overall Record: 9-13-4
ECAC East Coaches' Poll: Seventh
USCHO Predicted Finish: Seventh
Overview: The Pilgrims again add a very European flavor to their roster that includes seven Swedes, two Finns and one player each from Japan and Croatia to go with four Canadians and 19 players from all over the United States on their 34-player roster. With the graduation of Shaun Sirman, the team has five goaltenders on the roster and only senior Sebastian Anderson bringing any experience having played in three games last season for the Pilgrims and 12 games overall in his time in Henniker, N.H. Junior James O'Reilly is the leading scorer returning to the squad this year that will be looking to find the magic combinations early from among the 12 freshmen and eight sophomores on the roster. Coach Tom Carroll and the Pilgrims traveled for a tune-up on Tuesday night against nonconference opponent Fitchburg State to see what they have against real competition and then face critical matchups with Massachusetts-Boston and Babson on the road to complete the opening week's three-game road trip. Six of the team's first eight games are on the road, where the Pilgrims struggled to a 4-10-1 record last season. They get to demonstrate the ability to play better away from home early and if all the pieces come together, they could contend for a home-ice berth.
University of New England Nor'easters
2012-13 Conference Record: 4-13-1 (Ninth)
2012-13 Overall Record: 6-17-2
ECAC East Coaches' Poll: Ninth
USCHO Predicted Finish: Eighth
Overview: Having played two games on the road against nonconference opponents to start the season, coach Brad Holt should be pleased with the team's 1-0-1 start to the season. The road trip continues with contests to open league play against Skidmore and Castleton, but the Nor'easters have the pieces to show they can play with anyone on their schedule. Junior Colby Drost has become the starter in goal with able backups and depth in Ian Edwards and Craig Ryan. Zach Lokey and Zeth Zielinski lead the offense and had a great opening weekend, collecting a total of seven points between them. A newcomer to watch may be freshman forward Connor Bates, who picked up two points in his first two collegiate games for UNE. The key for the Nor'easters will be their special teams, which struggled last season and did not look crisp in the opening two games. They will want to improve on both the power play and penalty kill to continue their way up the conference standings in their fifth season in the league.
Southern Maine Huskies
2012-13 Conference Record: 4-14-0 (Tenth)
2012-13 Overall Record: 7-19-0
ECAC East Coaches' Poll: Eighth
USCHO Predicted Finish: Ninth
Overview: Coaches love when I pick them down in the standings, or so they tell me anyway, so as to not over inflate expectations entering the new season. If that is true, then coach Jeff Beaney should be happy with the room I am giving him to move the Huskies up the standings this season. Sophomore defenseman Alex Pompeo, who led the team in scoring, is back, as are the second- and third-leading scorers in junior Ryan Seward and senior Angelo Vrachnas. The team is going to need to build some offensive prowess over and above the 71 goals scored during the entire season last year. Josh Hillegas, Michael Gendreau and Sam Guimond return in goal for the Huskies and Beaney will be looking for much more consistent play from his netminders if the team is looking to contend for a higher playoff seed.
St. Michael's Purple Knights
2012-13 Conference Record: 5-13-0 (Eighth)
2012-13 Overall Record: 8-17-0
ECAC East Coaches' Poll: Tenth
USCHO Predicted Finish: Tenth
Overview: The Purple Knights enter their second season under coach Damien DiGiulian with a virtual turnover in the roster. Based on graduation of a large senior class, the '13-14 edition finds 11 freshmen and six sophomores making up the core of the 28-player roster. Last year, St. Mike's scored just 66 goals in their 25 games played so clearly, additional offense is needed for a successful season. Junior AJ Pieprzak and Kevin Altidor, who both tallied 10 goals apiece last season, will be looked to lead the offensive game for the Purple Knights. Look for newcomer Anthony Maiuri to contribute offensively. In goal, junior Dave Donzanti posted good numbers in his six games played last season and will be looking to build on those as the No. 1 goaltender. Much depends on how quickly this young team meshes and embraces the defense-to-offense style of play preferred by their coach. A first game at home against travel partner Norwich will quickly set the bar about how far this team has to go to compete with the league's best.
This Friday, night the regular season gets underway – drop the puck!