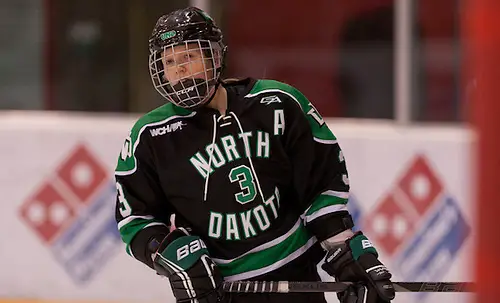 Arlan: You usually start us off, but given that it was a rather strange weekend on the ice, maybe it would be fitting if we change our order around. One doesn't need to look beyond the contests matching the Dartmouth and Harvard travel pairing on the road at Union and Rensselaer. All four teams won once and lost once. I doubt that has happened often. The last time Harvard lost to RPI was in January 2011, and on that occasion, both the Crimson and Big Green defeated Union but lost to the Engineers. That is more what one would expect, because Union has historically been the weakest of the four teams.
I think we have seen signs that the Dutchwomen are getting better. The surprise is that they handled Dartmouth with relative ease, wining 3-0. Yes, Dartmouth had an edge in shots, but 25 saves is a relative walk in the park for Shenae Lundberg after the amount of rubber she's faced in some games in her career. Following that up with a 3-0 loss to Harvard is more what we would expect. Marissa Gedman put Harvard up early, and after Miye D'Oench scored twice right out of the first intermission, Union just isn't built to dig out of that type of hole.
RPI continues to mystify me. A huge 2-1 win over Harvard despite being outshot is followed by a 3-1 loss to Dartmouth where the ratio of the shots was reversed. Maybe the goaltending in the ECAC just comes and goes, and it is hard to predict which team will get the better performance in the crease on any given day?
Candace: Nice of you to get us started this time. Maybe I should pick the games first and then I'll have a better chance of catching you in our picks race! I'm not sure what to make of the Eastern leagues. Cornell, aside from that one blip against Princeton, has actually had good goaltending in all its games. I think Harvard has had good goaltending as well. The Crimson only gave up two goals against Rensselaer, a reasonable number; it was their offense that failed them.
Actually looking at the ECAC, it doesn't seem like its the goaltending at all. Harvard is first in team defense, averaging a goal a game, and Quinnipiac is tied for second in team defense. Clarkson is fifth in team defense, and Brown, Cornell, and Rensselaer are 11-13, respectively. So, the ECAC is a league where defense is very strong. However, aside from Clarkson and Quinnipiac, the teams with strong offenses aren't the ones with the absolute best defenses. That's where Wisconsin and Minnesota rule. Wisconsin is second in team defense and sixth in team offense, and Minnesota is second in team offense and fourth in team defense.
Speaking of the Bobcats, I'm beginning to pencil them in as the team most likely to make its first NCAA tournament. Kelly Babstock is racking up points, tied for first nationally with three other players. Emma Woods is in the top 20 in scoring. At the other end, Chelsea Laden is second nationally among goaltenders. I don't think either of us expected the Bobcats to push Cornell so hard. What's your take?
Arlan: I don't mean to imply that the goaltending in the ECAC is bad, but rather that the delta from a good game to a bad period is rather severe in some cases. For example, Harvard has Emerance Maschmeyer, a highly regarded goaltender, who piled up 40 plus saves in shutting out Princeton, something Cornell couldn't come close to doing. She only allowed the two goals to RPI, but they came on 15 shots. That may be "reasonable," as you called it, but for the Crimson to contend, she has to be very good to great. That's likely an unfair expectation to place on a sophomore, but I believe that is what the state of the remainder of the Harvard roster requires.
Quinnipiac has been solid throughout the opening weeks. Rick Seeley's philosophy seems built on his teams playing defense first, second, and third, and if his team does that well and the game ends and the score is still 0-0, he's willing to live with that. That could play into why we see less of the wild ups and downs from the Bobcats. They had a bad second period in the loss to Harvard, but other than that, they've been very consistent. I did suspect that Quinnipiac would be able to limit Cornell's offense to an extent and not allow the six-goal game that the Big Red had been achieving regularly. Seeley would know that was his team's best chance to win, and it couldn't afford to get into a run-and-gun affair. However, to play 65 minutes and not yield anything beyond a shootout goal is impressive, so hats off to the entire Bobcats squad for that effort.
I agree that the odds of Quinnipiac making the NCAA tournament right now look fairly good. It has to be in the top three of the ECAC for that to happen; I don't see the league being strong enough to qualify four teams. The early PairWise Rankings like the Bobcats; they are fifth currently. We've had other teams like Ohio State, Robert Morris, and Northeastern that look to be in good shape to advance throughout the first semester, and then they have tailed off a bit in the second half. It doesn't take much, because that opening to be one of the eight gets awfully narrow by March. Still, I wasn't expecting teams like Boston University and Robert Morris to be ahead of the likes of Clarkson and Boston College at this stage. Harvard is also a ways down, but it figures that losing to a team with only one other win will hammer a team's RPI — the rating, not team. Interestingly, the Engineers only other win was over the Colonials, so maybe they've started playing spoiler early on.
After four straight trips to the tourney, I didn't know if Brian Durocher's club could make it five. Are you as surprised as I that the Terriers are firmly in the mix despite their personnel losses?
Candace: I can't say I am surprised. If you look at BU's schedule, it's not like the Terriers have played a lot of top teams. Realistically, only the Northeastern and New Hampshire games were potentially trap games, and the game against Northeastern went to OT. In fact, BU has played three OT games out of its first eight. That can help down the stretch, if the Terriers are in the mix. I think we will know a lot more about Boston University by the end of the first half. The Terriers face Wisconsin in Vail on Nov. 16, Harvard on Nov. 22, another pair with New Hampshire and Northeastern, then close with a pair at home against Minnesota-Duluth. And judging by this weekend's results, the St. Cloud game on Nov. 15 could also be potentially tricky.
I think the second half will prove critical for both Boston University and Boston College, as the two faceoff four times in the second half. The Eagles are hovering just outside playoff position in the PairWise, but I'd expect that to change by the end of November, as the Eagles have some good chances to make up PairWise ground in facing Quinnipiac on Nov. 15 and then a pair with Cornell at the end of November before closing with a game against Harvard. I think right now is way too early to be using PairWise as an indicator. Where do you expect BC and BU to be in a month?
Arlan: In Boston. Beyond that, just about anything I predict will wind up being wrong. I get that BU hasn't exactly played national powers, but I still expected more missteps, particularly early. In terms of blue-chip players, the Terriers lost as much as anyone in the league. I've been impressed by how Louise Warren has elevated her game, because she hasn't had as much of a role as a scorer in her three previous seasons. Plus, Durocher has again managed to patch holes on the blue line. While I don't have a lot of faith in the PairWise at any point in the season, BU is solidly in the top eight in Rutter's Rankings as well, above BC and Clarkson. I expect that the Terriers will have their hands full with Wisconsin, but who knows. I expect that they'll be more competitive than when the teams played in Madison in a rematch of the 2011 NCAA Championship. The Harvard game is likely a toss up, and BU should be a favorite in the rest, although getting a sweep over Minnesota-Duluth will be difficult. St. Cloud State is probably a better defensive team than the numbers show, as the Huskies allowed 18 goals to North Dakota and Wisconsin and a total of 11 in six games with Quinnipiac, Ohio State and Minnesota-Duluth. So heading into the break, I'd guess that BU will have about three additional losses.
The Eagles shouldn't lose more than one game before Thanksgiving. If they come through that Cornell-Cornell-Harvard stretch in good shape, then they should be back on firm footing to battle for home ice in an NCAA quarterfinal. Will it be as easy as that? I have trouble separating the Boston College team I expected to see from how BC has actually performed over the first month or so. Given nobody else in Hockey East or the CHA has looked like a beast, the Eagles should at least control their own destiny to make the top four for quite a while. Even if a couple WCHA teams and someone like Cornell gets ahead of them, they can still reel in a Harvard or BU.
Beyond those two, it looks like the rest of the league will beat each other up. Two years ago, Northeastern separated from the pack and it was the three Boston teams at the top of Hockey East. Last year, it was essentially a two-team race for the Eagles and Terriers early on. I thought we may have the Eagles in a cakewalk, but maybe it will be a repeat of last season instead. I'll change my mind at least a dozen times before anything is decided.
Clarkson is right up there with BC in terms of concepts I cannot grasp. So the Golden Knights struggled with Mercyhurst and Cornell; okay, that's understandable. The inability to defeat Brown was reminiscent of the loss to Colgate last year. Is this just a temporary hangover from the earlier losses, or signs of a bigger problem?
Candace: I think it could be a sign of bigger problems. We discussed Clarkson last week, and I asked whether the loss to Cornell had you reconsidering the ECAC, and you said that you weren't expecting a three-game winless streak at that point in the season. Clarkson finally got its offense untracked on Saturday against Yale, putting up seven goals, but Clarkson's Achilles' heel in the last two years has been a lack of timely goal scoring. The Golden Knights offense currently sits at fifth, averaging 3.73 goals a game, but their offense is feast or famine, seemingly far more so than some other teams. I think their offensive stats are skewed dramatically by the 12-spot they put up against an under-prepared RIT in the first game of the season, plus the nine goals they scored in two games against St. Lawrence on the second weekend of the year. Since then, until the Yale game, they were averaging less than two goals a game over a seven-game stretch. I remember that last year, offense was a concern for Clarkson, which ended up winning most of its games by 2-1 or 3-2 margins, with a few 1-0 games thrown in for good measure. Clarkson will always be in the mix because its defense and goaltending is outstanding, but unless the offense starts showing more consistency, I wonder about how they will do in a tight playoff game, especially against teams like Cornell and Boston College that tend to score a lot. What are your thoughts on where Clarkson is at?
Arlan: It is hard to sort out just what is normal offensive production for this year's Golden Knights. Half of their goal production came in those three games in the two first weeks. Even the nine goals scored versus St. Lawrence were against Giulia Mazzocchi, not regular Saints goalie Carmen MacDonald. Given that, the most impressive wins are likely the two over Syracuse, and at least Clarkson averaged three goals there. But if it is going to be a case of just two or three goals in games against the best teams, then that usually stout defense can't go away as it did when Cornell put up six. And the offense can slump further, as it did against Mercyhurst, scoring once in 125 minutes. Erin Ambrose was lighting up the scoreboard early, but the two assists she had Saturday versus Yale were her first points since Clarkson started its bumpy stretch three weeks ago. Jamie Lee Rattray can't be left to do it all on her own, so Ambrose and Carly Mercer have to be on the score sheet the bulk of the time.
Princeton is the other team of interest in the ECAC. My assumption was that Kimberly Newell would be in net most of the time, but the Tigers would have to scramble to find enough offense. Instead, they've been able to score against everyone except Harvard, but Ashley Holt has had the better numbers in goal after Newell had a tough night versus Cornell. I don't know that Princeton has enough pieces to think about a title, but they do look like one of those teams that nobody wants to face in the first round of a tournament, possessing speed, some impact seniors, and a national-team caliber goalie. Could the Tigers be this year's SLU and prove to be an unwelcome playoff visitor as February rolls into March?
Candace: I'm not sure. I think beyond the quartet of Cornell, Clarkson, Harvard and Quinnipiac, the ECAC is a grab bag of teams, so there's potential for a possible spoiler in the ECAC quarterfinals, but I can't really see it going beyond that. Princeton has shown some competitiveness so far, and beat Dartmouth, but I'm not sure how much to read into the Cornell game, because it's almost like the Big Red went to sleep after jumping out to a 5-0 lead. This coming weekend, when the Tigers face Yale and Brown, will give us a better indication of where Princeton is at. Those are teams the Tigers need to beat to really show that they are ready to jump up to that next level.
Speaking of teams moving to the next level, what do you make of St. Cloud? The Huskies followed up an impressive 4-1 win at Duluth against the Bulldogs with an overtime tie. Is St. Cloud ready to muscle into the WCHA middle tier, after a couple seasons of futility? And what about Minnesota-Duluth? Are they still on the downturn?
Arlan: St. Cloud State has a few things on its side. It has improved at staying out of the penalty box. The Huskies are a pretty good defensive team. Their blue line is much better than it has been for a while in terms of mobility and ability to handle the puck. Junior Julie Friend is a very good goaltender, and sophomore Katie Fitzgerald isn't far behind. The difficulty in muscling into any tier is that St. Cloud lacks offensive muscle. Scoring 13 goals in 10 games isn't going to intimidate anyone. The Huskies will try to scratch out a couple of goals and parlay that into a victory. That will earn them some points, but not enough to surge up the standings. They are still below Ohio State, but if they could somehow figure out a way to get up to fourth or fifth, that brings the benefit of avoiding the WCHA top three when the playoffs start.
I still believe that Minnesota-Duluth is better than it was last season. The problem is that last year was the Bulldogs' worse season ever. They have young talent and are heading in the right direction, but having played four WCHA series, they failed to earn a win in three of them. Minnesota-Duluth just lacks the firepower it could once unleash. North Dakota can play without Michelle Karvinen and Susanna Tapani and still win easily at Bemidji State. Minnesota-Duluth loses defenseman Tea Villila to the same Finnish national team and can't win at all on home ice. That's the kind of talent gap they now face to the top of the league. In recent years in the WCHA, if a team skids in one season, it takes a while to climb back up.
The CHA also has a team that looks to have upgraded its talent in Robert Morris. We've talked about freshman goalie Jessica Dodds previously, and they've added both depth with their rookies plus impact in people like Brittany Howard and Maeve Garvey. Do you like the Colonials' odds to take home CHA Rookie of the Year honors in the spring?
Candace: I'd say yes at the moment. Right now, Howard occupies that slot that Minnesota's Hanna Brandt occupied for much of last season: a rookie contenting for the national scoring lead. Howard also currently leads the country in assists, a sign of poise, as often freshman coming into college hockey want to prove to their coaches their offensive prowess by scoring goals. That Howard is contending for the scoring lead by setting up her teammates is a good sign. As far as CHA Rookie of the Year, I don't see anyone who is really a threat to Howard, especially if she keeps producing. Mercyhurst is mostly led by upperclassmen, including offensive powerhouse Christine Bestland. RIT has Lauren Klein playing well, but nowhere near Howard's level, and I doubt Brooke Stoddart will get enough minutes in net to make that much of an impact. Sarah Neilsen is showing signs at Penn State of being an emerging player, and the Nittany Lions have a couple of others in Laura Bowman and Kelly Seward, but again, Howard is far outstripping their offensive output. Lindenwood had Nicole Hensley last year, but none of their freshmen are really making an impact yet. Syracuse has Jessica Sibley, who is playing well, but her points production isn't in Howard's league.
I'll be intrigued to see how Howard does when the Colonials host Mercyhurst this weekend. Even last year, when the Colonials were in the doldrums, they were still a pest to Mercyhurst, taking three wins in four games. What do you think of that upcoming series? Is this the year that Robert Morris establishes itself as the favorite for the CHA?
Arlan: I don't see the Colonials as the favorite. As well as they did against Mercyhurst, they had CHA-related problems of their own. One win combined versus Syracuse (1-3-0) and RIT (0-3-1) won't get it done. Each will be a different team this year, so I expect that there will be some movement in those records. However, the returning players on each side remember what happened last season. If the Orange or Tigers fall behind in a game with Robert Morris, they will have players thinking, "We can beat this team." Just as what we call momentum can be established within a game or a season, there may be a similar carryover from year to year. Mercyhurst will have players believing that the Lakers can win the league, because that's all that they know. Robert Morris had a little more success out of conference than teams like Mercyhurst and Syracuse, but those two had schedules that were a bit tougher. I'll stick with Mercyhurst as the favorite, but those three look to be very close, and RIT will have something to say by stealing points from the others, if not contending.
I expect the WCHA to wind up being a three-team race as well. A gap has opened between Minnesota, North Dakota, and Wisconsin and the rest of the league. North Dakota will be done playing Minnesota and Wisconsin by Feb. 1, so we will have an idea of its likely finish a little sooner, while the Gophers don't head to Madison until the middle of February. North Dakota has its first shot at those teams head-to-head this month. After a bye week, North Dakota travels to Minneapolis and then hosts the Badgers.
Brian Idalski, who picked up his 100th win at North Dakota over the weekend, has a lot of offensive options on his roster. Assuming everyone returns from Four Nations in good health, can that depth find ways to exploit what looks to be better defenses in Minnesota and Wisconsin?
Candace: Hmmm, no offense to North Dakota's offense, which outside of Minnesota, Cornell, and Boston College, is one of the more explosive, but I'm not too sure. After all, North Dakota couldn't really do it last year, when they had the Lamoureux sisters. They came close a couple of times against Minnesota, particularly in that NCAA triple OT quarterfinal heartbreaker. And while North Dakota did get a measure of revenge by knocking off the Badgers in the WCHA semifinals, they still had a losing record against Wisconsin last year. Jocelyne and Monique Lamoureux were offensive talents that come along once in a blue moon. North Dakota has some excellent talent up front this year, including Joesfine Jakobsen, Karvinen, and Meghan Dufault, but last year, those three notched approximately half of Jocelyne's offensive numbers and two thirds of Monique's, and Monique was playing defense for much of the year. North Dakota has some freshmen putting up good numbers this year, including Tapani and Gracen Hirschy, but when you consider the difficulty North Dakota had beating Minnesota and Wisconsin with the Lamoureux sisters up front, I think they have a more difficult challenge this season.