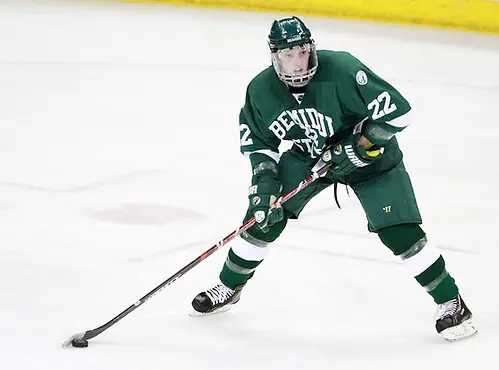 A season ago, Bemidji State was an offensively challenged, six-win team that managed just five victories in WCHA play.
A month into this season, however, the Beavers have the look of a much-improved team. Sure, they still play their frustrate-your-opponent defensive style. But so far this season they're getting a few goals, too.
Bemidji State sits atop the WCHA's early season standings following a road sweep against Alabama-Huntsville and a home split against league preseason favorite and rival Minnesota State, and it scored seven goals in each series.
"I thought the guys really grew," coach Tom Serratore said on Saturday, following a 4-3 loss to the Mavericks. "We grew this weekend, and [Minnesota State's] a good hockey team, so very satisfied."
Junior forward Danny Mattson and sophomore forward Cory Ward are the offensive leaders. Mattson has eight points, including seven assists, while Ward has five goals.
Seven different players scored goals against the Mavericks, and the fourth line provided a big spark with three goals, including the first two of the game on Friday. Fifth-year senior Matt Hartmann, who had played in just 25 college games, scored his first collegiate goal, and it ended up as the game-winner. Linemate and freshman Bob Kinne scored that game's first goal, and the line's center, junior Mitch Cain, scored on Saturday.
"It's good to see we can compete with the top teams in the league or who is said to be the top teams," Bemidji State captain and defenseman Matt Prapavessis said. "We fit right along with them, and we're going to keep getting better."
The Beavers will face another of the expected league favorites this weekend when they play at Ferris State.
"One weekend doesn't make anything; the bottom line is it's a long season," Serratore said. "How are we going to be next weekend on the road and the next weekend and the next weekend after that? It's a long season, but the guys got better this weekend."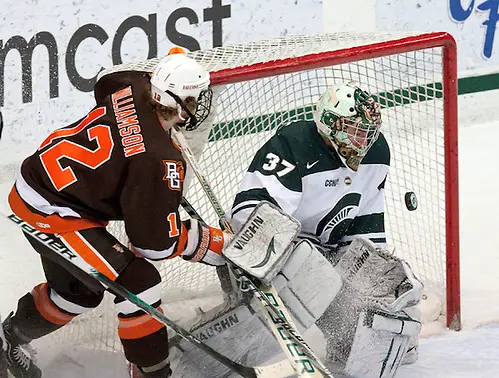 Falcons scoring just fine without Carpenter
Bowling Green has been without its leading scorer, Ryan Carpenter, for the first eight games of the regular season while he recovers from a surgically repaired broken finger, but the Falcons' offense hasn't skipped a beat.
Bowling Green, which will be without Carpenter again this weekend at Minnesota State, is tied with Alaska for second in the WCHA in scoring at 3.38 goals per game. The power play is also tied with the Nanooks for second, clicking at 22.2 percent.
Both teams trail Ferris State in both categories, but the 27 goals scored by the Nanooks and Falcons leads the league.
"Ryan's health is the most important thing and if we were 0-8, would the pressure be higher to have him in the lineup? Yes," Falcons coach Chris Bergeron said Tuesday during his weekly news conference. "I'd be lying if I said no, but right now, we're happy where we are and we're excited to add a pretty good player to our lineup."
BGSU senior Bryce Williamson is alone atop the WCHA in scoring with six goals and five assists for 11 points in eight games. Williamson finished with 12 goals and seven assists last season in 41 games.
Williamson hasn't been a one-man show making up for the absence of Carpenter, though. Eleven different Falcons players, including Williamson, have scored goals.
Falcons sophomore forward Ben Murphy, who had six goals and seven assists last year, is tied with Williams for second in the WCHA in goals scored at six.
Both players are also tied with the WCHA leader in goals — Northern Michigan senior forward Stephan Vigier (7) — atop the league in power-play goals at four.
Fueling those two goal scorers has been junior forward Dan DeSalvo with two goals and a WCHA-leading eight assists. Right behind him in assists is sophomore defenseman Ralfs Freibergs, who has seven assists in eight games.
"[DeSalvo] has been thrown into a situation where without Carpenter, he's had to eat up some minutes," Bergeron said.
"He might be developing into a pass-first assist guy, but we all know he's a guy who can score goals as well."
Around the WCHA
• Minnesota State started a goaltender not named Stephon Williams for the first time in nearly a calendar year when freshman Cole Huggins got the nod last Saturday night. Huggins, a Centennial, Colo., native who played for Coquitlam of the BCHL, stopped 28 of 31 shots to win in his debut start. Williams, last season's first-team All-WCHA goalie, had started 37 games in a row, dating to Nov. 30, 2012.
• Alabama Huntsville is one of three teams in the nation that has no wins or ties. The 0-6 Chargers rank last in the country in offense with just six goals in as many games. They're also allowing 4.5 goals per game. Only American International (5.0) and Dartmouth (5.5) are allowing more goals per game.
• Alaska will leave its home state for the first time this season when it plays at Lake Superior State. The Nanooks are perfect on Friday nights so far this season, going 4-0, but they're winless on Saturdays with an 0-2-2 mark. Alaska's loss to Northern Michigan last Saturday was its first home loss this season.
• Alaska-Anchorage was called for 44 minutes worth of penalties, including two majors/misconducts, in a 6-1 loss on Friday at Bowling Green. It was the most the Seawolves had been penalized in nearly two seasons.
• After playing five of its first seven games on the road and winning four of those five road games, Ferris State plays its next six games over the next three weekends at Ewigleben Ice Arena in Big Rapids, Mich., starting with Bemidji State on Friday and Saturday. The Bulldogs don't leave the state of Michigan again until Jan. 3-4 at Minnesota's Mariucci Classic in Minneapolis.
• Lake Superior State, which is the only WCHA team to not have played a league game yet, kicks off life in its new league in style with a number of events. The university doesn't have a football program, so the school chose the start of WCHA play as its homecoming weekend, known as "Great Lake State Weekend." In addition, the Lakers are holding the community-wide "Pink in the Rink" fundraiser and women's health expo this weekend. According to LSSU, "Pink in the Rink" has raised close to $90,000.
• Michigan Tech welcomes Michigan State to John MacInnes Student Ice Arena in Houghton for the first time since 1984, when the Huskies swept the Spartans over the Winter Carnival weekend. The Huskies are coming off a pair of one-goal losses at Michigan. Four of the Huskies' six losses — all on the road — this year are by one goal.
• NMU's Vigier is doing more than lead the WCHA in goals and power-play goals. Vigier is tied for fourth in the WCHA in scoring with seven goals and two assists. His three game-winning goals leads the WCHA as well. As a junior in 2012-13, Vigier had seven goals all season with 14 assists. Vigier had 13 goals and 13 assists as a sophomore.
• WCHA players of the week: Bowling Green junior forward Dan DeSalvo (offensive), BGSU sophomore defenseman Ralfs Freibergs (defensive) and Ferris State freshman forward Kyle Schempp (rookie).