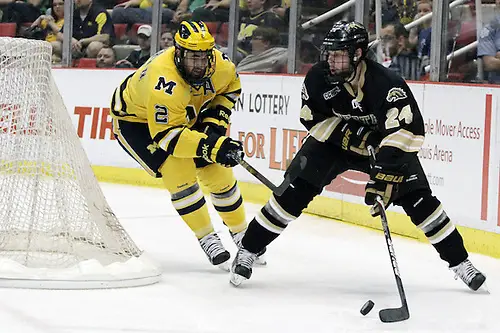 For as rough as the opening weekend of the season was for Western Michigan, life has become increasingly enjoyable for the Broncos ever since.
The start of the 2013-14 season provided Western with a rude awakening in the form of a pair of losses to No. 4 Notre Dame in which WMU was outscored 7-0. Since then, though, the Broncos are 3-0-1 in their last four games and are coming off of a home sweep of new NCHC rival Colorado College.
Western had to climb out of an early 2-0 hole in Friday's first period but then scored three goals of its own without reply en route to a 3-2 win before handing the Tigers arguably a more convincing 5-1 loss in the rematch.
Broncos coach Andy Murray said Monday at his weekly news conference in Kalamazoo that, overall, he was happy with his team's ability to get the full six points from its first NCHC weekend series.
"For us to win two games on the weekend against a quality opponent like Colorado College, it's a strong statement from our team, and we're very pleased with the results," Murray said. "Obviously, both games were very competitive, and Colorado College battled us both nights and certainly the first night had opportunities to go up on us 3-0 but failed to get that done, and we found a way to get up [into the lead] and win that particular hockey game.
"The second night, we started much stronger. We put a lot of pressure on [CC's] net and were rewarded with the first goal and got up 3-0 in the hockey game and proceeded to play poorly for the majority of the second period. That's something we have to address, but we got some big goals and found a way to get the points."
Saturday's second period was often dominated by the visitors as CC outshot Western 20-7 in the frame. However, solid goaltending from Frank Slubowski and three timely WMU goals in the second period saw the Broncos build up a 4-1 lead that they would only add to in the third.
Perhaps the biggest goal of Saturday's game was the Broncos' fourth of the night. Justin Kovacs buried the puck past CC goaltender Josh Thorimbert at 14:23 of the second period, just 21 seconds after the Tigers' Scott Wamsganz had pulled a goal back for the visitors to cut into what had been a somewhat comfortable 3-0 lead for Western Michigan.
"I think we got a little bit arrogant with our game … in that second game when we got up 3-0," Murray said. "We stopped doing the things we needed to do. We stopped getting pucks deep and started turning the puck over, and subsequently we were outshot a great deal in that second period while leading.
"Both nights, we got key goals. On Saturday night, [CC] scored to make it 3-1 and our 'gold unit,' as we call it, with Josh Pitt and Shane Berschbach and Justin Kovacs came back and got a very big goal right on the next shift to get us up 4-1.
"We need to learn from that series, and we've got to keep the foot on the gas pedal, so to speak, but we'll take the wins."
Murray also admitted there was some uncertainty coming into last weekend's series against a CC team the Broncos had never faced in their coach's time at Western. It's something the Broncos are going to encounter a lot this season as they face six new league opponents they don't have a ton of recent history with, but Murray felt his team passed the tests surrounding that the first time out.
"I think on Friday night there was a bit of an unknown factor in the hockey game: How do we fit in in the new league and what's it going to be like?" Murray said.
"I think our players, once they saw that we can play at this level, we proceeded to play fairly well."
Although Murray was quick to emphasize that two October games do not make a season, the two-game set with CC was undoubtedly an overall pleasant maiden NCHC voyage for Western (3-2-1, 2-0 NCHC), and he mostly liked what he saw from his Broncos.
"It's two hockey games, [so] we don't want to be passing out any bouquets at this particular point," Murray said, "But we played hard, we battled, we played physical."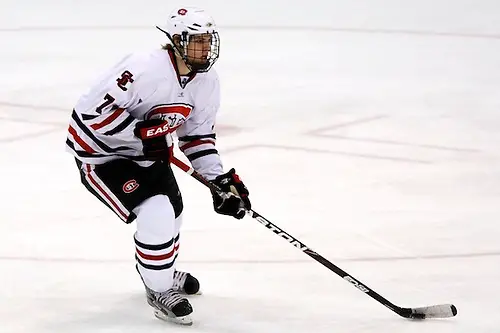 Surprising defensive strength leads St. Cloud State
North Dakota suffered its first sweep at home in nearly four years last weekend, but one of the masterminds behind that feat felt success came much more from the back than the front.
Third-ranked St. Cloud State (5-0-1, 2-0) scored three goals in 3-2 and 3-1 wins over UND in Grand Forks last weekend, but Huskies coach Bob Motzko gave most of the credit to a defensive corps that has showed itself stronger than he'd anticipated coming into this season.
"I don't know if you ever go [into a series] expecting anything, but we're off to a good start, no question," Motzko said. "But it's also very early and the thing for us is we're playing very good defensive hockey right now. Our offense isn't really clicking at a high level, but we're getting ourselves a chance in our games, and that's good because all of our games have been very tight."
Motzko continued at length: "I am a little surprised at the strength of our defensive corps. We had great concern losing Nick Jensen because he was the anchor of our team a year ago and he played so many critical minutes where we couldn't think in the summer we could replace all the minutes that he played.
"But we started the season with returning players like Kevin Gravel and Andrew Prochno, who have been outstanding. Ethan Prow has stepped right in and taken on more of a role in those minutes we lost. And then we have two freshmen that have been very solid.
"It's not that they play with emotion so much; they're just very steady back there and have been solid for us, and so we're a little bit ahead defensively from where we thought we were going to be [six games into the season]."
The Huskies fell behind in both games against UND, but Motzko said the key to SCSU coming away with all six points from the weekend was the defense keeping its shape and not allowing the Huskies to fall behind any further while trying to find goals at the other end of the ice.
"I think that was what was critical, because both nights we fell down 1-0 but we were able to hunker down and stay strong defensively and get good penalty killing and Ryan Faragher was strong for us in our net," Motzko said. "That gave us time to find some offense and get some momentum going, and that [attack] came in spurts in the third period on Friday and in the second period on Saturday.
"They were short spurts because it was a low-scoring weekend, but it was about not letting the games get away from us that weekend. It's just a great environment [in Grand Forks], and [UND] feeds off that so well, so it was that strong defense that helped us give us a chance while we tried to find some offense."
Each of the Huskies' six games so far has been close; neither side in any of those matchups was able to open up and maintain a big lead over the other. The Huskies would like to heat up offensively, but Motzko is pleased so far with his team's performances in its zone.
"All six games have been by one or two-goal [margins] and there hasn't been much separation until right down to the wire," he said. "We've got a strong corps on defense, a good goaltender back in Ryan Faragher, and we've given ourselves a chance and found a way in games in this short season so far, and that's all it is.
"It's a snapshot from 30,000 feet that's pretty limited right now, but obviously we're pleased with what we're doing on the defensive side."
Caggiula quick to recover and contribute
Finally this week, an injury update on North Dakota forward Drake Caggiula, who was stretchered off on Oct. 26 during an exhibition game against the U.S. Under-18 Team.
Yeah, he's fine.
Although UND was swept last weekend by St. Cloud State, Friday's first period provided a memorable goal from Caggiula, six days after a fluke play ended with him falling to the ice at an angle on his neck after trying to hurdle a fallen U-18 player.
He was taken off the ice on a stretcher and sent via ambulance to Grand Forks's Altru Hospital. He was released two hours after admittance after having X-rays taken of his neck, shoulder and collarbone before being sent on his way under his own power with the help of a neck brace.
He was able to move his hands and talk inside the ambulance, and he didn't lose feeling in his extremities.
Fast-forward to last Friday, where Caggiula got UND on the board first just 3:10 into its series opener against the Huskies. Barreling into the St. Cloud zone down the off-wing, he weaved the puck around and then through Gravel's legs before capping a gorgeous individual effort by beating Faragher high glove-side just inside the near-side post.
Efforts from UND's athletic department to advertise the play saw it become FOX Sports Live's play of the day for Friday. It was also the top play of the week in the NCAA's weekly highlights. Take a look at the highlight from North Dakota Athletics:
[youtube_sc url=http://www.youtube.com/watch?v=9Ka8_ERM0js]
Caggiula had picked up an assist on a Rocco Grimaldi goal against Vermont on Oct. 12 with a similar move down that same side of the Ralph Engelstad Arena ice, and he said it's something he's grown up working on.
"Coming off the off-wing, as a forward you don't have a lot of options," Caggiula said. "And I just came into the neutral zone with a lot of speed and thought, 'Hey, if I can make a move around [Gravel], I can get the puck on net quickly and maybe get a scoring chance or a rebound and hopefully [the puck] will go in.'
"That move's something I try in practice every once in a while. It's tough for a defenseman skating backward to have the puck go through his knees or under his stick [as he tries] to play the puck. That's a move I've kind of grown up doing and worked on it during last week, but I got pretty lucky that it's worked twice already this year."
Although the results on the ice last weekend weren't what Caggiula and his teammates were looking for, his wonder goal still proved a happy ending to what could've easily been an even scarier week than it was.
"I'd never experienced an injury like that before, and obviously Saturday I was pretty scared and didn't know what the outcome was going to be and didn't know how long I was going to be out for," Caggiula said. "But luckily I started recovering pretty fast and took Sunday and Monday off of that week.
"I had a lot of people asking me questions, so it was a mentally straining and physically demanding week just because I was trying to do so much rehab, so it was definitely one of the tougher weeks I've had."
Players of the week
Offensive player of the week — Josh Archibald, Nebraska-Omaha: Archibald is arguably the biggest reason Nebraska-Omaha picked up its first-ever win at Denver Friday night before he and his Mavericks compatriots did the business again the following night. The junior forward scored overtime winners both nights against the Pioneers in a pair of 3-2 decisions, and he had a four-point night Friday (two goals and two assists) and finished plus-3 on the weekend.
Defensive player of the week — Jordan Oesterle, Western Michigan: A junior defenseman, Oesterle was a rock for the Broncos on the blue line during their sweep last weekend of visiting Colorado College. He scored Western's game-tying goal in Friday's 3-2 overtime win, and he led the Broncos to a perfect 10-for-10 on the penalty kill over two games, in which the Tigers scored only three times.
Rookie of the week — Jake Guentzel, Nebraska-Omaha: Guentzel has quickly built up his case to be considered UNO's best newcomer this season, and his performances last weekend at Denver will only help matters. The freshman forward scored the Mavericks' opening goal Friday before picking up the primary assist on Archibald's first overtime game-winner of the weekend, and Guentzel followed that up by doing it again — scoring the first goal and getting an assist on the game-winner — in the rematch.
Goalie of the week — Ryan Faragher, St. Cloud State: The junior Ontarian improved to 5-0 on the season after leading SCSU to its third and fourth wins in a row. Faragher made 45 saves and allowed only three goals all weekend against UND en route to the Huskies' first sweep in Grand Forks since 2006 and the first time UND had been swept at home by anyone since 2010.