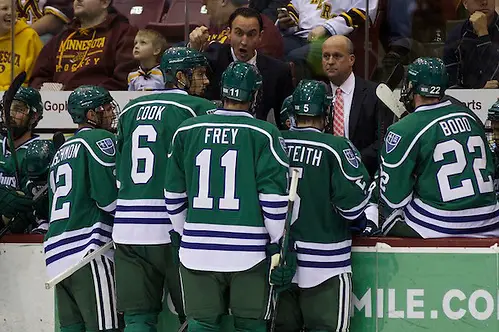 Rick Gotkin's Mercyhurst Lakers have the reputation for going anywhere, any time, for a college hockey game. From Orono, Maine, to Anchorage, Alaska, Mercyhurst is ready to face off, most times without a reciprocal visit.
"I understand that," said Gotkin. "We're in Erie, Pa. It's not an easy place to get to. So we'll go to them."
This season's schedule is typical for Gotkin's squad. The Lakers opened on Friday, Oct. 11 against host Minnesota in the Ice Breaker Tournament, then flew home from the Twin Cities that Sunday to face Ferris State the following Tuesday.
On Thursday of that same week, Mercyhurst boarded a bus for a nine-hour drive to Merrimack for a pair of games. A few days later it was a long plane trip to Fairbanks for a pair of games at Alaska, Mercyhurst's fourth trip to the 49th State in six seasons.
Now Gotkin and his team can take a little breather, at least in terms of travel. The Lakers celebrated their homecoming last Saturday with an 8-2 win over Air Force. Mercyhurst is home for seven of its next 10 games.
When asked if he's on every coach's speed dial for scheduling games, Gotkin chuckled. "It's not that bad," he said. "But yes, we are a team with a reputation of being willing to play on the road. And we understand based on our location that it's hard to get teams in here."
Through 10 seasons of Atlantic Hockey play, Mercyhurst has hosted a total of 10 nonconference games. In five of those seasons, including the last two, the Mercyhurst Ice Center saw no nonleague contests. And one of those rare nonconference home games was against Robert Morris before it was a member of Atlantic Hockey.
"Obviously, we'd like to host more home games and bring different teams in," said Gotkin. "But that's just how the schedule has worked. Some of the time it's just not having open weekends, but yeah, some of it is we don't expect reciprocation. We want to play the best teams available, and if that's on the road then we go on the road.
"There are some great learning experiences for the guys. We want to expose them to different things, not just hockey but to see Alaska, for example. I think it makes us better in a lot of ways."
It also allows Gotkin's team to play more games. Games in Alaska are not counted toward the 34-game limit imposed by the NCAA. The Ice Breaker tournament is also exempt. That means Mercyhurst will play 38 games this season.
"That's a benefit of just getting some more games in, early in the season, and being ready for [Atlantic Hockey] play," said Gotkin. "We've really faced some tough competition [No. 1 Minnesota, No. 16 Clarkson, No. 19 Ferris State] and that's shown us where we would like to be."
Mercyhurst was just 1-5-1 in those opening games but looked battle-tested against Air Force, knocking off the Falcons in a big way and snapping Air Force's five-game winning streak, its longest in three seasons.
"Air Force is a great team and there's no quit in them," said Gotkin. "It wasn't really an 8-2 game. We just had some pucks that went in that don't always go in. It was 3-2 after the first period and we got on a bit of a roll."
Eleven Lakers players had at least a point in the game, with senior Daniel O'Donoghue and junior Ryan Misiak each scoring a pair of goals.
The players expected to put up big numbers for Mercyhurst so far are doing so, with Matt Zay leading the team in points (10), while O'Donoghue (eight points including five goals), defenseman Nick Jones (seven points) and Misiak (six points) are all near the top of the scoring list.
Junior goaltender Jimmy Sarjeant has seen the majority of time in net recently, starting four of the Lakers' last five games, including Saturday's win. He earned AHA goaltender of the week honors with a 36-save performance.
"He's the hot hand right now; he's earned it," said Gotkin. "But we also know [senior] Jordan Tibbett can get the job done. We were talking today about how we need to get him in on the action, but it's tough when Jimmy is playing so well."
Mercyhurst is hosting Rochester Institute of Technology on Friday before making a short trip to Buffalo to face Canisius. The Lakers still have four more nonconference games ahead: a pair at Ohio State and, in a pleasant change of pace, hosting No. 10 Rensselaer for a two-game series in a couple of weeks.
"We are always looking to get these games when we can," said Gotkin. "I was appreciative of [Ferris State coach] Bob Daniels for coming here and playing us on a Tuesday night early in the season, and having RPI here is pretty exciting."
Nonconference woes
I'm not going to dwell on the AHA's nonconference record this season. But after an 0-6 weekend the league has its lowest out-of-conference winning percentage since the 2002-03 season, when the conference was still known as the MAAC.
With 49 nonconference games in the books, there are still 30 to go — 30 opportunities for the league to improve its standing. This weekend sees Sacred Heart at Penn State, Army at Boston College and Niagara at Ohio State for a pair of games.
Not included in the league's nonconference record is last Saturday's game between Connecticut and Sacred Heart. The Huskies and Pioneers meet four times this season, so this first meeting, a 4-2 UConn win, goes in the books as a nonleague contest.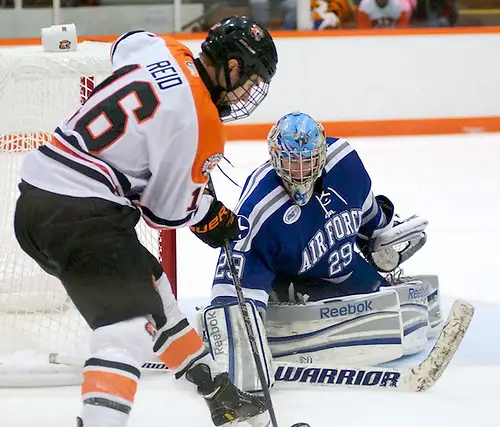 A tale of two cities
Rochester Institute of Technology, looking for its first win of the season, travels to Mercyhurst on Friday and Robert Morris on Saturday.
The Tigers are an incredible 9-1-1 in their last 11 games at the Mercyhurst Ice Center but only 1-5-1 all-time at RMU's 84 Lumber Arena. RIT got its first win there in the team's most recent meeting, on Feb. 9 of last season. The Colonials are also still looking for their first victory of the 2013-14 campaign. They host Canisius on Friday.
He's got your number
RIT will be glad to see Air Force goaltender Jason Torf fly off into the wild blue yonder. The senior has stymied the Tigers since his rookie season.
On Friday, Torf stopped all 39 shots he faced in a 2-0 Falcons win. It was Torf's 10th career shutout, with four coming against RIT. Those include back-to-back shutouts of the Tigers in the Atlantic Hockey championship games in 2011 and 2012.
His numbers against RIT are amazing: In nine meetings to date, Torf is 6-2 against the Tigers with a no-decision. His GAA is a paltry 1.42 with a save percentage of .955.
Torf looks to have at least two more meetings against RIT when the Tigers travel to the Academy on Feb. 21-22.
Starting off right
Last Friday, Holy Cross played its first conference game of the season, defeating Sacred Heart 4-3. That kept alive a near-perfect streak by the Crusaders in Atlantic Hockey season-opening games.
Holy Cross is 10-0-1 in their first league games of the season. The only blemish was a 1-1 tie at Canisius in 2007.
Players of the week
The AHA again did a good job selecting players with outstanding performances last week, but I'll add a couple of guys that also deserved some recognition.
Co-players of the week — Robert Morris forward Cody Wydo and Connecticut forward Billy Latta: Wydo was the league's choice and deservedly so. He scored all four RMU goals in a 5-4 loss to Penn State last Friday. Latta had three goals, albeit over two games, but his tallies were the difference in a pair of wins.
Co-goalies of the week — Mercyhurst's Jimmy Sargeant and Air Force's Jason Torf: We've already gone over Torf's stellar performance on Friday, but Sargeant got the better of Torf and the Falcons the next night, stopping 36 of 38 shots to earn his second win of the season.
Rookie of the week — Jordan Minello from Sacred Heart: Minello had a goal and three assists in a pair of losing efforts last weekend. He's part of the youth movement at Sacred Heart. Five of the Pioneers' top seven scorers so far are freshmen.