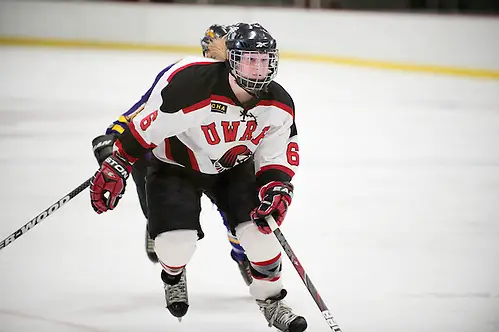 With all of the accolades afforded his club in the preseason, Wisconsin-River Falls coach Joe Cranston envisions a scenario where rookies and vets are moving at full bore.
The raw numbers state that Cranston, now in his 15th season with the Falcons, will be in good stead in carving out what would be his club's sixth consecutive ride to the NCAAs.
As such, the Falcons began seeking positive results in the season opener last week.
With the city of Blaine, Minn., as a backdrop, Cranston witnessed an efficient smoothness surrounding his team that was worthy of the preseason tip of the hat from prognosticators.
However, after starting off with a strong 5-3 road win at Bethel to kick-start their season, the WIAC favorites were tripped up by Bethel on home ice the following afternoon.
The Royals, who achieved a historically team high 15 wins a year ago, got out quickly in the first period as a result of Kathryn Larson's marker at 5:52. Bethel tacked on a pair at the outset of the second in building a 3-0 advantage before the Falcons' offensive adeptness began to surface. In this case, the aforementioned offensive push was originated by freshman defenseman Kayla Sinna, who solved freshman goalie Erika Allen at 4:32.
Wis.-River Falls' first power-play success arrived shortly after Sinna's goal, as 2012-13 leading scorer Katie Batters notched one. Despite narrowing the edge to one, the Falcons' attention to detail in regard to self-restraint in their own end scuttled the comeback.
"After being down 3-0, and then cutting it to 3-2 going into the third, I thought we were in good shape, but playing short-handed for 10 minutes in the third made it very difficult to come from behind; we need to be more disciplined in every aspect of the game," said Cranston.
Allen, who finished with 27 stops, including 20 over the last two stanzas, got a hand up from Caroline Kivisto's second power-play score of the game with nine minutes in regulation to damper the Falcons' season debut at Hunt Arena.
"I thought we played really well," said senior forward Brook Story, who had a goal and an assist in the road win. "Everyone was on top of their game. The second game however, we came out a little slow and were not able to get back on top. Overall, we played pretty well offensively, but we need to pick it up on our 'D' zone."
"That was our first loss to Bethel in our program's history," said Cranston. "Brian Carlson is a very good coach who runs a class act program, and they deserved the win. I really like my team right now, and I think by this weekend against St. Thomas, we should be much improved. I think we have a good group of freshmen who can score."
Cranston plans on the youngsters getting ahead of the learning curve sooner than later. Given the positive familiarity factor, (the Falcons welcomed back 14 core skaters, as well as all three goalies), the mixture can be potentially problematic to the opposition along the way.
"Karleigh Wolkerstorfer had two goals in her first game, Sibley and Sinna also scored in their first game, Paige Johnson, a freshman defensemen, also put up three assists in her first two games," said Cranston, who entered the season with a 239-115-34 slate. "We have a very young team, and we struggled defensively at times, giving up too many scoring chances for a very good Bethel team. We will be working all week on tightening up our defense."
Story echoed her coach's sentiment in regard to the new parts meshing well.
"We have eight freshmen on the squad this year," said Story, who has elevated her points-per-game average in a every successive campaign thus far. "They are all hard workers, and interested in learning new aspects of the game. They seem to be comfortable with the team, and have already made a positive impact toward the team. A good chunk are from northern Minnesota, and that's my neck of the woods, so it's fun to become teammates with people who I played against in high school.
"We have a lot of returnees, and that helps because we know what to expect going into each game," added Story, peering forward. "We have some great leaders, and our freshmen can learn a lot from them. The chemistry we have off the ice helps to benefit the chemistry we have on the ice. We are all such good friends and easy-going people, and I think that is a huge positive about all of our returnees."
WIAC teams worked up a 5-2-1 record against nonconference opposition in the first week of play. Following the upcoming trip to St. Thomas, it'll be a two-game set with Wisconsin-Stevens Point for the Falcons.
"It's a little early to be thinking about Stevens Point, but we will be playing each WIAC opponent four times, and that's the way it used to be, and I'm looking forward to it," said Story. "With no automatic qualifier, we know that we have to win a lot of games this year, and we have the toughest schedule we have ever had. There is not a lot of room for error, but we are looking forward to the challenges ahead."
Story is among the group that will take on the task of getting Cranston's frosh eager for the grind.
"This year, my role, along with the other captains, is to just be a leader out there," Story said. "We have to show up to every game ready to play. We have to be willing to teach the freshmen about new aspects of the game, and help them to become the best athletes they can be. We have to keep a positive attitude, and have fun out there. If we do that, our team will be successful."