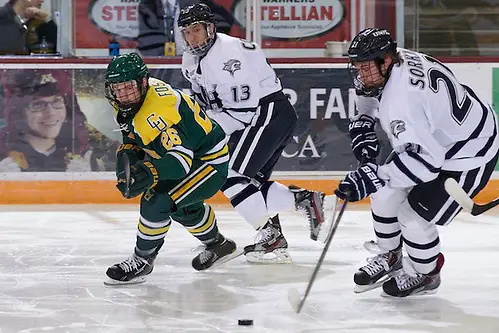 When leaving New Hampshire's 5-3 loss to Massachusetts-Lowell on Nov. 1, I heard lots of preliminary death notices.
"They'd better win back home on Saturday [against Lowell] or the season is over," I heard. "This is looking a lot like two years ago."
That year, the Wildcats got off to a dreadful start, losing their first four games and needing their sixth game to earn their first win. They never fully recovered and finished 15-19-3 overall and 11-14-2 in Hockey East. Their playoffs lasted only as long as the Hockey East quarterfinals.
Well, this year's Wildcats did indeed suffer the feared loss to the River Hawks back at the Whittemore Center (in overtime, no less) to fall to 1-5-1 (and 0-2 in Hockey East).
"It was disappointing because overall we thought we played good hockey over that weekend, especially Saturday night," UNH coach Dick Umile says. "We thought we should not have even been in the position of being in overtime.
"So we had no points to show for the weekend. With the tough start that we had and then add that to the mix, it was a long week."
A long week with questions of if it was two years ago all over again.
"Our senior leadership went through that," Umile says. "They were on that team.
"So we talked about that year, we talked about last season — [one in which UNH came within a game of the Frozen Four] — and we combined both of them. They were two opposite starts and yet we felt that we played better this year than last season and the year before.
"It just tells you how the game goes. Some times you don't get the bounces. There's a small line between winning and losing, especially in this league.
"But we all decided, you know what, let's just focus on what's ahead of us and ahead of us was UMass."
"Ahead of us" translated into "in the path of a Mack truck" for the Massachusetts Minutemen. UNH defeated them 4-1 at the Whittemore Center on Friday and then took advantage of starting UMass goaltender Steve Mastalerz being sidelined to shellac the Minutemen 9-0 on their own home ice.
The Wildcats had been struggling offensively, averaging exactly two goals a game since their season-opening win over Clarkson. A measly two goals won't win you many games. So the 13-goal outburst had to feel like manna from Heaven, especially the 9-0 win.
"It was how we played," Umile says. "We stayed with it, we got off to a good start on some good transition plays. They had some chances against us, but we countered and scored some goals.
"The team just played solid. No one got selfish. We kept moving the puck. I thought we moved the puck as well as we've moved it [this year], and that generated some good scoring opportunities and we took advantage of it."
With the Wildcats lacking a classic go-to goal scorer — a sniper, if you will — they've looked to Kevin Goumas and Nick Sorkin, both natural playmakers, to complement those skills with a finishing touch of their own. They have scored five goals each along with linemate Grayson Downing.
"We're looking for them to do the same kinds of things as Austin Block and John Henrion did last year," Umile says. "We've got them playing together, and they're starting to really feed off of each other."
UNH also enjoys the luxury of getting considerable scoring from their blueliners, most notably Trevor van Riemsdyk, Eric Knodel and, to a greater extent this year, Justin Agosta.
"Friday night we won 4-1 and three of our goals came from our defense," Umile says. "Justin Agosta had an exceptional game on Friday night, really got into the rush, and scored two goals.
"van Riemsdyk is as good as there is. He's just terrific. He sets up goals, he scores goals.
"So our defense has really brought a lot of offense for us as well."
Freshman Tyler Kelleher has separated himself from the underclassmen pack, scoring two goals and assisting on five others.
"He had a terrific game on Saturday night out at UMass," Umile says. "Coming from the Springfield area, he had a bunch of people there. He scored a goal and set up a couple others."
Of course, there were moments two years ago when it looked like the Wildcats had turned around their season. UNH still stands at 4-5-1 after a 4-2 home win over Brown on Tuesday and has to make up ground.
And there's one glaring weakness: the penalty kill. To date, the Wildcats are killing only 76 percent of opponents' power plays; in Hockey East games, it's even worse, 69.2 percent. Both numbers are easily the worst in the league.
"In Hockey East, our percentage is terrible," Umile says. "Friday night, the very first power play they got, they scored on it. We changed some things around a little bit, but probably the best thing to do is not to get too many penalties, especially when you're giving them up like we have.
"Our shorthand hasn't been great, but it improved on Saturday night. Hopefully it will continue to improve. We're just going to take it from our next game on and make sure our penalty kill is solid."
To date, the schedule has been brutal. UMass and Brown are the only foes that aren't currently in the top 20. UNH has played Minnesota (No. 1), Michigan twice (No. 2), Rensselaer (No. 10), Clarkson (No. 11), and Lowell twice (No. 16).
And guess who's up for a two-game series the next two weekends? Eighteenth-ranked Northeastern and fifth-ranked Providence.
"We've had a good schedule and it's only getting more difficult," Umile says. "Northeastern is playing extremely well and Providence might be one of the top teams out there right now. We knew going in that the league was going to be, from top to bottom, as good as it's been.
"We're playing seven less league games this year so that makes it even more difficult. It's going to tighten up the league. But the good thing is that we're coming off a good weekend. Now we just have to continue to get better."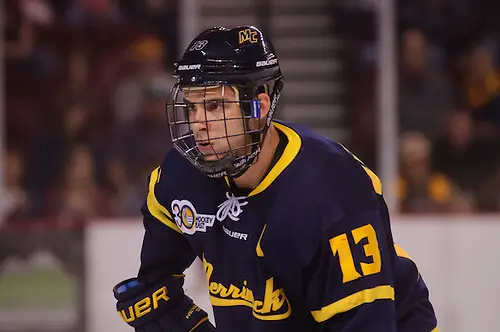 See you in March
Merrimack may stand at 3-5 overall and 0-2 in Hockey East, but Warriors coach Mark Dennehy likes what he's seen, especially in Friday night's 1-0 loss to fifth-ranked Providence. The Warriors rank as one of Hockey East's top defensive clubs.
"That's a nationally ranked team and [it came down to] a bounce of the puck," Dennehy said. "They came in averaging 39 shots a game and [we held them] to seven on the power play and 12 five-on-five.
"That's a benchmark of where we are."
The Warriors are, for now, in the cellar of Hockey East, with every other team counting at least one game in the win column, but Dennehy isn't worried.
"We're in the playoffs!" he said last Friday, generating laughter among writers but also speaking the truth. "The way it is right now, you just have to be ready for the playoffs in March.
"We talk about getting better. We were better tonight than we were last Friday. If we play that well often enough, we'll be rewarded quite a bit. We just need to make sure we're playing even better in March."
Quick hits
• When Boston University and Maine face off on Friday, it'll be the first time since Feb. 16, 2008, that the two teams have met without one of them being nationally ranked.
• Notre Dame played its first Hockey East games two weeks ago at Vermont. This weekend, the Irish will host their first Hockey East games, welcoming Merrimack.
• Providence's sweep of Merrimack gave the Friars the second-best winning percentage in the country (7-1-1, .833). They got started taking care of business out of conference and are now continuing that inside the league.
• It's not exactly headline material to note that Boston College is at the top of the standings. Or that Johnny Gaudreau, who just scored his 50th goal, was named league player of the week. Or that he leads scoring in Hockey East games.
• Neither is it shocking news that Northeastern's Kevin Roy, a joy to watch, ranks in the top three of overall scoring and has earned at least one point in all but one game. But you might not have expected his freshman teammate, Mike Szmatula, to be leading Roy by a point.
• You might have guessed that Jon Gillies would be leading the league in GAA (1.73). But who's second and third?
No peeking.
Notre Dame's Steven Summerhays (1.81) and BC freshman Thatcher Demko (1.96).
• Five players in the league have scored two points while short-handed. Four of them play for Boston College: Patrick Brown with two goals and Bill Arnold, Quinn Smith, and Michael Matheson with two assists each. Providence's Ross Mauermann is the lone non-BC player, having scored a goal and an assist.