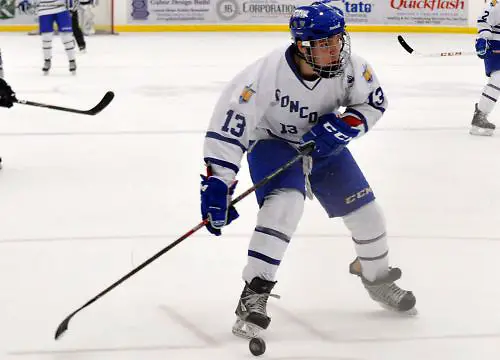 Quite possibly, the most exciting series over the weekend was between the Saints and the Falcons.
St. Scholastica and Concordia (Wis.) battled to two overtime ties last weekend. Friday night saw a 5-5 tie before Saturday's 4-4 tie game.
Sophomore forward Dylan Nowakowski netted two goals for the Saints in Friday's game, while Saturday's game saw four different skaters getting a goal.
Freshman forward Brett Penner scored on goal in Friday's game while tallying two goals in Saturday's game for the Falcons.
The Falcons' roster is dominated by underclassmen with 10 freshman and 12 sophomores.
"Guys are playing with a lot of confidence," said Concordia coach Jasen Wise. "We handled some adversity last weekend, gave up the lead a few times, but I am still very happy with the way we played."
Next up on the schedule for the Falcons is Adrian.
Wise isn't concerned about how dominant the Bulldogs have been in past seasons.
"Right now, we are focusing on us," said Wise. "We are a young team, we are still working on our chemistry. Our breakdowns are due to our youth. This early in the season, we are focusing on getting better as a team."
Standings
There is no surprise that after the first two weekends of play in the season, Adrian and St. Norbert are the top two teams in the league. They are the only two teams to have won four games. Currently, St. Norbert is ranked second while Adrian is ranked fifth in the nation.
Concordia (2-0-2), St. Scholastica (2-0-2) and Lake Forest (3-0-0) are the other three teams in the league who have yet to suffer a loss and remain undefeated.
Lawrence (1-3-0) and Marian (1-4-0) are sitting in the middle of the pack.
Finlandia (0-4), Milwaukee School of Engineering (0-4) and Northland (0-4) have yet to earn a win. Most surprisingly out of that bunch is MSOE as last season, the Raiders did not get to four losses until Jan. 12.
Bulldogs and Foresters prove to be early offense powerhouses
Adrian, who won both the MCHA regular-season title and the Harris Cup playoffs last year, have outscored their opponents 21-4 thus far.
Lake Forest has also showed their offensive side of the game with 21 goals in three games and holding their opponents to five goals. Lake Forest exploded in a 13-2 win over Northland on Saturday night, highlighted with a five-point night (three goals, two assists) from junior forward Bobby Barrett.
Series to watch
There are two series in which teams who are undefeated will face off, so unless there are four ties, there are going to be a pair of teams whose streaks will end this weekend.
Concordia will be traveling to Adrian, while St. Norbert and Lake Forest will battle in a home-and-home series.
Teams always want to win, but this will be the last weekend with full-slated NCHA action until Dec. 6-7, so the four winless teams should feel some pressure to get a win and gain some leverage in the standings.