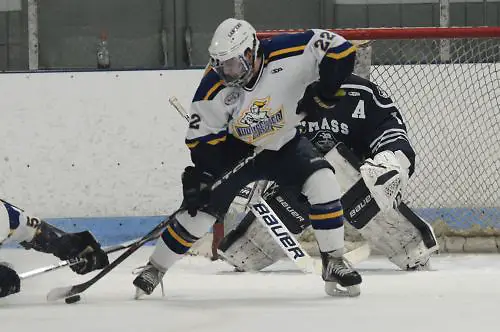 A great group of guys, players that get along with each other and cheer for each other are descriptions New England has heard a lot the last seven months when it comes to sports.
The main reason could be because the Boston Red Sox went from worst to first to capture their third World Series title in the last decade.
However, there's another team in the Commonwealth of Massachusetts trying to prove the doubters wrong 42 miles to the west of Fenway Park.
Worcester State wasn't supposed to be halfway to last year's win total in the team's first three games, but four games in, the Lancers are sitting 3-1-0 after a 6-17-3 campaign last season.
And the Lancers haven't beat up on cupcakes, either, with wins over last year's ECAC Northeast champion Wentworth 2-1 and another team that should be in the ECAC Northeast contention this year, Western New England. Worcester State also defeated Becker.
The lone defeat was on Tuesday night where the Massachusetts-Dartmouth scored three goals in a 58-second span in the first period. The Lancers were able to stop the bleeding after, but couldn't pot any goals of their own.
"Right now, things are going well, it's hard to describe," said Worcester State coach John Guiney. "Things are going good, the kids are real comfortable with each other. It's a great group of kids and sometimes, that has something to do with it, if anything. They get along real well and they are all pulling for each other. It's a good situation right now."
Guiney also talked about how winning brings confidence to the table and also makes practices much more crisper.
The Red Sox made some moves at the end of the 2012 season to move some players which helped bring in some key contributors to the World Series squad. With Worcester State building up its hockey program the last few years and bringing in a good recruiting class, Guiney had to do the tough task of letting some players go.
"You never know when you bring in new kids how it's going to mesh together," Guiney said. "Unfortunately, this season we had to cut some kids who have played in the program the last couple of years, which was very hard.
"That's the toughest part of coaching – when you have to cut kids. Fortunately, the upperclassmen have accepted the new kids into the program."
The upperclassmen have shown their leadership on the ice. Junior forwards Nathan Stanley and Stephen Rock lead the team with five points
"Steve Rock is having a great start," Guiney said. "He's a great defensive player and a smart offensive player. He's been playing great, has done a real nice job."
While Guiney is cautiously optimistic on where the rest of the season will take his team, it appears the Lancers are well on their way to surpassing last year's results.
Tough start for Westfield State
The Owls are the lone team in MASCAC that hasn't won through four games. They have given up the lead twice in games with Western New England and Curry. Westfield State has been outscored in the second period 6-1. For a team bringing back the majority of its scoring from last season, it was expected the Owls would have a better start.
Offense not the problem for Plymouth State
Plymouth State is another team that's off to a slow start, but offensively, they are clicking.
Defenseman Zach Sarig leads the team with five goals and two assists, which puts him tied fourth nationally in scoring and tied for first nationally among defensemen. They have four other players with three points and the power play is scoring on 35.7 percent of its chances.