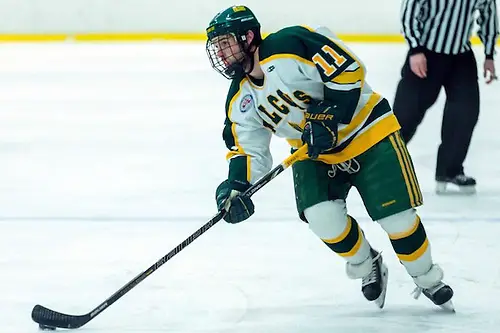 Jake Martin was quick to point out why he's off to a hot start.
The freshmen center at Fitchburg State leads all freshman in Division III in points with three goals and six assists.
"I couldn't have done it without my linemates," he said.
He said he likes to set up his teammates and let them score the goals.
His linemates are John Celli (four goals and four assists) and Max Lorenzen (two goals and four assists) and their chemistry started the first day the team hit the ice.
At the first captain's practice, the captains had a draft and all three wound up on the same team – they haven't been separated since.
"[Martin] has really come in and he's a good-size kid that competes hard," Fitchburg State coach Dean Fuller said. "He has got some skills and he has been able to get off to a quick start and be able to be a competitive forward."
Fuller said Martin also has good speed and is very good on special teams.
Martin has also taken advantage of the opportunity to contribute right away with three centers from last year's squad lost to graduation.
"Coach told me I would make an impact right away," Martin said. "I told myself that I need to tryout for the team and do whatever I can to be on one of those top two lines."
"We were graduating three senior centers, so it seemed a good match," Fuller said of Martin's recruitment process. "You bring kids in all across from North America from different leagues [and] you aren't exactly sure what you are getting. I will say this, he has been a pleasant surprise. He's really a more complete player than what were expecting."
Martin said he needs to work on winning more faceoffs as he's making the transition from being a winger in juniors. He also said didn't put any extra pressure on himself coming into his first season of college hockey.
"I was just mostly anxious and I just thought of it as any other hockey game," said Martin.
Martin came from the Cornwall Colts of the Central Canadian Hockey League where he won the league championship last season.
"It helped a tremendous amount [playing for Cornwall]," Martin said. "My coach [at Cornwall] Ian MacIinnis helped me out. The hockey [in Division III] is a little bit faster, the guys are a little bit older, that's a little bit of a change. The CCHL and playing two years of juniors really helped me for the college level."
He had nine goals and 15 assists last season with the Colts and with many good players coming out of Cornwall, Martin doesn't feel he was stuck behind other good players and is glad to have an opportunity at Fitchburg State.
"Coach Fuller is giving me a shot right now," Martin said. "And I am just playing as hard as I can."