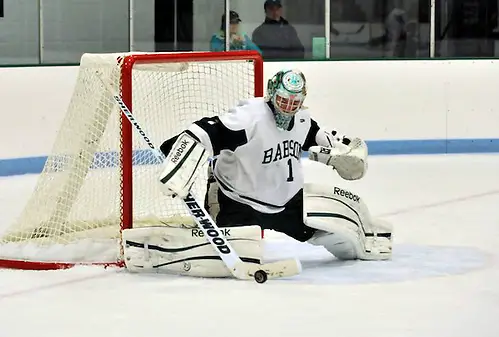 With the Thanksgiving holiday upon us, most of us take time to reflect on the things we are most thankful for as we prepare for time with family, friends and lots of food.
For Babson coach Jamie Rice, the reflection on his 6-0-0 hockey team goes well beyond the near-term focus and transcends his decade behind the bench for the Beavers.
"It is great that we are off to a good start," stated Rice. "Hopefully, my talking with you doesn't derail that like the Sports Illustrated cover jinx. Seriously, like virtually every year I have been here, this team is really focused on being committed to team first. All of these kids came here wanting to be Babson hockey players and fitting into that culture that has been perpetuated over time. In my time here and even with all of the success we have had on the ice, we have never had a league MVP. We have had some great hockey players here, but all of them have embraced forfeiting their need for individual statistics for the betterment of the team.
"This is truly a group that has demonstrated the whole being better than the sum of the parts and we continue to play like that each and every game with different people stepping up in each game making a big play or scoring the big goal. So far, that commitment has worked pretty well for us."
This year's edition of the Beavers has largely built their success on being focused on the defensive end and their surrendering just seven goals in their first six games is a strong indicator of their commitment to team defense across the goaltending, defensive group and forwards who all embrace the team defense concept.
"We have received great goaltending so far and have some good depth among our defensive group, but the focus on team defense is about everybody being committed to making plays and their responsibilities in our defensive zone first," Rice said. "It all flows from playing well in our end and transitioning the play from a strong defensive focus."
The goaltending has been led by sophomore Jamie Murray. In his first five starts, Murray has benefited strongly from his team's defensive support, but also has been incredibly consistent in just his second season with Babson.
So far this season, Murray is 5-0-0 with an incredible .968 save percentage and a 0.80 GAA – not bad for a guy that follows the graduation of last season's All-American goaltender, Zeke Testa.
Murray played in 13 games last season and posted good numbers for the Beavers which his coach feels is part of the reason he has been able to step up as the No. 1 netminder this season.
"I think there are two levels of confidence building with Jamie and the team relative to the goaltending," said Rice. "Jamie was solid for us last year, so he built some confidence is his understanding of his ability to play at this level. More importantly, I think it has spurred him on to work harder and to be more driven to prove that he can excel at this level and be that No. 1 goaltender. From the team's vantage point, you look at the graduation of players from last season and they wonder things like who is going to score the goals or kill penalties or, with the graduation of Zeke, stop the puck.
"I think Jamie's success last year created confidence among the returning players that we have that guy that can step in and stop the puck. From the way we have started, I think we have confidence in our goaltender who is playing great and the team is playing with confidence in front of Jamie."
Offensively, last year's transfer, Nik Tasiopoulos, and freshman Michael Phillips have accounted for almost 40 percent of the scoring to date, but Rice expects that this year's team will spread out the scoring.
"We have good balance across our lines," noted Rice. "Guys like Conor [Berto], Mike [Driscoll] and Andrew [Bonazza] have provided some key offense and are working with our younger guys early on as we find the combinations among our new players and the guys that have played together in the past."
The Beavers this week have three difficult nonconference opponents, including Massachusetts-Dartmouth and two NESCAC powerhouses in Amherst and Williams. There are just five games remaining before the semester break and Rice is very cognizant of the importance of each and every game on the schedule.
"There are only about 25 or so of these [games] for the entire season," said Rice. "It doesn't matter who the opponent is in the conference or nonconference, we want to bring our best game and focus on improving every time out on the ice. There are only so many practices in the season and not so many games that you can let any opportunity to play competitively go by without being your best. That is what our team has always tried to bring to the rink and guys like Zeke Testa, who is back as an assistant [coach] with us this year continue to instill that culture in the locker room with the guys old and new."
The 6-0-0 start is certainly nice, but the Babson coach would be thankful for the continued commitment to being better and always aligned with what it means to be a Babson hockey player.