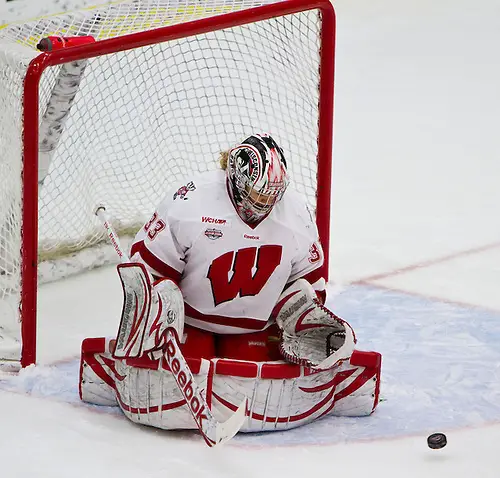 Candace: Well, it was another interesting weekend, with a couple of surprises, and still a couple possibilities before the break. Let's look at what to me has to be the biggest news of the weekend. We knew Mercyhurst had been struggling a little this year, and hadn't shown yet that it was its old dominant self. However, losing 2-1 to RIT on Friday has to be one of the bigger stunners so far this season. I'm having a hard time understanding what is going on with the Lakers. We thought goaltending would be an issue coming into this season, but didn't anticipate any problems with scoring, since the entire core group was back from last season. Yet the Lakers have lost several close games so far. The CHA could be the most volatile conference in the game. The season is half over, and I think four teams are in the hunt for the crown. That's a good thing for the league, but it has to be frustrating for the Lakers. What's your take?
Arlan: As a friend of mine used to always say, "It's a world gone mad."
I think the most clear indication that it isn't business as usual in Erie this season is what happens after the Lakers are upset. So they lose 2-1 on Friday when Ali Binnington makes 42 saves for RIT; it happens. Mike Sisti's response is to come back with sophomore Julia DiTondo in goal, whose previous career experience consisted of about 70 minutes and zero starts. Whether usual starter Amanda Makela couldn't go, or he wanted to shake things up, I don't know. DiTondo's
numbers were similar to Makela's the day before, with one key difference — she received three goals of support instead of one and wound up with a "W" in the game.
We are accustomed to seeing Mercyhurst respond the day after an upset loss like that with a stomping to set things back to right. It outshot the Tigers, but by roughly the same margin as the day before, and the game went down to the wire before the Lakers claimed a one-goal win.
Two of its three goals on the day were the first goals of the season by a pair of defensemen, Caroline Luczak and Lauren Kilroy. It's vital to get that offense from secondary sources, because while the top scorers from last season are back, the layer after them did not return and there isn't much offensive pop so far from the rookies. The team graduated Lauren Jones, Jenna Hendrikx, Stephanie DeSutter, Gina Buquet, and Kelsey Welch, who all accounted for between 23 and 16 points last year. Sophomore Vaila Higson did not return to the blue line, where she had matched the 32 points of Molly Byrne. That puts a lot of pressure on the top players to produce every game, and only Christine Bestland is averaging at least a point a game. An offense that averaged over four goals per game is only clicking for 2.73 so far this year. The Lakers just aren't any more explosive at this point than the other top teams in the league.
They have yet to play Penn State and Lindenwood, so it's possible that they will get healthy in a hurry when they do, but those teams don't appear to be automatic wins for CHA opponents. Other than the Robert Morris versus Penn State series, most of the games to date have been very competitive. And speaking of competitive, Robert Morris took a win and tie at Syracuse in a series where only five goals were scored in total. Is that the type of battle we should expect to see from a league race that has seen the Colonials inch ahead?
Candace: I think so, yes. RIT has a chance to really establish itself in the next couple of weeks, first by playing Quinnipiac this Friday, then the series against Robert Morris. The Colonials have been playing very well, and I'd agree that they have inched ahead, but aside from two games against Penn State that were blowouts, most of its wins have been of the one-goal variety. Syracuse has to be frustrated in that the Orange have tied Robert Morris and Mercyhurst, but were unable to beat either. The Orange have made strides though, and if they can get that one win, I think it will give them a confidence boost. Lindenwood finally got its first win of the year Friday against Penn State, but had previously played several close contests with Robert Morris and RIT, including a tie with the latter. Penn State too has played some tough games against RIT and Syracuse, getting a tie with the latter.
It appears to me that none of the CHA teams are built to go on offensive explosions, and that makes tight contests more likely. Robert Morris is tied for 10th nationally in team offense, and the Colonials have the best offensive stats in the league. Mercyhurst sits at 13, Syracuse at 18, and RIT at 21, Penn State at 29, and Lindenwood is last at 36. Defensively, Robert Morris and Mercyhurst sit at seven and nine however, which is really six and eight due to the presence of Holy Cross. These CHA squads win with defense, but it can make them more vulnerable to upset if their opponent has a hot game offensively.
I think another big story of the weekend was Clarkson's emphatic 3-0 win over Quinnipiac, which also only mustered a tie over St. Lawrence the night before. Perhaps the Bobcats aren't quite ready for prime time in the ECAC? That win also has to be good news for a Clarkson squad that had struggled for much of November. The Golden Knights also put up seven goals against Princeton on Friday. Perhaps their offense is back?
Arlan: I find Quinnipiac and Clarkson to be very similar. The advantage for the Golden Knights is that they are deeper. Kelly Babstock is as good as anyone out there, particularly in an Olympic year. She can score, set up others, create problems on the forecheck, kill penalties, and do everything well. Clarkson has a very similar senior in terms of impact in Jamie Lee Rattray, but it also has a deeper supporting cast in Erin Ambrose, Carly Mercer, and Brittany Styner. The Bobcats have done surprisingly well without Nicole Kosta thus far, but her absence may be starting to catch up with them. She has averaged a point per game through her career, and if she were on the ice, she could help diversify the Quinnipiac offense. I watched much of both of Quinnipiac's games over the weekend, and in terms of impact, there is Babstock, and then there is everyone else. I'm sure that Emma Woods will be a great complementary player eventually, but there will always be a difference between a freshman in her first semester and an upperclassman than has already experienced most of the situations that arise in the college game. The Bobcats are either going to have to overachieve a bit to reach a conference final or an NCAA tournament, or they will need to have some of the number of rookies in the rotation make some sizable gains. They likely have the potential for more growth over the course of the season than a senior-laden team like Clarkson.
To an extent, I'm once bitten, twice shy where the Golden Knights are concerned. I believed that they had the train rolling down the tracks right out of the gate, but then they hit a rough patch for a month. Not awful, just a little shaky. After four impressive wins, whatever caused those hiccups may be behind them, or it could just be in a temporary remission. They are off for a week before hosting North Dakota in a series that is beyond huge for UND, because if it were to get swept by Clarkson and fall to 9-5-2, it would be back on that PairWise bubble it is striving so hard to escape. So I expect the Golden Knights to face a desperate team with a few more weapons than Quinnipiac. If they pass that test, then sure, things will be looking up in their world. But if they can't handle what right now is the WCHA's third-best team on their own ice, that paints a bit more of a bleak picture for a veteran team with championship aspirations moving forward.
Of course, Clarkson still has a couple of major hurdles to clear in its own league. I watched Harvard defeat Boston University, and although the Crimson lack the player who is a force up front and the blue line only has one Sarah Edney, they've managed to make their recipe turn out okay most times. Emerance Maschmeyer is depended upon to wipe away a lot of mistakes, and she's been great in that role thus far. The question remains, does Harvard have enough to conquer Cornell or even a Clarkson squad at the top of its game?
Candace: Considering that the Crimson have a win against Clarkson and a tie with Cornell, I'd have to say yes, they can. I think the latter will be more of a challenge than the former for the Crimson though. With Clarkson, yes, Rattray is playing exceptionally, leading the country in scoring, and Mercer and Ambrose are standouts, but Clarkson seems more vulnerable to offensive lapses, and if that happens against Maschmeyer, Harvard can easily stay with that team and get an opportunistic goal or two to win. Cornell has more offensive weapons, more ways to break open a tight defensive battle, and while Edney, as well as Samantha Reber and Miye D'Oench, are playing reasonably well offensively, all three are below a point-per-game average. Cornell, meanwhile, has six skaters with a point-per-game or better, including two defensemen in Hayleigh Cudmore and Alyssa Gagliardi, plus two more that are just beneath that mark at .900 points per game. When a team has that much offensive firepower, I think it affects an opponent both offensively and defensively. On defense, the opponent has to worry about how it is going to contain the Big Red for a game, and on offense, a team has to worry about being able to keep up with that offense if things get into a shootout.
One team that can keep up offensively with Cornell is Boston College, which, despite a couple of power outages during the year, boasts the third-best offense in the country and the third leading scorer in Haley Skarupa. The Big Red host the Eagles for a pair this weekend that has huge implications. The last time BC faced ECAC teams, the Eagles had disappointing results, losing to Quinnipiac and tying Princeton. Are you looking at BC more favorably after the Eagles swept Connecticut this weekend?
Arlan: Games versus teams like Connecticut are no-win propositions for the Eagles and other national-title contenders. When they win, they were supposed to win. If they lose, computers and humans alike lower their stock. UConn looks to be a much more solid club than a year ago, so I don't want to pass it off as though a sweep of the Huskies was nothing. The problem in evaluating BC is that none of its 11 wins are that impressive on their own. St. Lawrence is a good club, and BC did sweep it early, but even the Saints weren't playing that well at the time, starting 2-6 before going 4-1-1 in November. The only teams that currently have winning records that the Eagles have played are Quinnipiac and Princeton. So while it is good that they didn't lose to Connecticut, we'll have to see what happens on the road at Cornell and Harvard in order to learn much. If the Eagles can win more than they lose in those three games, then they are established once more as a Frozen Four and title contender. If not, then it is likely that they will have to regroup versus the Terriers when 2014 arrives.
BU was at a similar point when we discussed it before it played Wisconsin and Harvard. It didn't come very close against either. It gets another chance a week from now when it hosts Minnesota-Duluth, and a series win would definitely bolster the Terriers' cause. I'd say that BU has done a better job of playing to its potential than BC has, but that might be a backhanded compliment. None of the Terriers are in the top 30 in points per game, although Louise Warren and Sara Lefort are both just outside the top 10 in goals per game, as are Maddie Elia and Samantha Sutherland in rookie points per game. BU is the only team in Hockey East to pair a top-10 offense and defense.
Contrast that with a Providence team that finally got its first sweep of the season, albeit at the expense of winless Maine. The Friars are in the top 10 in scoring offense, but rank in the bottom four in scoring defense. That was good enough against the Black Bears, as PC scored a dozen goals. Hockey East on the whole has a few teams with defenses that lag behind the offenses. That doesn't match the past image of the league when goalies like Florence Schelling and Genevieve Lacasse formed much of its identity.
Now the best defenses are in the ECAC and Wisconsin. The Badgers provided another interesting result. We both picked them versus North Dakota, but I'll admit that I didn't expect that the clamps would be so tight that UND could only score once all weekend. Did you see that coming?
Candace: Once all weekend? No, I didn't. After all, the Badgers could only hold the high-flying Gophers to two goals in each game. I certainly expected that much from North Dakota, even if they were primed for a letdown after the emotional win over Minnesota the previous week.
It's interesting to look at Wisconsin's overall schedule though. The Badgers have four shutouts, four games in which they've given up two goals, and another six games where they've only given up one goal. To date, they have yet to give up more than two goals in any game. Great team defense has been a hallmark of Mark Johnson teams, but this squad seems to have taken it to championship levels. That ability to really put the brakes on another team's offense makes the Badgers, to my mind, one of the most dangerous NCAA tournament teams. Wisconsin is averaging only a goal a game given up defensively, putting it tops in the nation. Clarkson and Harvard are right behind the Badgers, at 1.06 and 1.11 goals per game respectively, but Clarkson gave up a six spot to Cornell, and Harvard gave up three to the Big Red. I guess that does say something about the potency of Cornell's offense, but it's not like Minnesota is a slouch in that department either. The Gophers are second in team offense, with 4.31 goals per game, right behind Cornell, which averages 4.50 goals per game, yet even Minnesota could only muster a pair in each game against Alex Rigsby and company. It's often said that defense wins championships, so you have to look at Wisconsin as a favorite in that regard. I'll be interested to see how the Badgers do when they host Minnesota in February.
Speaking of the Gophers, they got a convincing sweep of Yale this past weekend. They host Princeton this weekend and then close the first half with a trip to Columbus to take on Ohio State. They then open their second half by hosting the Buckeyes. A month ago, we looked at those four games as potentially tricky, but perhaps not anymore, since OSU has been in a swoon, winless in its last eight and just getting swept by Minnesota State. What's wrong with the Buckeyes?
Arlan: That's been a recurring theme in WCHA play over the years. A team starts strong, has some promising results, including a win or two against ranked teams. Ohio State did just that, defeating both Mercyhurst and North Dakota on the road in its first five games. It follows with a competitive series at Wisconsin, but doesn't get any points to show for its effort. Did the Buckeyes let down slightly with Bemidji State coming to town? I don't know. The Beavers may prove to be the stronger team by season's end, or OSU could turn things around and rally in the standings. In any case, a middle-of-the-pack team will have a good result and take points from a top team, only to give back those gains to a supposed lesser team.
It looks to me as though the Buckeyes may have become frustrated a bit by the upset to Bemidji State on home ice and the game-ending penalty fest that ensued, and it's been a struggle to make progress ever since. I watched most of the webcast of Friday's game in Mankato, and after OSU gets a huge power-play goal to tie the game 10 seconds before the second intermission, it comes out and commits a needless penalty early in the third. The Mavericks scored, added an insurance goal three minutes later, and the frustration mounts. Saturday, MSU tied the score on a power play in the second period before winning the game in the final 20 minutes once more. The Buckeyes only committed three penalties in that game, well off their national high of almost 24 minutes per game, but those infractions have been proving costly. Many of their recent losses have late penalties that thwart comeback attempts and hint at frustration.
Outside of sisters Kari and Sara Schmitt on the blue line and Ally Tarr up front, nobody has really gotten going offensively. Goalie Chelsea Knapp's numbers aren't what they were last season nor where they need to be, and Lisa Steffes has had some of the stronger performances in net. The whole Ohio State team will need to find a more positive way to deal with the losses in order to salvage the maximum from the season. There isn't that big a separation between teams like the Buckeyes, Beavers, Mavericks, and St. Cloud State in terms of talent, so the one that can bring the best attitude will likely fare the best.
Bemidji State was unsettled in goal last year and slumped to the basement. Freshman Brittni Mowat is now delivering statistics similar to what it got during Zuzana Tomcikova's career. Can BSU stay above those other three and get no worse than a quarterfinal at a theoretically easier fourth-seeded opponent come playoff time?
Candace: I'm going to take the Beavers .500 record and 1-0 win over Minnesota-Duluth Saturday as evidence that yes, they can, although like you with Clarkson, I'm a little gun-shy with Bemidji after the Beavers got swept by Robert Morris at home early in the season. Then again, it appears I underestimated the Colonials a bit, so perhaps I have done the same with Bemidji. The Beavers also got a win and a shootout win against Ohio State, so they've positioned themselves well so far. They only have one more series this first half, on the road at Wisconsin, but open up the second half in January with crucial series on the road at Minnesota State and at home against St. Cloud. If they can take three or four of those games, I'll be more firmly in the Beavers camp, but I don't see Minnesota State, St. Cloud, or Ohio State stepping up yet, and Bemidji also played Minnesota very tough a few weeks ago.
Speaking of the Bulldogs, they host Wisconsin in the only conference action this weekend. The other games are all out-of-conference tilts. Besides Cornell and BC, you have Dartmouth hosting Northeastern, New Hampshire hosting OSU, and Rensselaer traveling to St. Cloud. Northeastern and Dartmouth have been teams that in recent years have been dangerous in conference; do you see either ready to step it up and rejoin the fray?
Arlan: Not really in terms of the conference race. Dartmouth is very young, depending heavily on sophomores and freshmen. I'd assume that a realistic goal for the Big Green is to grow during the season, make a push and move two or three spots up in the standings, and try to make life miserable for some home team come tournament time. At present, they lack the offense or defense to have loftier goals. Down the road if things start to really come together for players like Laura Stacey and Lindsey Allen, perhaps Dartmouth can force me to reconsider.
Northeastern is farther along and plays in a league that is more there for the taking. The Huskies get bigger contributions out of their senior class with players like Katie MacSorley and Kelly Wallace, plus Brittany Esposito is back in the lineup. However, my guess is that the Huskies' objective will ultimately become holding onto home ice for the quarters instead of challenging the two other Boston teams in Hockey East.
Because Dartmouth and Northeastern aren't really in the national picture, they have the luxury of being able to experiment to some extent when they meet. It's different for the contending teams, where every point is vital, so they must do whatever it takes to win every time out. That can limit the ability to develop depth in both skaters and goalies in the long term.
This weekend, we also have a tournament being contested. While it doesn't have quite the tradition of the Beanpot, I expect that the Nutmeg Classic will pick up steam as the Connecticut teams get more established. This year, RIT joins UConn, Quinnipiac and Yale. The Tigers seem like a better fit for the out-of-state guest than last season, when BC was the fourth team and Nutmeg Classic champ. Do you like the host Bobcats, fresh off their tie with Princeton on Tuesday, in that event? I'm sure they would like it to be a trial run for the Frozen Four in March.
Candace: I'd have to favor the Bobcats yes, but their play of late hasn't set the world on fire. It's almost as if they put all their energy into beating Boston College and then fell off after that. Even prior to the BC game, they had a scoreless tie with Yale. I don't see RIT, Connecticut, or Yale taking it, but the field does seem very evenly matched overall, so there's a lot of potential uncertainty in it. Certainly I think Quinnipiac has the most weapons, so I'd favor them overall.