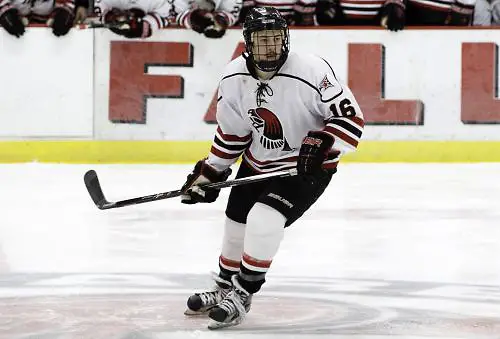 Steve Freeman was asked to talk about the season up to this point for his Wisconsin-River Falls hockey team and he had an interesting take on how things have played out so far for the Falcons.
"Every game is an adventure because we have 13 freshmen on our roster," Freeman said. "We are still all learning to play as a team and we have been up and down. We're still working on being more consistent and playing a certain style of hockey every night."
The Falcons were 4-1-1 heading into the week of Thanksgiving, winning their last two games with a 4-0 victory over Concordia (Wis.) and a 1-0 win over the Milwaukee School of Engineering. Augsburg is the only team that has beaten the Falcons this season, winning 3-2, and River Falls has scored at least two goals in all but one game.
"We've played pretty well offensively," Freeman said. "We've definitely gotten opportunities to score and we continue to make progress. We're still trying to be more consistent on offense, but we have competed hard in every game. The guys always battle."
Willie Hess has played a pivotal role in the success of the offense, scoring six goals and dishing out one assist.
"He has shown a lot of leadership and has tremendous speed," Freeman said. "He is having a great year and our other lines are starting to settle in. We're also getting good leadership from our older players."
River Falls has seen Scott Lewan step his game up between the pipes as well.
"He has played a ton of hockey games and has a great deal of experience," Freeman said. "He gives us a chance to win every night. But Tanner [Milliron] has been given a chance to play, too, and we feel good about what he brings to the team. I also think our defensive core is a lot stronger than it was last year."
Contending for a title in the WIAC, though, won't be easy. Not with two nationally-ranked teams in the league in Wisconsin-Eau Claire and Wisconsin-Stevens Point.
Still, Freeman is confident his team will bring a solid effort every night.
"We just have to keep doing what we have been and make sure we are on the same page," Freeman said. "Our intensity level has to be high because we are going to be in for a battle every night. Our league is one of the strongest in the country from top to bottom and you have to bring your best effort to compete."
SHOWDOWN: Wisconsin-Eau Claire played St. Norbert in a battle of the top two teams in the country on Friday night and for the first time this season, the No. 1 Blugolds fell 5-2 to the second-ranked Green Knights.
Eau Claire had its streak of eight consecutive wins that dated back to last year come to an end. Jon Waggoner scored both goals for the Blugolds and Tyler Green came through with 27 saves. It was the first loss of his college career.
St. Norbert held a 32-17 edge in shots on the Blugolds, who went 0-for-6 on the power play.
BORDER WAR: Wisconsin-Superior emerged with a 3-2 victory over St. Scholastica in front of a near-capacity crowd on the road Saturday night.
Tanner Dion, Pat Dalbec and Brad Phenow all scored goals for the Yellow Jackets, with Phenow's goal breaking a 2-2 tie in the second period.
Drew Strandberg came through with the win in goal, racking up 16 saves. He improved to 2-2 on the season.
The Yellow Jackets took 28 shots on the night and the Saints were limited to 18 shots as they suffered their first loss of the season.