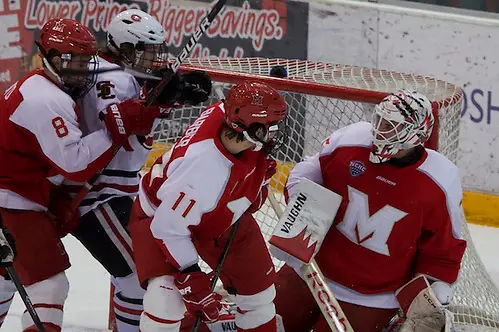 As people ready to journey home and overindulge in turkey, stuffing, mashed potatoes and pumpkin pie, we thought we'd take a moment to reflect on what the coaches and/or teams of the NCHC have to be thankful for after the first six weeks of the season.
There's still a long way to go in this inaugural NCHC season as well, so the coaches better start getting their Christmas lists together too!
Colorado College
It's been a tough start for the Tigers, with very few bright spots. Things started well enough, with a 3-1 win over Minnesota-Duluth in their first game of the year. However, that is the lone win for CC so far, as the Tigers are 1-8-2.
Among those losses are a 3-1 decision to crosstown rival Air Force, and a 1-1 tie/shootout loss and 2-1 loss to archrival Denver. CC wasn't even able to revel in its recent 2-2 tie/shootout win over St. Cloud State, as the Huskies came back and pounded the Tigers 6-2 the next night. Offensively, nobody on CC's roster has more than four points in the first 11 games.
Yes, coach Scott Owens might seem to think he has very little to be thankful for so far, except perhaps the end of November. However, there is definitely one thing that he can be thankful for, and that is the play of goaltender Josh Thorimbert, who has a .907 save percentage and 2.83 GAA in 11 games.
Thorimbert has given CC a chance to win in every game, but the Tigers' anemic offense simply hasn't come through. Of its 11 games so far, four have gone to overtime, including a 1-0 loss to Clarkson. If some of the players Owens expected to produce offensively start to, the Tigers could be back in the hunt.
Denver
Given its record of success over the last decade, a record of 7-5-2 for the Pioneers might not seem like much to be excited about. But Denver, playing under first-year coach Jim Montgomery, has several things to be thankful for, including an improved record in overtime decisions after dropping its first four by identical 3-2 scores, as well as a decent start in conference play at 3-2-1.
Montgomery, however, must be thankful most for having Sam Brittain in net. One year after losing the starting job to Juho Olkinuora (who is now playing in the pros), Brittain has returned with a vengeance and is among the top performers in almost every goaltending category.
He is sixth overall nationally with a 1.65 GAA and .945 save percentage. He is fourth in minutes played, and is tied for the lead in shutouts with three with five other goalies, including fellow NCHC goalie Ryan McKay of Miami. Brittain is a big reason that Denver is fifth in team defense, and if the Pioneers continue to keep that up, they will be a dangerous team for anyone to face.
Miami
Heading into the Thanksgiving holiday on a three-game losing streak with a record of 7-6-1, coach Enrico Blasi might not be feeling particularly festive, but he shouldn't have to look too far to find something to be thankful for. After all, no other team in the country can boast two top-five scorers.
While Miami's offense is only 15th nationally, it is anchored by the dynamic duo of Austin Czarnik and Riley Barber, who are tied for fifth nationally in scoring with two other players, all of whom have 19 points. Barber and Czarnik are averaging 1.36 points per game.
Barber is tied for ninth nationally with nine goals, while Czarnik is tied for fifth nationally with 12 assists. Of Barber's nine goals, two have come short-handed, three on power plays, and three turned out to be game-winners.
While there is some falloff offensively after these two (Blake Coleman is third on the team in scoring with 12 points), when you have two highly skilled scorers leading your offense, you have to feel thankful and believe you've got a shot in every game.
Minnesota-Duluth
What does coach Scott Sandelin have to be thankful for? His team has been, by some definitions, mediocre, sporting a 5-4-1 record. Of course, there are lies, damn lies, and statistics, as the Bulldogs have played the 10th-hardest schedule in the country.
Sandelin also could be thankful for the play of freshman Alex Iafallo, who leads the team in scoring with 10 points.
However, Sandelin is probably most thankful for his team's ability to shake off bad losses and come back stronger while preventing losses from turning into streaks. In every weekend but two, the Bulldogs have lost the first game of their two-game set (the exceptions were the first set against Michigan Tech and an early November tilt against Ohio State). In those losses, the Bulldogs gave up at least three goals, sometimes getting blown out, as happened last Friday against Minnesota, when they fell 6-1 to the Gophers. However, the Bulldogs have rebounded in the second game of each of those series to beat tough, ranked opponents such as North Dakota, Notre Dame and Minnesota. They scored six goals against the Gophers last Sunday, six against North Dakota, and four against Notre Dame.
If the Bulldogs figure out a way to build consistency, Sandelin will be thankful for his team's early resiliency.
Nebraska-Omaha
Mavericks coach Dean Blais might have been worried about what he would have to be thankful for at the start of the month. But the Mavericks have been hot in November, going 6-2 so far against Denver, North Dakota, Michigan and Miami, so Blais is probably hoping this month doesn't end.
Blais knew he would have a lot of offense on his squad, and he likes to play run-and-gun hockey, so the strong play of Josh Archibald, Ryan Walters, Brock Montpetit, Dominic Zombo, Michael Young and Jake Guentzel, all of whom are in double digits in points, probably has him thankful.
However, as the Mavericks get ready to close out the first half of the year, Blais is probably most thankful for finding a starting goalie. Ryan Massa has won five in a row in November and has improved his save percentage to .899 and GAA to 2.72.
Last weekend, Blais started Massa in back-to-back games against conference rival Miami, and the junior delivered by giving up only four goals in the two games against the No. 15 offense in the country. If Massa, who won NCHC goaltender of the week honors for his play against Miami, continues to play well as the No. 1 netminder, the rest of the season could be much more like November than October for Blais and company.
North Dakota
Coming into this season, North Dakota was riding a lot of expectations, with some calling the team the favorite for the regular season NCHC crown. After last weekend, in which it lost and tied against Boston University, North Dakota has dropped out of the top 20.
What does coach Dave Hakstol have to be thankful for then? Perhaps the hope of health. During a stretch of difficult games that began against Nebraska-Omaha on Nov. 9, nearly half the team was hit by a flu bug that made it hard for North Dakota to field a full team in practice. However, North Dakota is home for a Thanksgiving series against St. Lawrence, and perhaps that rest will enable North Dakota to be fully healthy and start on its normal, Hakstol-era second-half surge, right in time for playoffs.
St. Cloud State
Coming off its most successful season ever, in which it reached the Frozen Four and took home a share of the WCHA regular season title, St. Cloud had reason for optimism despite losses such as Hobey Baker Award winner Drew LeBlanc.
The Huskies have justified that optimism, sitting second in the USCHO.com Division I Men's Poll and second in the conference standings.
For coach Bob Motzko, perhaps the thing to be most thankful for is balance. St. Cloud sits ninth nationally in team offense, averaging 3.58 goals per game, despite that the Huskies don't have a single player in the top 40 in scoring.
Sophomore Jonny Brodzinski has avoided a sophomore slump and leads the team in scoring while averaging a point a game. Captain Nic Dowd is right behind, with .916 points per game. A couple of freshmen have also stepped in well, with Ryan Papa fifth on the team in scoring and defenseman Niklas Nevalainen ninth.
Defensively, the Huskies are even better. St. Cloud is fourth nationally in team defense, yet goalie Ryan Faragher, while playing well, sits at only 15th nationally among goalies. Clearly, it is a team effort, and St. Cloud has had two defensemen, Ethan Prow and Andrew Prochno, named defensive players of the week for the NCHC.
Motzko and his players are also probably happy for having Thanksgiving weekend off before going on the road to face Minnesota-Duluth in early December and closing at home against Union.
Western Michigan
While the Broncos sit at .500 with a 5-5-2 record after their sweep last weekend of Michigan State and continue to struggle on the road, going 1-3-1, coach Andy Murray has to be thankful that he finally has a legitimate scoring threat or two.
Last year, Western Michigan won with defense. The team didn't sport a single player that averaged more than .657 points per game. So far in this young season, the Broncos have easily bested that, and sport one scorer in the top 12 nationally in scoring with Shane Berschbach.
Last season, Berschbach averaged .545 points a game. So far this season, he is up to 1.41 points per game. Berschbach was just named the offensive player of the week for the NCHC for the second time after his four-point weekend against the Spartans.
Murray can also be thankful for the offensive efforts of Justin Kovacs, who is averaging 1.08 points per game.
If the Broncos can take the win at Michigan State last Friday as a springboard to better road play, Murray will have even more to be thankful for.
NCHC players of the week
Offensive player of the week — Shane Berschbach, Western Michigan: Berschbach helped lead the Broncos to a sweep of Michigan State, assisting on the second goal in Friday's 2-0 win and scoring a goal and two assists in Saturday's 4-1 win, including assisting on the game-winner. He posted a plus-3 on the weekend while winning his second offensive player of the week honor this season.
Defensive player of the week — Andrew Prochno, St. Cloud State: Prochno had three points in two games while going plus-4 in a weekend series against Colorado College. He had an assist on Friday in a 2-2 tie/shootout loss and then scored the first goal and assisted on the last in Saturday's 6-2 win. Prochno blocked five shots on the weekend while helping the Huskies kill six of eight penalties.
Rookie of the week — Trevor Moore, Denver: Moore, who is tied for the team lead in points, had his best weekend of the season in two games against Air Force. He scored an unassisted goal on the road Friday that tied the game and then scored the last two goals in Saturday's 3-1 win at home over the Falcons. He finished the weekend plus-2.
Goaltender of the week — Ryan Massa, Nebraska-Omaha: In his first weekend starting both games, Massa was a big part of Nebraska-Omaha's sweep of No. 8 Miami, posting a 2.00 GAA and .931 save percentage. He stopped 29 shots, including a penalty shot, in Friday's 6-3 win, and followed that up with a 25-save effort in a 3-1 win on Saturday.