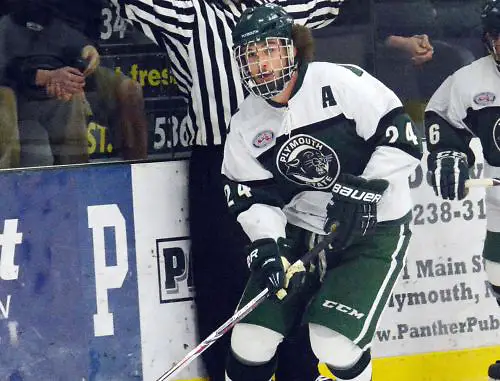 Zach Sarig has unleashed his inner Fulton Reed.
Fulton is a character in the "Mighty Ducks" movie series known for his slap shot from the blue line.
Sarig is also a defenseman that has shown his offensive skills this season with six goals and six assists in just seven games.
The 6-foot-3, 230-pounder is coming off an eight-point freshman campaign and a 20-point sophomore season.
"I thought to myself my [defensive] partner Dave Walters and myself would really need to step it up," said Sarig of his hot start. "I am doing what I can for the team and hopefully, we can take it into the right direction."
In back-to-back games against Salem State and Fitchburg State on Nov. 12 and Nov. 14, Sarig scored in both games and left some carnage.
"In two of the home games last week, he actually put two pucks through the net," said Plymouth State coach Craig Russell. "I have never seen that happen once, but he did it on back-to-back nights."
Russell said he would like to put a radar gun on Sarig's shot. Sarig, on the other hand, said he had his shot clocked back in high school.
"I actually did a hardest shot competition when I was in high school and that was some quite some time ago," Sarig said. "I was clocked at 89 [mph] in my junior year in high school. I am pretty confident I can get it close to 100, if not over."
Sarig said it's a combination of things for him to unleash a shot that hard and said part of that is being stronger due to his gym rat mentality.
"Over the summer, I work out almost everyday [because] I like to be in shape," said Sarig. "It's not everyday you can put the puck over 100 miles-per-hour. I really work hard in the offseason putting on muscle."
He added that he doesn't have the best form in terms of a shooting technique, but he uses an extra stiff stick that adds to his shot.
Russell said Sarig is a leader on and off the ice.
"He just has that knack and obviously, he's on our power play, but we don't center our power play around him necessarily," Russell explained. "When he's out there, the guys want to give him the puck because he likes to shoot it. The other team knows it and Fitchburg started to shadow him a little bit on the power play."
Russell mentioned Sarig can locate his shot, but he also shoots the puck to create offensive chances for the forwards.
"He misses the net Because he's close to the net," Russell said. "He's not missing it by three feet wide, he's usually shooting from the middle of the ice when he does shoot. Those rebounds are coming off the glass or off the backboards back to the front. Because it isn't a shot on net it doesn't mean it's not going to create an opportunity for us."
The Plymouth State coaching staff has been working with Sarig on his defense and controlling his physical play for the last couple years. It has certainly has paid off as he only has had four penalty minutes so far in 2013-14.
"He wants the puck on his stick, he's a converted forward," Russell said. "He played forward a lot as a young kid. We made him a defenseman and that's partly why he has the offensive instincts that he's got. He needs to concentrate on taking care of his end first. He understands that and we have worked on that quite a bit and will continue to do that."