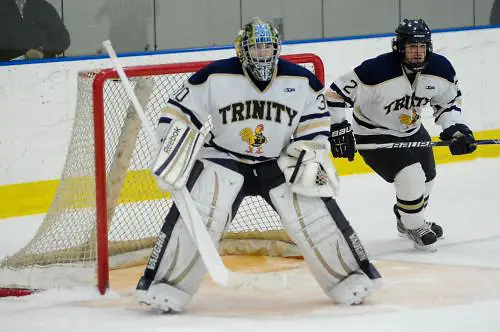 For Trinity coach Matt Greason, this year brings forward some new opportunities for players to emerge in leadership and productivity, as well as reliance on a cornerstone of last year's success.
Gone are the Menard brothers who led the Bantams on and off the ice, leaving just a trio of seniors among a roster of younger players looking to fill that leadership void as the Bantams look to improve on last year's record.
"In some cases, I really didn't need to say some things to the Menards," noted Greason. "There were times where through their experience, they just knew what to do and what direction to give their teammates. This year's group has a fair amount of juniors that have now got a couple of years under their belt in the system and will be looked towards helping our new guys come up to speed quickly, particularly offensively where we lost some key pieces to graduation."
The Bantams have opened at 3-1-0 in their first four games, all in the NESCAC conference. Early signs are promising for the Bantams who have shown some diverse scoring against some quality opponents.
Sophomore John Hawkrigg and junior Jackson Brewer have been key players offensively, along with freshmen Ryan Cole and Sean Orlando, who lead the team with three goals apiece in the young season.
Greason is optimistic that there will be good balance this season for the offense and has liked what he has seen so far.
"It is a pretty good start," stated Greason. "This early, we just want to establish our game and develop some consistency and productivity across the group. We have 16 players that have found the scoresheet already this season, including four of our six freshmen that have been playing. It's been great to see the depth, especially in the context of the opening games of the season in what is going to be a very challenging NESCAC conference this season. We start off with the four conference games and then finish the first semester with four nonconference games that will be a good challenge for our team. Luckily, three of those games are at home, but two of our road games are very difficult places to play [Amherst and Manhattanville] and should help identify where our team is in terms of its maturity and ability to compete every night regardless of the venue."
Any coach would be challenged with integrating a young roster at the beginning of the season, but Greason does have a trump card in returning all-conference senior goaltender Benjamin Coulthard who can cover up a lot of mistakes early on while the skaters come together with each other and within the system.
"Benjamin has been just solid and consistent for us from the time he came to Trinity," stated Greason. "Yes, he has often times come up with the big save when we need it most, but we don't want to get too dependent on that ability or rely too heavily on the guy in the crease to always be the difference-maker for our team. We need to have all aspects of our game performing at a high level and are focused on getting there as a group, but it is nice to know that we have one of the best back in the crease and the team has that confidence in him as well."
Coulthard has played all four games so far this season and has been solid with .915 save percentage and 2.52 GAA. The senior is not only stopping pucks, but he has also already chipped in offensively in posting an assist early this season on the game-winning goal by Cole against Tufts late in the third period.
One area Greason's team and the coaching staff are still looking to get their heads around is the schedule that sees a number of Saturday-Sunday game pairings versus the more traditional Friday-Saturday slate. This past weekend and the weekend following Thanksgiving showcase the weekend format in which Trinity will see more similar weekends in the second half of the season.
"I think it is hard to get into a consistent schedule with the Saturday-Sunday alignment," stated Greason. "It is what the schedule is, so we will figure out how to get into a routine that works for the team, but I really prefer the Friday-Saturday from a practice planning perspective."
The next three games will bring Trinity face-to-face with some challenging nonconference games against both up-and-coming programs like Salve Regina and Stonehill, as well as consistent performers and a national level competitor like Wentworth.
"We don't take anyone lightly," said Greason. "These games may not be important in the league standings, but are critical for the development and improvement in our game. We want to get points and wins every weekend so we don't treat these games any differently than the opening weekends where we were in conference. Salve [Regina] is playing very well right now. We saw Stonehill and their up-tempo game last season and Wentworth is always a tough team to play. Then we finish the first half on the road against Manhattanville in a very tough place to play, so all of these games bring chances for our team to improve and develop a consistent and successful level of play.
"The league is going to be very tight and if we want to compete for a home-ice playoff seed, we need to focus on getting our game better and learning from each and every game regardless of the opponent."
The Bantams are off to a strong start and as the new pieces start to gel, there is much optimism for greater success for the balance of this season.