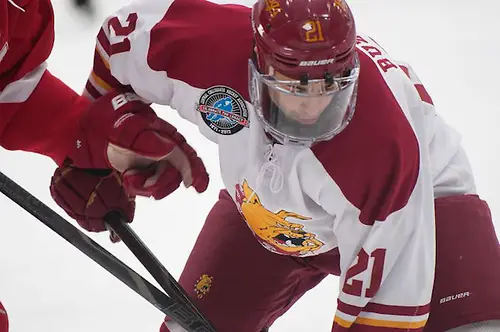 After playing six of its first eight WCHA games at home and eight of its 13 total games in Big Rapids, Mich., Ferris State is on the road for eight straight games before returning home to host Michigan Tech on Jan. 10-11.
This will be a big test for what is now the nation's sixth-ranked team. The Bulldogs are also on a national-leading nine-game unbeaten streak (8-0-1).
"We just came off a six-game home stand so you know you're burning games there. That's why it was important to go 5-0-1," Bulldogs coach Bob Daniels said. "We've proven we can play well on the road. We did our job at home and now it's time to take it on the road."
All three of the Bulldogs' upcoming WCHA opponents hail from Michigan's Upper Peninsula, with a trip to Northern Michigan on deck this weekend and series in Sault Ste. Marie against Lake Superior State after that.
Ferris then plays at Michigan, Michigan State and Minnesota's Mariucci Classic before hosting Tech.
"I like our leadership on this team, which is why I don't get too nervous about being on the road," Daniels said after Saturday's win over Alaska. "I know in January we'll be darn glad to be back in our rink after this stretch of being away."
The Bulldogs boast the WCHA's top two scorers in Garrett Thompson and Justin Buzzeo. Each has seven goals and nine assists. Scott Czarnowczan is the top-scoring defenseman in the league with four goals and nine assists.
The Bulldogs, who are 4-1 on the road, have taken care of business at home, winning five of their last six games with just a tie against Bowling Green tarnishing the perfect home record.
Add in the sweep at Alabama-Huntsville and Ferris State is in first in the WCHA with a four-point lead on second-place Bemidji State, which has played two more conference games.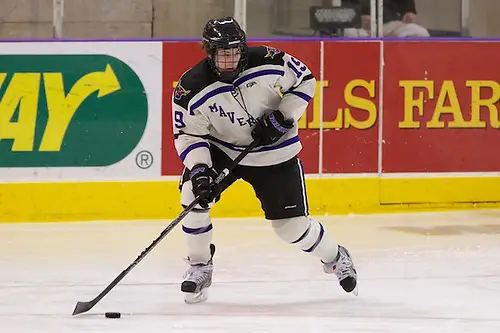 Lehrke returns for Mavericks
Minnesota State suffered a big blow just before the season started when senior forward Zach Lehrke announced he was quitting hockey due to a mysterious medical condition he had been living with — and one that often hampered his play — for many years.
After watching the Mavericks' first 10 games from afar, however, Lehrke decided to come back. He figured he could deal with the painful, often-seizing cramping that came with the condition for a few more months and maybe help out the team's struggling offense, especially the power play.
"So why not finish this out," he told The (Mankato) Free Press. "I've put so much in this game, and it's definitely been hard to watch."
Lehrke began practicing again a week ago and quickly returned to the lineup and to quarterbacking the power play as he had done last season.
In Minnesota State's series at Bowling Green last weekend, he made an immediate impact, getting three assists in the split. All three helpers were on power-play goals, and the Mavericks finished 3-for-11 with the man advantage.
Minnesota State had just four power-play goals in the first 10 games this season.
Lehrke said he's fully committed to the rest of the year, one of the conditions of his return, coach Mike Hastings said.
"There's no going back anymore," Lehrke said. "There are going to be days that aren't very much fun. But there will be days that will be fun, too."
Corbett returns home
Alabama-Huntsville coach Mike Corbett's team didn't get a win last weekend at Northern Michigan. His Chargers didn't even score a single goal.
Yet, the Green Bay, Wis., native and former Marquette Electricians Midget AAA hockey player didn't let all of that spoil his homecoming weekend.
The Chargers bused more than 900 miles from Huntsville, Ala., to Marquette, Mich., with a stop in Corbett's hometown to practice at Brown County Arena and visit Lambeau Field.
Corbett played midget hockey in Michigan's Upper Peninsula before playing in the USHL in Madison and later at Denver. Marquette is where he met his wife, Stacey, to whom he has been married for 20 years.
"It's been good," Corbett said after Saturday's loss. "You see Rick Schwemin on the Zamboni. To be able to do that, it's nice. You want to come back and win, but there's a lot of firsts for me and we still have a lot of firsts left, but it was exciting."
The Chargers have started the season winless in 12 games, including eight in WCHA play. While they've been in games this season — four one-goal losses, all on Saturday nights — the Chargers have scored only 11 goals, with five coming in league play.
"Unfortunately, our kids are learning the hard way what it takes to play in the WCHA a little bit," Corbett said.
"Our margin of error is so small. When you're struggling to score goals, your margin of error is so small."
Around the WCHA
• After starting the season 4-1-2, Alaska is reeling a bit with just one win in its last five games. The Nanooks are 2-4 in WCHA play. Senior Cody Kunyk scored three more goals in the two losses at Ferris State and is second in the WCHA with nine goals and tied for fifth with 13 points. "Cody's our best player," coach Dallas Ferguson told the Fairbanks Daily News-Miner.
• After going 3-for-10 on the power play in its three-point weekend against Michigan Tech, Alaska-Anchorage maintained the top power play in the WCHA and eighth-best in the nation at 24.2 percent (16-for-66). Jordan Kwas leads the conference in power-play points with nine (4 goals, 5 assists). Last season, the Seawolves ranked 11th in the WCHA in power-play efficiency at 14.4 percent.
• Bemidji State's victory Saturday night over Lake Superior State snapped a couple of streaks. It was the Beavers' first Saturday night home win since a victory over Denver on Dec. 15, 2012, and it was the first overtime win for Bemidji State since Nov. 4, 2011, when it also beat Lake Superior. That snapped a string of 19 consecutive overtime games without a win (0-5-14), including three this season.
• Bowling Green and Minnesota State have played in three consecutive overtime games against each other, with the Mavericks winning two of them. How close are the two teams? In their four games, each team has two wins and 10 goals, and the Falcons have outshot the Mavericks 117-115.
• Lake Superior State and Bowling Green meet this weekend in a rematch of last year's CCHA playoffs. Bowling Green won the first-round meeting in Sault Ste. Marie last year. The Lakers went 1-4 against the Falcons a year ago, but BGSU has struggled on the road in 2013-14, going 1-4-2.
• Michigan Tech remains in the state of Alaska this week to face the Nanooks on Friday and Saturday in only the fourth and fifth meetings all-time between the programs. The Huskies lost their only game in Fairbanks on Nov. 27, 1993. Tech is winless (0-5-1) on the road this year and Saturday's tie was the first road game in which the Huskies had a lead.
• Northern Michigan redshirt freshman goaltender Mathias Dahlstrom recorded 17 saves in a 4-0 win on Saturday after making 16 stops on Friday in a 3-0 victory over Huntsville. He not only gave the Wildcats their first sweep of the season, but consecutive shutouts for the first time since the 2007-08 season. It was also the first weekend of back-to-back sweeps for the Wildcats since a pair of 3-0 wins over Lake Superior on Dec. 5-6, 2003.
• This week's WCHA players of the week were: Bowling Green forward Mark Cooper (offensive), Ferris State goaltender CJ Motte (defensive) and Northern Michigan goalie Mathias Dahlstrom (rookie).