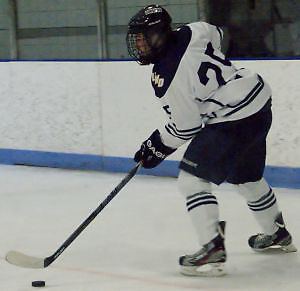 Massachusetts-Dartmouth is taking positive steps in the Corsairs' rebuild.
Last year's MASCAC champions are sitting 2-6-1 overall, but the record doesn't indicate how they have been playing.
"We have four losses with less than a minute left," said UMass-Dartmouth coach John Rolli after the game against Bowdoin on Sunday. "We lost a game with 30 seconds left, we lost a game with seven seconds left, we lost a game in overtime and last night was a loss even though it was a 4-4 tie because we gave up the tying goal with 11 seconds left."
Rolli, now in his 30th season at UMass-Dartmouth, knows these losses are a product of inexperience. On Sunday against Bowdoin, he only had three upperclassman in the 5-1 loss.
It was the first time all year the Corsairs were down after 20 minutes of play.
"For us, we played the game with two seniors and one junior," Rolli said. "We had a lot of inexperience out there and we are trying to coach them to play college hockey."
Some of the freshmen have been stepping up for the Corsairs, though.
"We have three freshman forwards that are really playing well for us," Rolli added. "On our first line, Tanner Zacharewicz is a big right winger and then on the second line, left winger Yuriy Sokayev comes out of the New York Apple Core in the old Eastern Junior Hockey League and Tommy Braswell played prep hockey at Bridgeton Academy last year. They have been pleasant surprises for us."
Zacharewicz has two goals and two assists this season, while Sokayev has two goals in eight games played and Braswell has two assists in six games.
Also contributing to the offense so far this season is Mark Restuccia, who has three goals and 11 assists in nine games this season.
Shaun Walters, the lone junior on the team, has eight goals and four assists in nine contests. As a sophomore, he had eight goals and a total of 19 points in 26 games.
Despite allowing five goals on Sunday, Rolli was impressed with freshman J.J. Solloway, who made his second career start in net, making 48 saves.
"Solloway did himself certainly well [Sunday]," Rolli stated. "I think he will be a very good goaltender for us down the road."
For now, Rolli is taking it one game at a time.
"This a big step for us," said Rolli. "I thought [Saturday] night at Colby, we battled them to a 4-4 tie was a positive for us. [Sunday], we ran out of gas in the third period, but that's all credit to Bowdoin."
Rolli hopes his team can work on game situations and protecting a lead and be able to comeback against stronger opponents in the future.