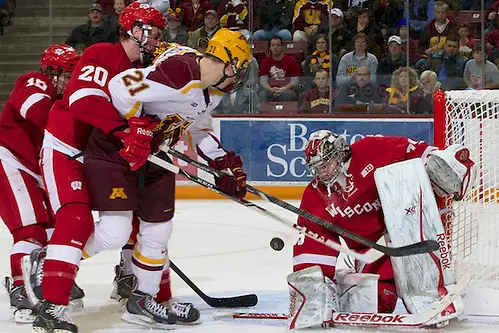 It's Wednesday evening and I'm putting the finishing touches on this week's column, the last of the first half of the season. Coincidentally, I just filed fall semester grades for my four classes at Mott Community College on this last day of the semester. We're a week away from Christmas but the mood is end-of-the-year reflective.
It's too soon for me to process the last 16 weeks of teaching — I think that also requires a beverage stronger than what's served in this coffee shop near Flint, Mich. — but now that my head is no longer full of research essays and student poetry, I have a little room to breathe and to think about the first half of the Big Ten's inaugural season.
Let that sink in for a minute: Not only is the first half of the 2013-14 season in the books, but we've just witnessed half of the first-ever season of Big Ten hockey. All of college hockey's recently shifted landscape is still so new that it's challenging for me to wrap my very small brain around how things have changed, let alone about how these changes may play out by March and April.
Complicating the processing is the small number of league games played so far by Big Ten teams.
I think that looking back at the first half requires more thought … and more coffee. Are you in?
Six teams, interesting schedule
It's midseason and Minnesota leads the Big Ten with a record of 3-0-1. Four conference games. The only other Big Ten team to have played four league games is Wisconsin; all others have two to their credit.
At the start of this season, we all knew that the early going for each Big Ten team would be front-loaded with nonconference play. Quite frankly, I didn't anticipate how much fun this would be to watch. What a delight to see Boston College play Michigan in Ann Arbor on Oct. 10 — and what a delight to see that the level of play mimicked an NCAA playoff game. The same goes for last week's Ferris State-Michigan contest, which was everything a game between two top-five programs should be.
While the shifting in scheduling isn't limited to the Big Ten, it did make for some perhaps unanticipated side effects, like nonconference play that felt all too familiar. When Minnesota was gearing up for its first-ever weekend of Big Ten play, coach Don Lucia said it was a non-issue.
"The reality is that I almost feel like we're playing the WCHA," said Lucia. "That's what's been a little bit strange."
In the two weeks leading up to that first league series, the Golden Gophers played former WCHA foes Minnesota State and Minnesota-Duluth. When Ohio State and Michigan opened their Big Ten seasons, they did so against each other — on the weekend when their respective teams were meeting on the gridiron, something of an annual big deal for each of those schools.
Goaltending, perhaps the story of the season so far
I admit that I was a skeptic when it came to the Wolverines this season … until I saw Zach Nagelvoort play. The freshman goaltender currently leads the nation in GAA (1.67) and is fourth in the nation (.944) in save percentage.
His steady presence seems to have provided a key ingredient to cementing a team that had the consistency of oatmeal for much of 2012-13. Sure, the Wolverines made a run for it at the end of last season, but last season Michigan impressed me more with what it lacked than what it had — in spite of having the boatload of talent it has every year.
Then there's Wisconsin junior Joel Rumpel (2.14 GAA, .926 save percentage). Since his return from an ankle injury in mid-November, the Badgers are 6-1. Remember that Wisconsin is 8-5-1 overall.
Minnesota sophomore Adam Wilcox (2.17, .923) is 11-2-2 this season and is one key reason for the Gophers' success.
The goaltending story of the first half, though, is Ohio State's Logan Davis (2.21, .909), who stepped in for an injured Matt Tomkins, the freshman draft pick of the Chicago Blackhawks, after sophomore Collin Olson left the team the week before Tomkins was injured. Olson is another NHL draft pick, property of the Carolina Hurricanes. Davis is a third-string walk-on from the Columbus suburb of Upper Arlington.
It was a position that Davis never imagined. "He was the third goalie on the team," said OSU associate head coach Brett Larson. "He knew the situation coming in behind two NHL drafted goalies. He was excited to be part of the team knowing that he was the third goalie."
Adding to the drama, the Buckeyes suited up two more walk-ons, Aaron Gretz and Aaron Kahn. Gretz is a junior catcher for the Ohio State baseball team. Kahn was the starter for the OSU club team — and gives up his entire year of club eligibility to back up two other goaltenders until Tomkins returns.
Incidentally, Davis has a 3-2 record.
Fabulous freshmen
Minnesota's offense is second in the nation, averaging 3.94 goals per game. It is somewhat surprising, then, that no single Golden Gophers player has reached the 10-goal plateau yet.
The team is spreading the scoring around and Gophers' freshmen are not shy about grabbing some of that glory. Minnesota has scored 63 overall goals; the rookies have netted 27 of them. That's nearly 43 percent of Minnesota's overall scoring.
Leading the goal scoring among the freshmen are Justin Kloos (6-11–17) and Hudson Fasching (6-8–14). Seven of Minnesota's rookies have at least one goal.
Other rookies with good scoring first halves include Michigan's JT Compher (5-9–14) and Tyler Motte (5-3–8); Michigan State's Mackenzie MacEachern (6-3–9) and Villiam Haag (5-3–8); and Wisconsin's Grant Besse (4-3–7).
Then and now
At the start of the season — when the whole thing was nothing but potential — each coach said at least one thing that remained with me throughout the first half.
Minnesota
For Minnesota, the big question was who was going to replace the five juniors lost to the pros at the end of the 2012-13 season. At the Big Ten media day, coach Don Lucia addressed this. "So this group, we have to be patient and allow them to grow during the course of the season," he said. "But we have some guys that can make plays and we've seen that so far in practice and just in our couple days."
It's interesting to me that the Gophers really needed no patience for their freshman class to acclimate and step into the roles needed for the team to be successful. It's also fun to watch upperclassmen have good first halves. Junior forwards Seth Ambroz (8-5–13) and Sam Warning (5-15–20) have certainly done the proverbial stepping up; Ambroz had nine goals in 38 games last season, while Warning had eight in 29.
Wisconsin
The Badgers were picked by the coaches in the preseason to finish atop the Big Ten this year. "I think the reason we were picked in that position," said coach Mike Eaves, "is because you take a look at our lineup and we're an upperclassmen team."
Nine Wisconsin seniors have played every single game this season. Forward Michael Mersch (10-6–16) leads the team in goal scoring, and every single senior has at least one goal this season.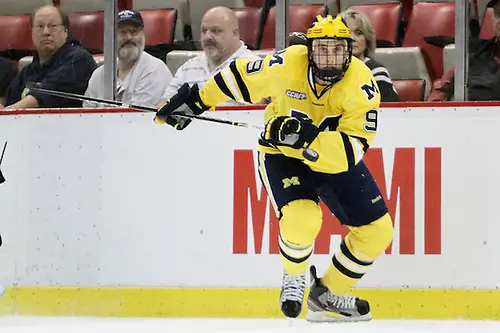 Michigan
Eaves wasn't the only coach counting on his upperclassmen at the start of the season. Said Michigan's Red Berenson: "I've always said … you're as good as your senior class."
Four Michigan seniors have played all 14 games this season, and while none is as flashy as some of the younger Wolverines players, each is a key contributor to Michigan's overall game. Forward Luke Moffatt (5-7–12) is an under-the-radar player with four power-play goals to his credit. Captain and defenseman Mac Bennett is one of the most underrated players in college hockey.
The leadership of this senior class — including that of assistant captain forward Derek DeBlois and defenseman Kevin Clare — is another difference between this year's Wolverines and the team last year that didn't make the NCAA tournament.
Michigan State
The Spartans are young and there's no trading anyone. Just ask coach Tom Anastos.
"So a lot of youth, a lot of inexperience last year and in certain spots," said Anastos. "We lost five defensemen from the previous year, so one of the challenge for me when I came in was to try to restructure our roster. This isn't like pro hockey where you can make trades. You have to kind of live through some of those transitions and timing and so on."
While it's true that Michigan State has 15 freshmen and sophomore skaters, the Spartans weren't playing like an inexperienced team at the end of the first half. Michigan State had a respectable weekend against Minnesota Dec. 6-7, tying the Gophers 2-2 — and taking the extra shootout point — before losing the next day 3-2. And the Spartans held tough for a while in a 2-0 loss to a very good Ferris State team Dec. 14. This is a team that plays hard and is nearing the level of consistency required to be competitive.
Ohio State
At the start of the season, first-year coach Steve Rohlik said: "We're excited. We've got a great group of kids back with our leading scorers, with Ryan Dzingel, Tanner Fritz, and Max McCormick back up front. Certainly going to have to lean on them."
Juniors Dzingel (9-9–18), Fritz (2-13–15) and McCormick (7-9–16) are responsible for 18 of OSU's 50 overall goals. Dzingel and McCormick are on pace to equal their goal scoring of a year ago.
Penn State
Coach Guy Gadowsky was frank at the beginning of the season when asked about his team.
"No idea. I mean, we're new," said Gadowsky. "It's a new conference. We're new. We've never been in a conference. So very difficult for me to say this is what you're going to get. We don't know."
Prophetic words for an unpredictable team, but we do have some idea of what the Nittany Lions are about. Penn State has the 44th-best offense (2.46 goals per game) in the nation, the 53rd-best defense (3.77 goals per game) and the Nittany Lions are sixth in penalty minutes (16.8) per game. Gadowsky likes his players to play passionately. They do.
The Nittany Lions ride a six-game losing streak into the Three Rivers Classic on Dec. 27 and 28, last playing an inconsistent weekend against Wisconsin. In their 7-1 loss Dec. 6, the Nittany Lions were outshot 43-28; in the 4-3 loss the following night, the shot differential was 31-30 in favor of the Badgers and Penn State scored a goal in each period, giving Wisconsin a game.
Players of the week
Two Big Ten teams were on the successful (or semi-successful, at least) end of things last week. Not surprisingly, their players are the ones honored this week.
First star — Michigan freshman goaltender Zach Nagelvoort: Nagelvoort stopped 29 of 31 shots when the No. 3 Wolverines tied then-No. 4 Ferris State 2-2 last Wednesday. True, Nagelvoort and the Wolverines won the shootout. True, the shootout doesn't matter. True, too, that Ferris State absolutely is the real deal, and the rookie was well tested.
Second star — Wisconsin senior forward Michael Mersch: Mersch had two goals in Wisconsin's two-game home sweep of Colorado College, earning his 100th career point with his goal in Friday's 4-1 win.
Third star — Wisconsin junior forward Brad Navin: With a goal and two assists in Wisconsin's 4-3 overtime win Saturday, Navin had his second career multi-point game — and one of those assists was on Tyler Barnes' game-winner in overtime.
My ballot
1. Minnesota
2. Michigan
3. Ferris State
4. St. Cloud State
5. Union
6. Providence
7. Quinnipiac
8. Clarkson
9. Massachusetts-Lowell
10. Yale
11. Boston College
12. Wisconsin
13. Vermont
14. Miami
15. Notre Dame
16. Lake Superior
17. North Dakota
18. New Hampshire
19. Northeastern
20. Minnesota State
Happy holidays, folks
Enjoy whatever it is you celebrate — and celebrate the people in your lives who mean so much to you. Merry Christmas. Happy Solstice. Happy New Year.