Holiday time meant tournament time for several Atlantic Hockey teams. In case you missed it, the stretch between Christmas and New Year's had it all: An outdoor game with conference points on the line, four tournaments, including two hosted by AHA schools (one of which included a league game) and three plain-old nonconference matchups.
Frozen Falcons
Playing at Fenway Park is a dream for most New Englanders but was reality for Bentley and Holy Cross as the schools opened the 2013-14 Frozen Fenway festivities last Saturday.
Falcons forward Brett Gensler was the star, scoring all three Bentley goals, including the game-winner with 11:53 to play as the Falcons topped the Crusaders 3-2.
"It's something I'll never forget," said Gensler, a native of St. Charles, Mo., which is smack dab in the middle of (baseball) Cardinals Country. But even a Cards fan can look past last season's World Series when in the heart of Red Sox nation.
"When we walked in [to the Red Sox clubhouse], we kind of all were taken aback by it a little bit," said Gensler. "It's something that not all of us get to experience. We're from all different parts of the world. We have Canadians and those guys never get to see this kind of stuff either. It was really cool, a special experience and something we'll be able to tell our kids about hopefully one day. The whole atmosphere tonight was awesome."
Bentley coach Ryan Soderquist, a native of nearby Stoneham, Mass., made some lasting memories as well.
"It's obviously something that's pretty special, having grown up in Boston and having been here for Red Sox games in the stands," he said. "It's pretty fun to look out and see a hockey rink in the middle of the stadium and be able to take part in it. Dressing in the Red Sox clubhouse, using their facilities — it was a great experience for our guys and for anyone associated with the game, myself included."
The win extended Bentley's unbeaten streak to eight games heading into a weekend home series with Niagara. Gensler, who has 133 career points including 61 goals, is heating up after a slow start to his senior season. He has registered points in the Falcons' last six games, scoring 12 points over that stretch after accumulating seven in his first 11 contests of the season.
"He's been a solid player for us even if the statistics weren't there at the beginning of the year," said Soderquist. "He just kept getting hungrier and hungrier and kept hunting for goals all year. … In a game like this, you always look to your leaders and ask them to do what you know they can do. And he went out and elevated his game in the moment."
Attendance at Fenway was 3,898, the largest number of fans ever to see the Falcons in a "home" contest. That bodes well for Bentley as it continues to consider possible alternatives to its current home, the John A. Ryan Skating Arena, which holds only 1,200.
"Obviously the growth of our league has been pretty amazing in the last few years here and in our program as well," said Soderquist. "We've been trying to have a game here for the last few years, and it's been kind of an uphill battle. The Red Sox giving us the opportunity to come in here shows the growth in the league and certainly we appreciate the opportunity. Hopefully it shows them we should be a staple in the lineup every year."
It's a cliche because it's true
I hear it a lot from Atlantic Hockey league coaches: the fantastic parity in the conference, and how there's not a lot of separation between the top and bottom of the standings.
This was again proven on Sunday, when Sacred Heart defeated host Connecticut 3-0 in the first round of the UConn Hockey Classic, played this year at XL Center in Hartford, a place the Huskies will call home next season.
This was poised to be a big tournament for the Huskies, who were looking to get by the Pioneers and face either No. 5 Quinnipiac or future Hockey East rival Massachusetts in the title game.
But behind three first-period goals and a perfect 29-save performance by goaltender Alex Vazzano, Sacred Heart picked up its fourth league win of the season and fifth overall.
On Monday, the Pioneers faced Quinnipiac in the championship but never got going offensively, mustering only 12 shots on net in a 5-0 loss to the Bobcats. Vazzano made 49 saves in defeat and was named the tournament's MVP.
Also on Monday, UConn rebounded from its loss to the Pioneers, defeating UMass 2-1 in the consolation game. Freshman goaltender Robby Nichols, the heir apparent to senior Matt Grogan, picked up his second win of the season, stopping 37 of 38 shots.
Connecticut dreaming, on such a winter's day
The Minutemen were the only non-Connecticut team in the tournament, as the fourth Nutmeg State team, Yale, was busy hosting the Russian Red Stars and Holy Cross last weekend.
The interest is strong for an annual tournament with a strictly Connecticut makeup if Yale enters the fold, according to the Hartford Courant. With the potential for a true state champion to be crowned among teams from three conferences, it's something that hopefully Yale can get behind.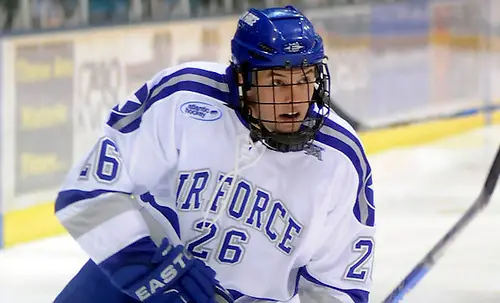 'This is our team'
According to Air Force coach Frank Serratore, he saw something in his Falcons that had been missing for a few games. They got their groove back last weekend, defeating No. 16 Northeastern and No. 5 Providence to capture the Ledyard National Bank Classic, hosted by Dartmouth.
"This is our team," Serratore said after the Falcons handled Northeastern 5-2 in the first round, outshooting the Huskies 29-16. "We haven't seen them for a while."
Air Force came into the tournament 0-2-4 in its last six games before putting together a pair of great efforts, culminating in a 3-2 win over Providence on Monday. Goaltender Jason Torf made 29 saves in the title game, including 17 in the third period.
Senior forward Mitch Torrel was named tournament MVP for his three-goal performance. Torrel had not scored a goal in three previous seasons at Air Force, but now has five this season, tied for fourth-best on the team.
Tweet of the week
Bentley's Gensler shows his loyalties before his Frozen Fenway hat trick.
Ironic to be drinking coffee out of my cardinals mug this morning before playing at #frozenfenway tonight! pic.twitter.com/IzIargr4kr

— Brett Gensler (@bgenz26) December 28, 2013
USCHO weekly awards
Player of the week: Gensler is an easy choice, with all three Falcons goals in their 3-2 win over Holy Cross on the big stage.
Goalie of the week: Sacred Heart's Vazzano, named MVP of the UConn Hockey Classic. He made 78 saves in two games, including a shutout against the host Huskies.
Rookie of the week: Goaltender Robby Nichols from Connecticut paced the Huskies to a 2-1 win over UMass in the consolation game.
The league picked the same three, but also offered Air Force's Torrel and Torf as co-player and co-goalie, respectively.
My thanks to Bentley radio broadcaster and co-columnist Dan Rubin for documenting the reaction of Bentley players and coaches at Frozen Fenway. Based on his tweets, he made a lot of memories as well. On behalf of Dan, best wishes for 2014 and beyond.