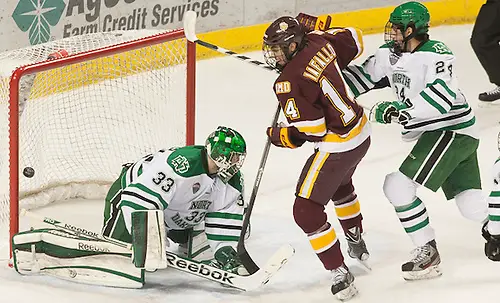 The first NCHC season is at the midway point, and while both St. Cloud State and Nebraska-Omaha have put themselves in a good position to take the first league title, with each league win worth three points, other teams can catch up in a hurry.
St. Cloud, Nebraska-Omaha, Minnesota-Duluth, Denver, Miami and Western Michigan have all played eight league games, while Colorado College and North Dakota have played 10. Let's look at what each team needs to do in the second half.
Colorado College
The Tigers' Achilles' heel has been offense. CC ranks 58th of 59 teams in team offense, averaging only 1.65 points per game. Freshman defenseman Jaccob Slavin is the only player on the team averaging more than half a point a game.
CC also needs to improve its power play, which capitalized only six times in 65 attempts during the first half, a meager 9.23 percent success rate, putting them at 57th nationally.
Senior Alex Krushelnyski needs to step up his efforts, as he has only nine points in the first 17 games, well off his junior year total of 43 points. Junior Charlie Taft, coming off an 18-point sophomore season, has only one point in 16 games played.
Sophomore Hunter Fejes, who had 14 points in his first year, hasn't recorded a single point through the first half, despite spending much of his playing time on the first and second line. His classmate Cody Bradley, from whom coach Scott Owens expected big things this season, has only four points in 14 games while playing a lot of time on the first line.
For CC, too many players are not producing, and the efforts of goaltender Josh Thorimbert, who has kept his team in games, have gone to waste too many times.
Despite such dismal numbers, CC actually has done OK in the league, and sits in fifth place. There is still room for the Tigers to get hot and perhaps contend for home ice in the playoffs if they can start scoring.
Denver
After a rough stretch near the end of October, Denver has righted the ship, going on a 7-1-2 tear to close out the first half and moving up to 16th in the USCHO.com Division I Men's Poll. Denver starts its second half by hosting Brown on Friday before a huge series the following weekend on home ice against St. Cloud.
Denver has a lot of positives, including the nation's top goaltender in Sam Brittain, who has a 1.68 GAA and a .942 save percentage. Brittain's play is a big reason Denver is third nationally in team defense. Brittain played in every game but one in the first half, so rookie coach Jim Montgomery will want to be careful of not wearing out his top goaltender before the playoffs.
Like their in-state rivals, Denver could use more offensive production. Despite an overall mark of 10-6-3, Denver's offensive production has been inconsistent, and ranks 42nd nationally at 2.47 points per game.
Even-strength scoring has particularly been an area of concern; Denver has scored 21 of its 47 goals on the power play, converting on 23.6 percent of its chances, good for eighth nationally. Freshman Trevor Moore leads the team in scoring with 16 points, with a points per game average of .842.
Some of the forwards, many of whom are freshmen and sophomores, need to start pitching in more for Denver to sustain its run.
Miami
Despite sitting at 12th in the poll and boasting arguably the best forward tandem in the country with Riley Barber and Austin Czarnik (who are tied for third nationally in scoring with 28 points), Miami was inconsistent in the first half, posting a 9-7-2 overall record and going 3-5 in the conference.
The RedHawks have another week off before kicking off their second half at Western Michigan. Miami recorded only two weekend splits in its first half, so getting points in both games will need to be a big push for this team.
The defense has been respectable, and sophomore netminder Ryan McKay has a .924 save percentage, but for Miami to go deep in the playoffs, the team needs to clamp down defensively a little. It is giving up 2.56 goals a game, good for 25th nationally.
To its credit, Miami has played a difficult schedule, the 11th-most-difficult nationally, so the RedHawks should be well tested and ready for a second-half run.
Minnesota-Duluth
The Bulldogs have been a glass-half-full team in the first half, sporting a 7-8-1 overall record and 3-5 conference record. Like Miami, the Bulldogs have struggled to get points out of both games in a weekend, splitting every series but two. They got a win and tie against Michigan Tech in the first weekend of the year, and were swept by St. Cloud at the start of December.
The Bulldogs start their second half with an exhibition series with the U.S. Under-18 squad before traveling to Nebraska-Omaha.
On the plus side, the Bulldogs did rack up some good wins, defeating North Dakota, No. 14 Notre Dame and No. 1 Minnesota. The latter was especially big, a 6-2 win on the road.
For the Bulldogs to have a good second half, they need to improve their team defense, which is 38th nationally while giving up 2.94 goals a game, and get better goaltending from Aaron Crandall and/or Matt McNeely, neither of whom has a save percentage over .900.
The Bulldogs also have to hope that their young players continue to produce. Two freshmen, Kyle Osterberg and Alex Iafallo, are second and third on the team in scoring.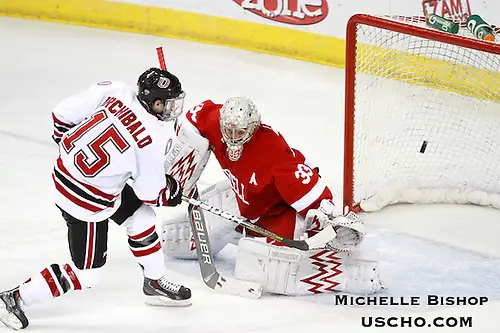 Nebraska-Omaha
The Mavericks were one of the big surprises of the first half. That says something given that their overall record is only 8-7-1; in-conference, they are 5-2-1, good for second with 17 points.
A great November in which they went 6-2 while sweeping Denver and Miami and splitting with North Dakota and Michigan was sandwiched around a poor October, in which they lost to Bentley and Northern Michigan and were swept by Cornell, and also a disappointing December trip to Colorado Springs, where they could get only a tie/shootout win in two games against CC.
One thing the Mavericks have going for them is scoring. They are 18th nationally in team offense, averaging 3.19 goals a game. Junior Josh Archibald has racked up 17 points, and Ryan Walters 16. Two freshmen, defenseman Ian Brady and forward Jake Guentzel, have also done well, racking up 11 points each.
While scoring has been a strength, the run-and-gun approach has led to some defensive breakdowns, and the Mavericks are 41st nationally in team defense, giving up 3.12 goals a game. Junior Ryan Massa has played well at times, as has freshman Kirk Thompson, but neither has a save percentage over .900 and both are hovering around a 3.00 GAA. If the saying holds true that defense wins championships, the Mavericks will definitely need to tighten up defensively to challenge St. Cloud for the league title and have success in the playoffs.
North Dakota
In many ways, this is shaping up to be a usual season for North Dakota. After struggling for consistency in October and November, including losing to St. Lawrence and losing to and tying Boston University, North Dakota finished the first half on a five-game win streak, sweeping Western Michigan and Northern Michigan in the process.
North Dakota has exhibition games against British Columbia and Simon Fraser at the Great Northwest Showcase in Burnaby, British Columbia, this weekend before resuming official play against Colorado College at home the following weekend.
Freshman Luke Johnson, who was named the NCHC rookie of the month for December while averaging 1.50 points per game, caught fire during the win streak, and will need to continue his production to keep North Dakota in the hunt in the second half. Sophomore Rocco Grimaldi leads the team in scoring, averaging .944 points per game, and sophomore goalie Zane Gothberg showed improvement, sporting a .917 save percentage.
North Dakota sits 31st in team scoring and 35th in team defense. The power play, which ranks 25th nationally, has struggled at times, going 17-of-83 for a 20.48 percent conversion rate. Some more scoring, especially on the power play, will go a long way toward a second-half surge from North Dakota.
St. Cloud State
Despite losing Hobey Baker Award winner Drew LeBlanc, St. Cloud had a great first half of the year, going 11-2-3 overall and 6-1-1 in-conference, tops in the league. The Huskies are ranked third in the poll, and even spent one week in the top spot.
The Huskies have won largely with timely scoring and great defense. The team ranks fourth nationally in defense, giving up 2.00 goals per game, and 11th nationally in team offense, scoring 3.50 goals per game. The scoring has largely been by committee; despite its overall team offense rank, the Huskies don't have a single player in the top 50 offensive leaders.
Sophomore Johnny Brodzinski leads the team in scoring, averaging a point a game, and senior Nic Dowd is right behind with 15 points.
If either one of those two can up his offensive production a little, it could make St. Cloud one of the top contenders in the NCAA tournament.
One area in which St. Cloud could look for better offense is the power play, which is 19th, converting on 14-of-66 chances for a 21.21 percent success rate.
Despite its overall defensive ranking, St. Cloud also could stand some improvement on the penalty kill, which ranks 31st nationally, successfully killing penalties only 81.1 percent of the time.
Western Michigan
The Broncos have been a bit of a puzzle so far. They kicked off the second half with an impressive overtime win over Michigan, then followed it with an overtime win over Michigan Tech to claim the Great Lakes Invitational.
Western Michigan is 9-8-3 overall and 3-5 in conference. In looking at its record, one thing that stands out is location; the Broncos have losing records at home (3-4-1) and on the road (2-4-1), but have done well in tournaments, sporting a 4-0-1 neutral location record.
The Broncos are off this weekend before resuming play against Miami at home next weekend.
Western Michigan has been streaky, to both its benefit and detriment. Wins and losses have seemed to come in bunches for this team. Establishing consistency and momentum off its GLI wins will be important for getting Western Michigan off to a good second-half start.
Western has gotten good scoring from senior Shane Berschbach (23 points and 1.15 points per game) and junior Justin Kovacs (20 points and 1.00 points per game), but the offense falls off a little after that. Some better production from Chase Balisy and Josh Pitt would help the Broncos, who are only 39th nationally in team offense, with 2.50 goals per game.
The power play in particular needs work; the Broncos converted on only 12.87 percent of their man-advantage opportunities (51st nationally).
Goaltender Frank Slubowski has been solid, sporting a .913 save percentage and 2.52 GAA, helping the Broncos achieve 12th nationally in team defense.
NCHC players of the month
December player of the month — Justin Kovacs, Western Michigan: Kovacs is the second consecutive Western Michigan player to capture player of the month, after Shane Berschbach claimed it for November. Kovacs tied for the NCHC points lead for December with six points, and tied teammate Josh Pitt for most goals by an NCHC player in December with four, good for third nationally. He averaged a point a game for December, and collected GLI all-tournament team honors for an assist against Michigan and the game-winner against Michigan Tech.
December rookie of the month — Luke Johnson, North Dakota: Johnson tied for the NCHC December scoring lead with six points, averaging 1.50 points per contest in the month. He notched two more points than any other NCHC rookie for the month and tied for second nationally in rookie scoring for the month. He had three goals and three assists, and was involved in three of North Dakota's four game-winning goals for the month, assisting on two and scoring the game-winner against Northern Michigan on Dec. 13. Johnson is a candidate for the Hockey Commissioners' Association national rookie of the month, which will be announced on Jan. 3.