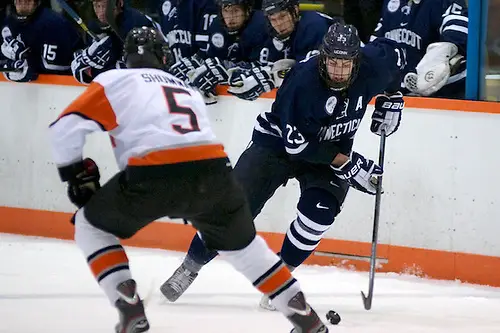 Over the summer, Connecticut unveiled new branding for its athletics programs. It introduced a new logo for the Huskies, a new wordmark, and new, bolder coloring to create a uniform feel across its teams.
Well-received by some and derided by others, there's no doubting that the school finally started its move to unite its programs under a single banner rather than segmenting them with individuality.
But entering the year, there was some hesitation as to the possibility of success among the teams. Sure, they looked the same, but everyone knew that on-field performance spoke louder words than appearances. Looking like the national championship basketball programs was one thing. Playing like them and hanging banners was another.
For the men's hockey team, its final season in Atlantic Hockey couldn't be a lame-duck year filled with blasé and lackadaisical play. With a veteran crop of seniors and a number of underclassmen recruited to compete for the future in Hockey East, this group stands as one of the best chances for UConn to win its second MAAC/AHA championship and secure its first NCAA berth. But they still had to back it up on the ice.
Last weekend, a UConn team finicking around in a three-way tie for third place began to separate itself from the pack. The Huskies mopped the Freitas Ice Forum floor with fellow league front runner Rochester Institute of Technology, sweeping the Tigers 2-1 and 6-2 to close in on the league's top contenders.
After opening the weekend looking up at Mercyhurst and Bentley, the Huskies are now breathing down the necks of the suddenly faltering Falcons, trailing by one point while going 5-1-1 in their last seven games.
"We've had great senior leadership," said coach Mike Cavanaugh. "Our senior class has really anchored this team; they've had three head coaches in less than two years, and they've walked in every day and led this team in the locker room. They've done all I could ask for since Hockey East is nothing that they need to worry about."
The Huskies tore through RIT last weekend, opening up a 2-0 lead on Friday before holding onto the one-goal victory. They turned around on Saturday night and rattled Tigers netminder Mike Rotolo for six goals on 29 shots, including a hat trick by senior Brant Harris, en route to the four-goal win.
Friday's win was UConn's fifth one-goal win, making it 5-1 in those outcomes.
"We've played really well as of late," said Cavanaugh. "We lost to Sacred Heart in the opening game in Hartford (during the UConn Hockey Classic), but that was the first time we really didn't play prepared for an opponent. We were outcoached, outprepared and outhustled. The pressure was really on the guys to perform the next night (in the consolation game against Massachusetts) and we were able to do that. So I was really proud of the way they stepped up and were determined to not let that letdown happen again."
For Harris, his hat trick against RIT was his first career three-goal game. But, more importantly, it broke a six-game stretch where he didn't find the back of the net.
"He's a power forward type player," said Cavanaugh, "and he embodies that style of play. Assistant coach Mike Souza has really coached him up and done a great job. Mike played that style of power forward, and now he's working with Brant and it makes a difference."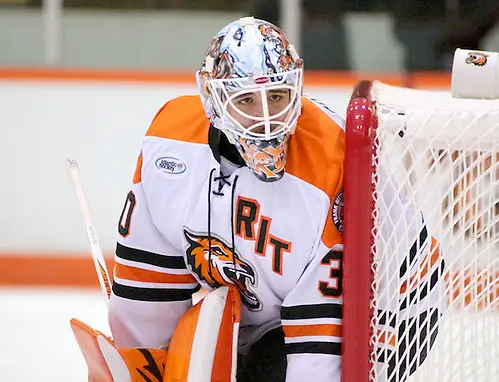 Hot streaks put on ice
In my weekend picks, I talked about the collision course next weekend between Bentley and RIT. I said how I felt there was a feeling of inevitability to those rivals, who suddenly have a heated interdivisional matchup after the 2012 AHA quarterfinals (where the teams played a bitterly contested, three-game series). And with two of the nation's longest undefeated streaks, I sincerely felt next week would determine who would challenge Mercyhurst for the league's best. After all, Bentley had not lost in nine consecutive games; RIT was right on its heels.
Man, was I wrong.
UConn took four points from RIT (see above), and Niagara outplayed Bentley for the better part of their two-game series out east. RIT never led over the weekend, and Bentley blew leads in both games against the Purple Eagles. And suddenly, the two teams head into this weekend's series against each other in a quick, desperate need of points. I'll explain a little bit more, below.
The importance of not losing
There's a big difference between winning and not losing. Multiple coaches have all reiterated the same things to me about the competitiveness of the league.
"One thing I learned really quickly about the AHA," said UConn's Cavanaugh, "is that it's extremely competitive. And there's a need to separate yourself from the pack in January. College football has December. The Masters has Saturday for its 'Moving Day.' We have January."
I did a quick case study over three teams I consider among the best to represent the AHA's history: the 2006 Holy Cross Crusaders, the 2009 Air Force Falcons and the 2010 RIT Tigers. All three teams lost back-to-back league games exactly once during the regular season. In addition, the back-to-back league losses came in the early or middle part of the season.
It highlighted that every team will have some type of letdown at some point in the season; that's a natural process. Each team, however, needs to get over that letdown quickly and recover to continue on its path. The ones that are able to accomplish this are often times the teams that go on to lead and win the league and contend at the national level at the end of the season. This gets highlighted more and more as the interdivisional matchups continue before the teams return to their scheduling pods — they get only one weekend's chance to win head-to-head matchups with the other division.
There was some key movement in the standings for teams due to their weekends. Bentley went from tied with Mercyhurst to first to one point up on UConn for second, three points behind the Lakers. RIT went from tied for third to tied with Niagara for sixth. Robert Morris went from a tie for dead last to a home first-round series with a four-point weekend. The Colonials passed Holy Cross in the process after the Crusaders notched a zero against Canisius.
Canisius, meanwhile, is tied with Air Force for fourth by virtue of its four-point weekend. And American International was able to take two huge points from Air Force after the Falcons coughed up a two-goal lead with less than two minutes to play. Had Air Force not lost that first game, it would be tied with UConn for third and not with Canisius for fourth. Had Bentley lost to Niagara on Friday, so would the Falcons.
How big are the points? Just six points separate second place from eighth place. Five points separate a first-round bye in fourth from a first-round road series in ninth. Welcome to January in the AHA.
You ain't so bad
If Hockey East is the pinnacle of competition, then there's something weird in the water in the AHA. Over the holiday break, the league picked up three more wins over Hockey East when Air Force beat both Northeastern and Providence (two teams currently projected for the national tournament) to win the Ledyard National Bank Classic, and UConn beat UMass in the consolation game of the UConn Hockey Classic.
"I coached in Hockey East, now I'm in the AHA, and next year I'm heading back to Hockey East," said Cavanaugh. "I'll say one thing from my experiences — no Hockey East team ever takes anyone lightly. They're well-prepared programs, and they're all well-coached with lots of talent. To be doing what the Atlantic Hockey teams are doing is showing just how far this league has come and that there are some really solid hockey programs within the AHA."
With wins over Boston College, Boston University, Providence, Northeastern and Massachusetts-Lowell, the AHA is proving quality of wins sometimes looks better than quantity (suffering through its worst non-conference display).
Off the schneid and out of the basement
Entering this weekend, Robert Morris was 2-12-2 on the season. Ten of its 12 losses came by one or two goals. But for the first time, the Colonials collected a four-point weekend with a pair of one-goal victories over Sacred Heart, winning 2-1 on Saturday and getting an identical result with an overtime win in Connecticut on Sunday.
Coach Derek Schooley quipped last month, "We have to be the best last-place team in the nation at this point."
It had to feel good driving back to Pennsylvania with four points in tow.
Players of the week
I won't disagree with the league on any fronts this week, but I'm giving an honorable mention of sorts to another forward who deserves recognition.
Offensive players of the week — Connecticut's Brant Harris and Mercyhurst's Edward Dewald: Any time someone scores a hat trick, I'll make him my player of the week. Congratulations on that to Harris, who is well deserving as the league's choice as well.
But, you know what, I love a good story, and I love it when a guy grinds out three years and never scores a goal. That first goal might be his one and only, and that puck and memory will be treasured forever. So congratulations to Lakers junior forward Dewald. In his first 50 games for Mercyhurst, he had zero goals. He scored his first a couple of Fridays ago against Ohio State to put the Lakers up 1-0 in a game they'd lose 6-3. Last Saturday, he scored the eventual game-winner in a 3-1 win over Army. He's a fourth-line winger with just 14 appearances this year and six career points. Guys like that, who grind it out and find meaningful shifts in games fans or pundits overlook on paper, are what make hockey great.
Goaltender of the week — Canisius's Keegan Asmundson: Two games, two wins, four points, and all of a sudden Canisius is back in the hunt for the first-round bye. Canisius shut out Holy Cross on Saturday behind 31 saves by Asmundson, his first collegiate goose egg. And that four-point weekend? It was the first time Canisius swept Holy Cross since the AHA was still the MAAC back in 1999-2000.
Rookie of the week — Air Force goalie Chris Truehl: The injury to Jason Torf created a vacuum for coach Frank Serratore. It also forced Air Force to face the reality that there will be life after Torf coming sooner rather than later. A night after American International rallied from down 3-1 in the third period with 1:30 to play and won in overtime, Air Force inserted Truehl for just his third career appearance and first career start. He responded with a 2-0 shutout win. Truehl isn't a replacement for Torf by any means, but with the team in front of him playing the way it did on Saturday, he proved he can manage games just dandy.