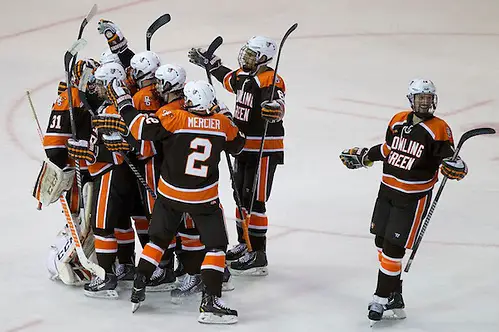 It didn't take long to see that one of the challenges of the new-look WCHA was going to be travel.
With both Alaska teams, three schools from Michigan's Upper Peninsula and one in Huntsville, Ala., all in the same conference, coaches have had to get creative to keep their teams from being too travel weary.
Some teams, including Bowling Green and Minnesota State, made sure they had sleeper buses available for long road trips in which wheels made more sense than wings. Each of the teams mentioned already made the 700-mile trek to play the other this season.
Both Michigan Tech and Minnesota State, meanwhile, were able to schedule back-to-back weekends in Alaska, allowing them to stay in state rather than make two separate trips to play Alaska and Alaska-Anchorage, who were in separate conferences before this season.
The Huskies made that trip in November, going 2-1-1. Minnesota State is in the middle of that trip this week, splitting their series at Fairbanks last weekend. On Sunday, the Mavericks made the seven-hour bus trip to Anchorage, where they are spending the week.
"It's been real positive up to this point," Mavericks coach Mike Hastings said, adding that — at the halfway mark of the trek, anyway — he's glad his team was able to schedule both series on one trip over the winter break.
Two other league teams are playing both Alaska teams in Alaska this season but are making separate trips, one during each half of the schedule. Northern Michigan played at Alaska on Nov. 1-2 and will play at Anchorage on Jan. 24-25. Alabama-Huntsville played Anchorage on Nov. 8-9 and will play in Fairbanks on Jan. 31-Feb. 1.
Mavericks players have spent a lot of time together on the trip, gathering together to watch former teammate Eriah Hayes' NHL debut on TV Sunday night and the BCS National Championship game on Monday. Besides practices and workouts, there have been other team functions, too, Hastings said, as well as time for individual meetings.
"The way we look at it, part of our responsibility as a program is the student-athlete experience," Hastings said.
Perhaps the most-tired traveler for Minnesota State is freshman forward Zach Stepan, who played for the U.S. at the World Junior Championship in Sweden. Crossing 10 time zones, he met up with his team after Friday's game in Fairbanks and was in the lineup and scored a goal on Saturday.
Ironically, the Mavericks will have the comforts of a home team this week, considering the Seawolves' own travel troubles.
Anchorage has been stuck in Minnesota and practicing in the Twin Cities since Sunday after missing a connecting flight home after their nonconference series split at Wisconsin last weekend. They're scheduled to return to Anchorage on Thursday night and not get a practice on their home rink until Friday morning.
"It's been an interesting few days with all the hurdles we have faced, but sometimes these situations help a team come together," UAA coach Matt Thomas said in a press release. "We have had plenty of opportunity to prepare for the weekend, and we are very excited to get home to the Sullivan Arena and in front of our fans."
Hastings said the long trips do make him appreciate what the Alaska schools do so often throughout the season.
"The respect factor for what Anchorage and Fairbanks do … it's just impressive," he said. "Going back and forth, there are challenges dealing with that, and the challenges are real."
Road wins haven't been easy to come by for WCHA teams this season. The 10 teams are a combined 40-62-14 away from their home rinks. Just two have winning road records: Ferris State (9-2-2) and Lake Superior State (5-4-1). The next-best road record is Alaska's 4-5-1 mark.
WCHA crashing Sochi Olympics
The 2014 Winter Olympic men's ice hockey tournament will feature 29 former collegiate players and one current collegian in Bowling Green sophomore defenseman Ralfs Freibergs, who was named to Latvia's team on Tuesday.
Freibergs will be the first current NCAA player to appear in the Winter Olympics since four players did so in 2002, according to College Hockey Inc.
The 5-foot-11, 191-pound, 24-year-old Freibergs is second to junior teammate Dan DeSalvo in the WCHA in assists with 15 — DeSalvo has 16. Freibergs' 16 points leads all WCHA defensemen in scoring.
"It's a great honor," Freibergs said in an interview with Kevin Gordon of the Bowling Green Sentinel-Tribune. "It's something you always dream about, but you never expect it to happen. I'm very, very excited to be playing in the Olympics and to be a part of the entire Olympic experience."
The Falcons will be without Freibergs starting Feb. 2 after a home series against Michigan Tech. Falcons coach Chris Bergeron told the Sentinel-Tribune he hopes to have Freibergs back in time for the Feb. 28-March 1 series at Northern Michigan.
Very happy and grateful for the opportunity to play for my country #Latvia in the Olympics! Thanks for all the good wishes!

— Ralfs Freibergs (@Ralfs_29) January 7, 2014
In addition to BGSU's Freibergs, former Ferris State forward Chris Kunitz (1999-2003) of the Pittsburgh Penguins will play for Canada.
Kunitz scored 99 goals and 76 assists in four years at Ferris, including 35 goals and 44 assists his senior season (2002-03) to be named a finalist for the Hobey Baker Award. That same season was when the Bulldogs won their first of two CCHA titles and made their first trip in school history to the NCAA tournament, falling in the regional finals.
Kunitz has won Stanley Cups with the Anaheim Ducks and Penguins.
Around the WCHA
• Bemidji State, which was swept by Northern Michigan last weekend, is on an eight-game winless streak (0-4-4). The Beavers' last win came on Nov. 23 at home against Lake Superior State. They will face the Lakers again this weekend in Sault Ste. Marie. BSU had a 12-game winless streak last season (0-9-3).
• Ferris State goaltender CJ Motte was named national college hockey player of the month for December by the Hockey Commissioners' Association. Motte went 3-0-1 with a .952 save percentage and 1.47 GAA that month.
• Lake Superior State had three firsts during its Jan. 3 victory over Michigan Tech in Sault Ste. Marie. One, junior defenseman Kevin Czuczman scored the Lakers' first short-handed goal of the season. Two, senior goaltender Kevin Kapalka was credited with his first collegiate assist. Three, sophomore forward Austin McKay's game-winner was his first collegiate goal.
• To say Michigan Tech has had a tight season is an understatement. The Huskies have been involved in 18 games this season that ended in a tie or were decided by one goal. They're 5-7-6 in those games after splitting a pair of one-goal games at Lake Superior State last week.
• Northern Michigan is on a bye this weekend for the final time before closing the season with eight consecutive weekends of WCHA play. Following a sweep at Bemidji State, the Wildcats sit in seventh place with 13 points, but are above .500 at 6-5-1 and will have the most conference games in hand the rest of the way, having played only 12 WCHA games. League-leading Ferris State is playing its 13th and 14th conference games this weekend at home against Michigan Tech.
• This week's WCHA players of the week are Alaska forward Colton Beck (offensive), Northern Michigan goaltender Mathias Dahlstrom (defensive) and Michigan Tech forward Reid Sturos (rookie).
• In the USCHO.com Division I Men's Poll, Ferris State is third and Lake Superior State is 19th. In the top 16 of the PairWise Rankings, Ferris State is fourth and Minnesota State is 16th.