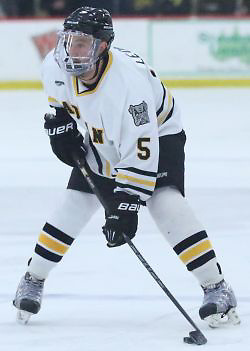 Adrian was voted the top team in the nation in this week's USCHO.com Division III Men's Poll for the first time in program history.
And who can argue?
The Bulldogs remain unbeaten in regulation on the 2013-14 season and they are outscoring their opponents 63-16.
Essentially, the Bulldogs have flattened their competition in the first half of the season.
"It is nice to be to be recognized," said Adrian coach Ron Fogarty. "It is a reflection of our record the first half of the season, but by no means does it mean that we are the best team in the country. There are probably 10 teams that are worthy of being the top team right now."
Success is no stranger to the Bulldogs' program, which captured all six MCHA regular-season titles since joining the Division III ranks in the 2007-08 season. They also won the MCHA playoff championship five times, earning the historic Harris Cup nearly every season.
However, the Bulldogs have yet to capture the ultimate goal, a national championship. A loss, to now-conference foe St. Norbert, in the 2011 national championship game was as close as the program has been to undisputed measure of success.
"You look at a team like St. Norbert and the success they have had, or [Wisconsin-]Eau Claire, there has been a tremendous amount of effort on defense, translating to national championships," said Fogarty. "That's a big component for our program, that's something we want."
Junior forwards Josh Ranalli (16 goals, 23 points) and Justin Basso (6-13-19) have combined for nearly a third of those goals. Add in senior forward Josh Cousineau (0-15-15) to that line and the Bulldogs' top line is dangerous offensively. Cousineau is second in the country in assists, while Ranalli currently leads the country in goals.
"They have been playing great, they have been feeding off each other," said Fogarty. "Ranalli and Cousineau have been playing with each other for a couple of years, so there is great chemistry."
The fact that the Bulldogs are third in the country for team offense is no surprise. However, leading the nation in team defense, allowing an average of just 1.23 goals a game, is something new for the team.
"The low goals-against has been different for us compared to previous years," Fogarty explained. "We have always had high scorers, but this is very different than any other team we've had."
Fogarty and the Bulldogs aren't looking past this weekend when the 12-0-1 Bulldogs take on St. Olaf (3-8-2) and Gustavus Adolphus (7-3-2) in a pair of road games against MIAC opponents.
"We have a long road ahead to accomplish our goals that are more important than being recognized as the top team," said Fogarty.