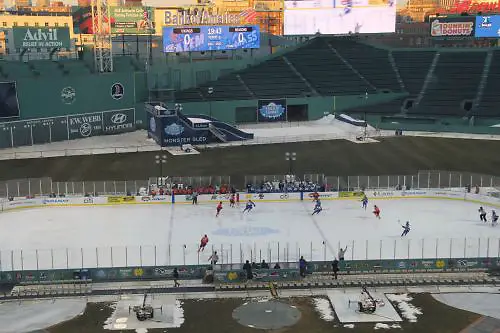 Say what you want about outdoor games.
While the Winter Classic, Frozen Fenway and the Frozen Frontier are made-for-TV events showcasing the NHL, Hockey East and the American Hockey League at a national and regional level, these events do provide an opportunity for other programs to get some exposure.
The average fan just sees the main event in these events, but with Frozen Fenway and the Frozen Frontier this year, the undercard to these events put Division III on the big stage that isn't normally seen.
Frozen Fenway was the first to showcase a Division III game in 2012 with an ECAC East matchup between Babson and Norwich (the same two teams met Thursday at Fenway with Norwich winning 1-0).
On Tuesday, the MASCAC got its chance to bat as Salem State took on No. 15 Massachusetts-Boston in the first game of Division III doubleheader.
Williams defeated Trinity 4-2 in the nightcap.
It was the MASCAC's chance to show off its skill and while they didn't draw the supposed 31,569 fans for the second game of last week's Hockey East doubleheader that featured the Holy War between Boston College and Notre Dame, the 1,133 was the biggest crowd they have seen this year.
If the Green Monster wasn't the background, do you think most of those people would have taken time out of their day to catch a Division III game? Probably not.
"It was a terrific experience, we all enjoyed the game and everything that went into it," Salem State coach Bill O'Neill said. "The Fenway group went out of their way to make it a first-class event and I think everyone who went to watch and everyone who was a part of it was overwhelmed on how great a night it was."
O'Neill saw first-hand two years ago on how the Fenway staff prepared for the event as he saw his son, Will O'Neill, play for Maine as the Black Bears took on New Hampshire with Maine taking the game 5-4 in overtime.
Now you can say the Red Sox ownership or anyone else that's putting on an outdoor game is really just looking at the almighty dollar. Most likely you are correct because I don't think John Henry, Tom Werner, Larry Lucchino – the Red Sox owners – could name five players on the four Hockey East schools that have or will take the field – I mean ice – the last two weeks, let alone any of the six Division III teams.
In their quest to make a quick buck, they instead created memories that will last a lifetime for any of the players whether they are Division I, Division III, prep or high school players. Most likely, those Division III and high school kids will never play on a bigger stage in their career.
When talking to O'Neill, it was obvious in his voice that despite losing 4-2 to UMass-Boston, you could hear the joy just to be a small part of the event.
"Our school has been involved and in communication with the Red Sox group for over a year now," O'Neill said. "The communication and everything that goes with it, our administration, our athletic department, it was preparing like a [college football] bowl game. The amount of effort of putting together [press] releases and creating a team that would market it the best way possible to touch base with our alumni. The end result was a perfect night Tuesday night, other than the result."
There is more than what you see on TV.