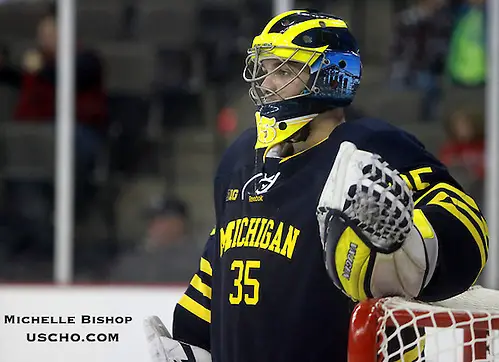 After going 1-2-1 in December and getting off to a 0-2 start in 2014, all is not well in Ann Arbor.
Michigan hasn't won since it completed a home-and-home sweep of Ohio State in Columbus on Dec. 2. The Wolverines then lost an exhibition game to the U.S. National Developmental Team a couple days later and tied Ferris State a week later.
Then, after more than two weeks off, came the Great Lakes Invitational. The Wolverines dropped their first game on outdoor ice 3-2 to Western Michigan in overtime and were blanked 3-0 by Michigan State the next day.
After another two-week break, Michigan was swept last weekend by Wisconsin at the Kohl Center in its first series of 2014. The Wolverines will get another chance to get their first win of the season's second half after another weekend off this week.
"Well, we haven't played a lot in the last month," Michigan coach Red Berenson said. "I've said all along we've got to be better with the puck and without the puck."
Michigan's offense has been the problem when the Wolverines don't win this season. It has averaged 1.375 goals per game in Michigan's six losses and two ties.
"It's nothing they're doing, it's all on us," sophomore forward Andrew Copp said after last Friday's 5-2 loss to Wisconsin, in which the Wolverines struggled in getting good looks at the net. "We're a good enough team where we should be providing offense down close to the net."
Copp is the only Michigan player with double-digit goals this season — he has lit the lamp 10 times and has six assists.
Overall, the Wolverines have the nation's 29th-ranked offense, averaging 2.78 goals per game. Michigan's power play is 12th in the nation and is currently going at a 15-for-70 clip.
The Wolverines put 29 shots on frame last Saturday's game against Wisconsin, but managed to get only one puck past Joel Rumpel.
"Frustrated is a good word to describe it," senior defenseman Mac Bennett said. "They're a chippy team, and we knew they were going to be chippy. It's frustrating when you're throwing pucks to the net and they don't go in."
Michigan finished 18-19-3 last season and missed the NCAA tournament for the first time in 22 years. Bennett doesn't see the same fate happening this season.
"This year, at least we know we can play," Bennett said. "We've had good times, and like any hockey season you have ups and downs. Unfortunately, we're a little bit down right now."
The midseason slump has coincided with some of Michigan's key freshmen being injured. JT Compher and Tyler Motte have recently been hampered, along with freshman defenseman Kevin Lohan. Compher and Motte have combined for 11 goals and 13 assists.
Michigan will get back into action against Michigan State next week. The Spartans and Wolverines will play at Joe Louis Arena on Thursday, Jan. 23 and at Munn Arena on Friday, Jan. 24.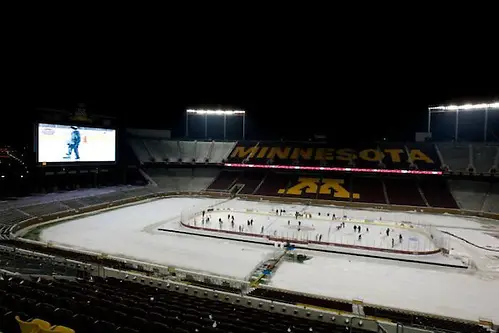 Gophers prep to host Hockey City Classic
After traveling to Chicago and facing off against Wisconsin in the 2013 Hockey City Classic at Soldier Field, Minnesota will have a much shorter trip to the event this week.
Minnesota will face off against Ohio State outside on Friday at TCF Bank Stadium, which is conveniently located across the street from Mariucci Arena.
The Gophers and Buckeyes will be the second game of a doubleheader on Friday. The Minnesota women's team will play Minnesota State at 4:30 p.m. CST and the men's game will get under way at 8 p.m. CST.
"Any time you have an opportunity to play outside in a nice, big football stadium like this with great surroundings, it's going to pretty special," Gophers women's head coach Brad Frost said.
The games will conclude more than a week's worth of events at the stadium. The Hockey City Classic Winter Festival kicked off last Thursday with a skate with the greats event. A variety of Minnesota hockey greats were at the event, and proceeds went toward the University of Minnesota Amplatz Children's Hospital.
Five high school hockey games took place on the outdoor ice Saturday, followed by a public free skate on Sunday.
The inaugural Hockey City Classic was held last year and featured two men's matchups. Notre Dame beat Miami 2-1 and Wisconsin defeated Minnesota 3-2.
The ice at the rink was suspect due to Chicago's weather in mid-February last year.
"When we first came out in the first period, I thought the ice was pretty good," then-junior Minnesota defenseman Nate Schmidt said after the game against Wisconsin last year. "As the game went on … it started getting choppy."
Weather shouldn't be much of a factor on Friday — forecasts call for a high of 19 degrees and a low of 5.
"The weather is going to be fine for an outdoor game," Gophers men's coach Don Lucia said. "The benches are heated and the guys are used to skating outside when they were growing up. You'll go out there for the period then go back to the warming shack and warm up, just like they did when they were kids."
Hobey voting gets under way
The fan voting for the Hobey Baker Award officially began on Tuesday. Fans are allowed to vote once every 24 hours. The Hobey will be handed out on Friday, April 11 at the Frozen Four in Philadelphia.
Here is the list of Big Ten players up for fan voting:
Michigan: Forward Andrew Copp
Michigan State: Goaltender Jake Hildebrand
Minnesota: Goaltender Adam Wilcox
Ohio State: Forward Ryan Dzingel
Wisconsin: Forward Michael Mersch, goaltender Joel Rumpel and defenseman Jake McCabe.
Three stars of the week
First star — Wisconsin senior forward Michael Mersch: Mersch had three goals and two assists in Wisconsin's sweep of Michigan last weekend. The senior had his first collegiate hat trick and second career four-point game on Friday night, when the Badgers beat the Wolverines 5-2. This is the second conference weekly award for Mersch this season.
Second star — Ohio State junior forward Ryan Dzingel: Dzingel also had his first collegiate hat trick on Friday night in the Buckeyes' 5-3 win over Michigan State. He had three goals and two assists in Ohio State's win and tie against the Spartans. Dzingel leads the Big Ten in points (27) and points per game (1.5). This is his second weekly honor this season.
Third star — Minnesota sophomore goaltender Adam Wilcox: The sophomore netminder stopped 64 of 68 shots he faced in Minnesota's Sunday-Monday sweep of Penn State at Pegula Ice Arena. Wilcox matched his career high in saves when he stopped 36 pucks in Minnesota's 5-2 win on Monday. He leads the Big Ten in wins with 14 and hasn't been beaten in his last eight outings. This is Wilcox's first weekly award of the season.
Big Ten in the poll
Here's how the six Big Ten team stand in this week's USCHO.com Division I Men's Poll:
No. 1 Minnesota (Last week — No. 1)
No. 9 Wisconsin (LW — No. 14)
No. 13 Michigan (LW — No. 8)
Ohio State received 40 votes in the poll, which was second-most out of unranked teams.
This week's matchups
Ohio State at Minnesota (Friday at TCF Bank Stadium, Saturday at Mariucci Arena)
Penn State at Michigan State (Friday and Saturday, Munn Ice Arena)