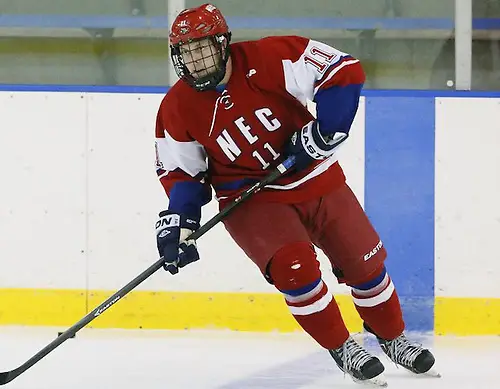 A quick look at the standings in the ECAC East finds a logjam in second place with three teams with 12 points in conference play.
While Babson and Massachusetts-Boston might not surprise anyone being there at this point in the season behind conference-leading Norwich, New England College has put together a solid first half and is ready to compete for a top spot in the league in the second half.
"We had a solid first half," said Pilgrims' coach Tom Carroll. "We have seen everyone once, but are not taking anything for granted the second time around. We have to be very short-term in our focus and continue to work on things to make us a better hockey club. This conference is really competitive, so each and every game brings its own challenges. It is nice we had a good first weekend back last week, but those two games with Southern Maine and UNE were battles and that is what it is going to be every weekend from here to the end of the season. We need to play well and get points."
At 10-4-0 overall, the Pilgrims have already surpassed last season's win total and part of that success has been found in solid goaltending and some very balanced scoring from the entire roster.
Sophomores Cheyne Matheson and Kyle Manlow lead the team in scoring, but junior James O'Reilly has shown great versatility this season for NEC and the coach hopes last weekend's big goal against Southern Maine might jump start some goals for O'Reilly.
"James has really done some very good things for us this season," noted Carroll. "Last season, we had him mostly playing off the wing and he really was great on the power play and scored a bunch of power play goals for us. This season, we have him more in the middle and he has been great creating things for the team and his linemates. Things are a little different for him this season, but he is contributing a lot for us offensively and I am sure the 2-11-13 line will see more goals in the second half for James. He is getting his chances and last week, scored a real big goal for us against USM that tied the game at 2-2 very late in the first period. That jump-started us into our great second period, so I am not worried about the goals coming.
"We knew this season wasn't going to be offense from a single player or line and so far, we have had some pretty good balance from all our lines getting some goals. Our power play could be better and we will keep working and tinkering with that here in the second half. The teams we have coming up don't take a lot of penalties, so even-strength goals against some very tough goaltenders and defenses will be important for us to compete with the league's best."
On the back end, Carroll has been impressed with his defensive group's efforts, as well as the solid play from his senior goaltender, Sebastian Anderson.
Anderson is 8-4-0 through last weekend with a really consistent .925 save percentage and 2.42 goals-against average with two shutouts. The senior has been a beneficiary of solid defense, but by his coach's estimate, has been a key factor in the Pilgrims' strong start.
"Sebastian has overcome some nagging injuries that have bothered him the past couple of seasons," Carroll said. "He really has been healthy this year and very consistent for us all season. We want to keep our goals-against average under three and really as close to two as we can get it as a team and he certainly has been making the key saves to help us keep our opponents off the scoreboard."
January finds the Pilgrims at home in Henniker, N.H., for six of eight games. While most teams might find that to be a strong advantage, Carroll is taking nothing for granted at home or on the road.
"January is a tough month for everyone with the varying academic schedules," noted Carroll. "We don't come back to later in January, so there isn't that normalcy of the school and hockey schedule for us right now. We practice and the players are off and then we play and the players are off. The mid-week game, like this week with Fredonia, is a great way to break up the schedule a little bit, but we aren't going to win just because we are home. It is great we aren't going someplace on a bus, but this league is too good to assume we are going to have good results because we are the home team.
"We have to continue to battle every weekend against the teams we are playing no matter where we are playing and try to get points that will keep us battling near the top."
Carroll also doesn't put too much stock in the experience of the first games against the common opponents. The second half brings the return end of the home-and-home league-play format that is likely influenced greatly by time and experience in between the last time the Pilgrims saw some opponents.
"Look at UMass-Boston," said Carroll. "The last time they lost was to us back in November and that was a long time ago. I am sure based on their results they are a different and better team and hopefully, so are we. We are going to continue to need to focus on getting better as a team and playing consistently against whoever that night's opponent is with a focus on getting some points from that game. I like what we have done so far and we need to keep moving in that positive direction here in the second half."
Following Tuesday night's 3-3 tie with Fredonia, the Pilgrims will host the two teams with whom they share second place. Babson is first up on Friday night and Carroll is looking for a better result than their 3-0 loss back in early November.
"We know both teams are playing really good hockey right now," said Carroll. "We are going to play Fredonia and hopefully play well and build on that and focus on Friday night against Babson. Any and all points are going to be really important and this team will be ready to battle with anyone."
It's getting to be the time when you really want to build some momentum and the games this weekend could be important statement games as well as potential tiebreakers in conference playoff seeding come the end of February.