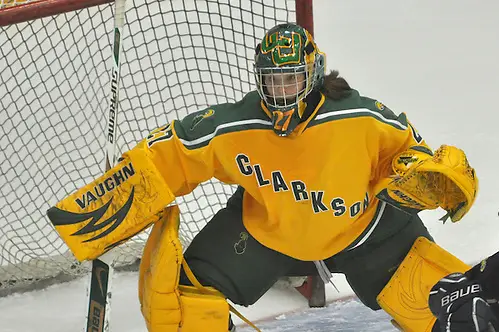 Arlan: The past week provided us with another burst of results that we may not have expected, from Harvard losing, to Ohio State regrouping in game two at Minnesota much like North Dakota did in the first half, to Boston College having a tougher time with Northeastern than Boston University.
I'd like to start with another result that while not unexpected I see as just as significant. Clarkson handled St. Lawrence with relative ease, 6-0 and 3-0. The Saints were able to keep the second game scoreless into the final period, but that was about it in terms of challenging. Shots were two to one in Clarkson's favor in each game. The Golden Knights went through a four-week stretch from the middle of October into November where they played at a 3-3-2 clip after starting with five wins. Since that 2-0 loss to Harvard that ended that slump, Clarkson is 8-1 and has outscored opponents 37-6. They've only allowed 23 goals all year, and six of those came in the loss to Cornell.
When I spoke to co-head coach Shannon Desrosiers last week, she said that her team was back to playing as expected. Would you agree that they are back on track and what we anticipated at the start of the year, a threat for the Frozen Four and beyond?
Candace: I'll say yes, with a caveat. It's impressive that Clarkson has gone 8-1, and Erica Howe and Jamie Lee Rattray are leading the Golden Knights in a great direction. However, if you look at the streak, aside from the split with North Dakota, and perhaps the 3-0 win against Quinnipiac, the Golden Knights haven't faced top teams. Two of those wins were against Providence, one was against RIT, one against Princeton, and the pair against St. Lawrence. I'm not ready to pencil Clarkson into the Frozen Four until I see the Golden Knights face Cornell and Harvard again and see how they do. The Golden Knights host Cornell in two weeks, and then face Harvard in mid-February. I figure Clarkson will finish top three in the ECAC, although catching Cornell might be tough. The Big Red have a three-point lead and a game in hand on Clarkson, which also trails Harvard by two points, though the Golden Knights have a game in hand; Clarkson also trails Quinnipiac by three, but has three games in hand.
Speaking of Harvard and Quinnipiac, both had a bad loss this weekend, which could come back to haunt them. Of the two, the Harvard loss to Yale shocks me much more than Quinnipiac's to Rensselaer. Yale outshot Harvard, though only by two, 31-29, and scored one in the first and one in the second in blanking the Crimson, 2-0. We've alluded to offensive struggles at Harvard during the year; is this a potential cause for hitting the panic button?
Arlan: A panic in Cambridge won't accomplish much. The Harvard roster isn't going to change, and as presently configured, it doesn't contain a lot of explosive power. The forwards do a nice job of controlling play for long stretches. The Crimson have some speedy people that can score off of turnovers and in transition. Once into the postseason, their stingy defensive game will make them a tough matchup for anyone. But there just aren't many Harvard forwards we'd put on a short list, or even a medium-length list, of dangerous weapons in the women's game. Nobody averages a point a game. Hillary Crowe tops the team in that regard with 11 points in 12 games played, and that ranks 40th in the country. Someone like sophomore Miye D'Oench may develop during the course of her career into more of an offensive force, but as of now she's more in that category of a player that can be a bit of a pest and make life uncomfortable for the opponent. Maura Crowell is left with the No. 12 scoring offense. Maybe they can squeeze more production out of the power play, a Harvard staple over the years, that is currently converting 16.7 percent of the time. The Crimson will be in mainly tight games, so anything they can do to discover an extra goal on one end while denying one defensively could be decisive.
The problem is very similar at Quinnipiac. The scoring defense is not as good as Harvard's, but the offense is a touch better because the Bobcats do have an elite scorer in Kelly Babstock. She had a hat trick versus Princeton, allowing her team to win, 3-1. RPI and Union held her off the score sheet, and Quinnipiac was mired in two one-goal, low-scoring games, losing to the Engineers.
The ECAC doesn't have a lot of offenses like the one Cornell possesses. That allowed the Big Red to basically outscore Mercyhurst on the weekend. Your forecast there was accurate, as you said the Lakers would likely get a tie. Did anything stand out to you from those games?
Candace: What really stands out is how many goals the Big Red gave up. I'm used to thinking of Cornell as a stingier team, and that Lauren Slebodnick can shut opponents down. Mercyhurst does have some potent forwards; five of them average a point a game or better, including Christine Bestland. However, Bestland was held to a point in each game. Emily Janiga, the Lakers second-leading scorer, had three points, and Christie Cicero, who is third, had a goal in each game. However, the Lakers got balanced scoring from players who aren't Mercyhurst's top threats, such as Molly Byrne, Jaclyn Arbour, and Kathy Donohue, to stay close to the Big Red. I think the series this weekend, where the Lakers host Robert Morris, should be an excellent one. If the Lakers can get that type of scoring going forward, they may be able to catch RMU in the CHA standings and win the CHA tournament.
At the other end of the ice, I'm wondering what giving up four goals in each game means for Cornell. A couple of years ago, Cornell barely beat BU, 8-7, in triple OT. It's often said that defense wins championships, and Cornell will have to be better in that regard. The Big Red are only 10th nationally in scoring defense, despite playing only four teams that are tops in scoring. They managed to shut Boston College down in one game, but Cornell has given up a lot of goals in some games, including four against Princeton, four against St. Lawrence, three against Clarkson, four against Boston College in one game, and the four in each Mercyhurst game. If Clarkson can shut down Cornell's high-flying forwards, such as Jillian Saulnier, Emily Fulton, and Jessica Campbell, it could spell trouble for Cornell. Even if Clarkson doesn't do it, teams like Wisconsin and Minnesota have the defense to do so, and it will be tough for Cornell to win a defensive battle against those squads.
Speaking of Wisconsin and Minnesota, each had a blip this past weekend. Wisconsin lost to North Dakota, 4-1, which isn't too much of a surprise, despite the lopsided historical record Wisconsin has against UND. Alex Rigsby still isn't back in net for Wisconsin yet, but Ann-Renée Desbiens has played well as the backup so far. Minnesota however, lost in a shootout to Ohio State, the team dwelling in the cellar in the WCHA. OSU got a late goal to tie it in the third, then Lisa Steffes stopped all Minnesota scorers through nine rounds before OSU's Kendall Curtis won it for the visitors. Interestingly enough, both of Minnesota's blips have come on home ice this year. Minnesota is still the dominant team in the country, but are these blips something others can take heart from and use to beat the Gophers come playoff time?
Arlan: In the sense that Minnesota is more beatable than it was a year ago, I'd say yes, others can be encouraged. I think that we knew coming into the season that Minnesota wasn't going to be able to just shrug off its personnel losses from last year's roster. If anything, the Gophers have been a bit better than most would have expected, maybe even they themselves. As for the blips, I'd say that there have been at least three others. Their wins in the second games at Bemidji and St. Cloud were far from convincing. The season opener at Colgate was also pretty ragged, although that can probably just be written off as game one for a new roster. Of those blip games, I felt that they played the best in the one that they lost; it was more about North Dakota playing well.
Against Ohio State on Saturday, Minnesota did not play well at all. There were so many more defensive breakdowns than usual, and the offense couldn't bail the team out. I think to some extent, the Gophers are a bit untested defensively. Who has the best offense that they have faced this year? Wisconsin has the sixth scoring offense, but back in week two when the teams met, I would think that the Badgers were still a work in progress. North Dakota is eighth, but it also can run hot and cold on offense. Since that UND game, the best the Gophers have seen are Yale and Princeton, which are both middle of the pack. Running into any of the top 10 teams offensively, which is basically the overall top 10 with Mercyhurst and without Harvard, could require a period of adjustment.
The result is more encouraging for the Buckeyes. Despite losing the other three games to Minnesota, they have also had two series sweeps since their low point that occurred eight games back. If they continue to play like they did on Saturday, then the Buckeyes are not long for the WCHA basement. They've now taken points from both Minnesota and North Dakota, and I don't know that some of the other lower teams in the league have the same potential.
The surprise to me isn't that Wisconsin lost a game to North Dakota, because they played very tight games in Grand Forks. However, allowing four goals was twice what they'd yielded in any previous game this season, and I don't get the sense that Desbiens was the problem. Being outshot by a 36-21 margin in that game isn't what I'd have expected, particularly 16-3 in the final period. Obviously, Wisconsin didn't respond well to Susanna Tapani's goal at the end of the second period to give UND the lead. Even though it got one win, North Dakota likely needed more in order to keep its hopes alive for the WCHA season title, particularly with the Olympics and roster absences looming.
Boston University was another team that came into a third period trailing, and the Terriers were badly outplayed in those 20 minutes by Boston College. Given how BU's game at Maine played out, do you think that BC loss will have a lasting impact on the Terriers' collective psyche?
Candace: Probably not except when the Terriers next face BC. Then it could either serve as extra motivation, or perhaps provide a seed of doubt. That is doubly important, as it looks at this point as though the only way a Hockey East team gets in is by winning the Hockey East tournament. There's still some potential wiggle room I guess, but right now, BU is eighth in the PairWise and BC is ninth. Quinnipiac and Mercyhurst aren't too far behind. The only TUC BU has left on its schedule is the Eagles, although the Terriers could potentially face Harvard in the Beanpot. It's also possible that Northeastern could play its way into being a TUC, which would help both BU and BC immensely. BC has the same problem in the PairWise, as BU is the only current TUC that BC is scheduled to face. Beating up on the Terriers three more times, which is unlikely, won't help BC in the national picture either, and the same goes in reverse for BU. More and more for BC, it appears that the loss to Quinnipiac, as well as the loss to Syracuse, really hurts the Eagles. For BU, its PairWise standing is helped by Minnesota-Duluth being a TUC again, but if the Bulldogs suffer a few losses and drop out of that scenario, it can really hurt them. The only current TUC that BU has beaten besides Minnesota-Duluth is Robert Morris; BU has lost to Wisconsin, Harvard, and BC. That win will keep the Terriers from dropping too far, but neither BU nor BC can really afford any losses except to each other.
Regardless, BU needs to tighten up defensively. Giving up three to Maine is a big surprise. BU has actually had problems defensively at times, especially against TUCs. The Terriers gave up five to Wisconsin. three to Harvard, and three to Robert Morris. And while BU swept Minnesota-Duluth, one of the games was a 6-5 decision. BU's team defense rank is currently 11, and once again we could see scenarios where defense could be a team's Achilles' heel.
Northeastern gave BC all it could handle this past weekend, earning a tie and holding a lead in the Sunday game before the Eagles rallied. BU faces the Huskies this weekend; do you think that Chloe Desjardins can do to the Terriers what she did to BC, and perhaps even carry her team to a win?
Arlan: Other than a 6-1 loss in its first game at BC back in November, Northeastern has played tough against the other three Boston teams. What it hasn't managed to do is win any of those games, and the tie at BC on Saturday was the first time the Huskies avoided a loss in those matchups. The rest have eventually brought disappointment. Desjardins' play against the Eagles was very strong, and maybe as good as I've seen her. If she maintains that level, that definitely improves the Huskies' prospects. I don't know about them becoming a TUC, however. Their RPI is sub .500 by a healthy bit. I suppose they could get hot against the non-Boston teams in Hockey East, but because those teams currently rank in the 20s and below in RPI, the gains from each win won't be as great.
The biggest problem for the Huskies looks to be the dearth of healthy bodies. They started Sunday's game with 14 skaters, and after Claire Santostefano left with an injury, they were down to eight forwards and two centers. My understanding is that most of the other players that are out are done for the season, so that could be a long-term issue. How do you finish strong in games if people are just getting worn down from having to skate too many shifts? Northeastern has Connecticut on Wednesday, so it will have to see how it comes out of that game before it thinks too much about BU. Perhaps Northeastern will be able to establish itself as the best of the rest in Hockey East.
Right now, that distinction would have to belong to Vermont. The Catamounts are three points up on Northeastern with a game in hand. The problem for Vermont is that its four remaining games in January are all against BC and BU, teams that drubbed the Catamounts back in November. Should they drop in the standings, they'll have another shot at teams like New Hampshire, Providence, and Northeastern in February.
Vermont threw a monkey wrench into the works for BC last season. Could the Catamounts do that to the Eagles again this weekend?
Candace: Possibly, but I find it unlikely. The Catamounts haven't started well this second half, losing a pair to Syracuse and then splitting with Connecticut. They also had two ties with Colgate and OT wins against Brown and Dartmouth. The Catamounts have some great scoring threats in Amanda Pelkey and Brittany Zuback, so a few goals against BC are likely, but I don't know that the Catamounts can shut down BC's offense. Roxanne Douville has a 2.31 GAA and a .910 save percentage. The Catamounts gave up four and three goals against Syracuse in a pair of games two weeks ago, and Syracuse, while it did beat BC, doesn't have the offensive depth that the Eagles can bring to bear. More important, BC doesn't have the luxury of relaxing anymore. The Eagles are ninth in the PairWise, and have played themselves into a hole as far as qualifying for the national tournament. I think BC will come out determined in every game to avoid an upset going forward. I think Vermont might make it more respectable than the 6-1 thumping the Eagles dished out in November, but I don't see them winning this go round.
Another team that can't afford a blip is Quinnipiac, especially since the Bobcats lost to Rensselaer on Friday. As you pointed out, the Engineers kept Kelly Babstock off the score sheet, and while Shiann Darkangelo netted a pair in the third, the Bobcats fell short. They also struggled the next night against Union, winning 1-0, and Babstock was again kept off the score sheet. The last time the prolific scorer was held without points in two or more consecutive games was in the ECAC playoffs last season, when St. Lawrence held her without a point in all three games while upsetting the Bobcats. It's a bad time for Babstock to have a power outage, as the Bobcats host Robert Morris in a huge PairWise series this weekend. Can the Colonials cement their NCAA tournament aspirations with a sweep?
Arlan: A sweep on the road sounds a touch ambitious. Quinnipiac is 10-1-2 at home, with the only loss coming versus Clarkson. RMU is even better on the road at 6-0-1, but its opponents haven't been the caliber of Quinnipiac. The best road win was probably at Syracuse, the site of the tie as well. And the Colonials' most impressive sweep at any venue was likely either St. Lawrence or RIT. Statistically, the two teams are very close. RMU is a might better offensively; Quinnipiac enjoys a slight edge on defense. Hockey games are often a race to three, but these may wind up being a race to two, or the first goal could be the only goal. I don't see Quinnipiac failing to get at least a tie out of the deal, and a split is more likely. When games are so low-scoring, they are a devil to predict, because every bounce becomes paramount. If a split does result, we'll have to see whether that damages the Colonials' PairWise prospects to any large degree. There's also the possibility that the Bobcats defend their home ice with vigor and thrust themselves back into the at-large picture.
The only other game featuring a clash of ranked teams this weekend is Harvard at Cornell. We've already talked about those teams, and the Harvard loss to Yale took a little luster off the Crimson versus the Big Red, because Cornell will still control its ECAC destiny even should it lose to Harvard.
That means that the other top teams in action will be trying to avoid the upset. Nothing really jumps out at me on that front, although their very unexpected nature is what makes them upsets. BU at Providence on Friday night perhaps? The Friars have often saved their best play for the second half, and I think they have more potential than they've displayed thus far. If the Terriers are in a funk after playing BC — and 14 shots on goal at Maine was not encouraging — then it would behoove them to get out of it sooner rather than later.
Do you see any upset specials looming? Maybe a hit to a team in the next tier if not a ranked team?
Candace: I don't know if upset is the word, but I see a VERY interesting clash in the east, with Union and Rensselaer playing a home-and-home. The Engineers are currently sitting in seventh in the ECAC, tied with Yale (in the eighth spot) with nine points. Dartmouth is in ninth with nine points, and Union is in 10 with six points. Union beat fifth-place Princeton last weekend, and then gave second-place Quinnipiac all it could handle the next night. Rensselaer beat Quinnipiac and tied Princeton. If Union gets at least one win, the Dutchwomen can keep pace for a spot in the ECAC playoffs. Yale, of course is another. I don't know if beating St. Lawrence would be an upset per se, as they only trail the Saints by two points and are on home ice, but can the Bulldogs repeat last weekend's big upset of Harvard when they face off against Clarkson on home ice? That should be a VERY interesting game as well. The ECAC also has another potential upset game, as Dartmouth travels to Cornell. For some reason, the Big Green always give the Big Red trouble, and they have shown signs of life in the second half. Back in November, when Dartmouth couldn't beat hardly anyone, they lost a close one to the Big Red, 4-2.
You mentioned Providence and BU, and the Friars have definitely been playing better of late, so the Terriers will have to be on their guard. How about out west? The potential upset I see is if the Buckeyes can repeat last weekend's performance when they travel to Minnesota-Duluth. The Bulldogs currently sit in fourth, but they have been inconsistent. If Lisa Steffes can turn in another tour-de-force goaltending performance, UMD could wind up suffering a setback.
How about you? Does anything strike you from this coming weekend?
Arlan: UMD already lost at home to St. Cloud State and Bemidji State, so a loss to OSU is definitely possible. The WCHA doesn't have a team that is much weaker compared to the others, so everybody is in range on any given week. I don't expect Wisconsin to have a problem in Bemidji, but BSU can present a thorn to anyone, so who knows. The ECAC seems similar, although I haven't seen evidence that teams nearer the bottom can score with Cornell, but as you say, there seems to be a pattern with Dartmouth. Once past the top four ECAC teams, what is an upset and what isn't can be difficult to determine. There is very little action on tap in the CHA; Syracuse is the only other squad from that circuit playing twice. Hockey East still looks like the most likely location of an upset. BU has been very good at taking care of business over the last year and a half, so the Terriers may be on borrowed time in terms of hiding from Cinderella. Plus, every time I think I'm starting to get a handle on BC, the Eagles remind me that I have no clue.
Beyond upsets, Hockey East also had the news last week of former New Hampshire coach Brian McCloskey seeking reinstatement. I don't know if that creates an atmosphere of uncertainty for the Wildcats, or if it becomes more of an investigation as to whether or not the proper process was handled administratively at UNH. To offer an opinion as to who is right or wrong in the situation is hard when we don't possess all of the facts. What are your thoughts on the matter?
Candace: Without knowing more about the incident, it's really hard to say. However, from what I've read, even though McCloskey is seeking reinstatement, he doesn't deny grabbing the player on the bench, and any physical contact between a coach and player can lead to a firing. This isn't the '70s, when someone like Bobby Knight was viewed as "colorful" for throwing a chair. It's a different era, and I think that even if McCloskey's account of the incident is correct, in that he was trying to get a player who had lost her temper to sit down on the bench, depending on how it happened, I could perhaps understand UNH's thinking. Regarding McCloskey's statement that he believes that from the way the school announced the departure it could have been construed as sexual, I just don't see it. The university specifically cited "inappropriate physical contact with a player on the bench."
The other question is about UNH's development. The team was once the power in the east, but no longer, and McCloskey has had difficulty fielding teams with a full roster in the last few years. A few high-profile players also left, including Jenn Wakefield, who transferred to BU after her sophomore season at UNH. I always wondered about the circumstances that led to Wakefield's departure, and again, that's probably something we won't know.
I have a hard time believing McCloskey will be reinstated, but stranger things have happened. Regardless, the attention can't be good for the players as they enter the meat of the second half of their season.
What's your take?
Arlan: By his own account, McCloskey was not entirely blameless in the matter, but without actual facts, it is impossible to say whether his termination was justified. I do agree with him that the matter was announced poorly. I saw a clip of a TV news story that left it ambiguous as to what the nature of the improper contact was, and even in the initial release, one had to get deeper into the story to learn that it was a game-related offense.
I do find that zero-tolerance policies in general could easily be described as zero-sense policies, because they wind up lumping largely inconsequential acts, situations of grave danger, and everything in between in the same category. If a coach is being dismissed for an improper act, then the team's performance is irrelevant. Otherwise, you create situations where heinous deeds are covered up to protect a regime of a national power in football or basketball, while a hard line is taken with coaches viewed as expendable. If the desire is to remove a coach for nonperformance, then call it that. Similarly in the case of player transfers, it shouldn't matter if the student athlete is a national-team superstar or a role player on the end of the bench; equal consideration should be paid to the reasons behind it if the program was in error.