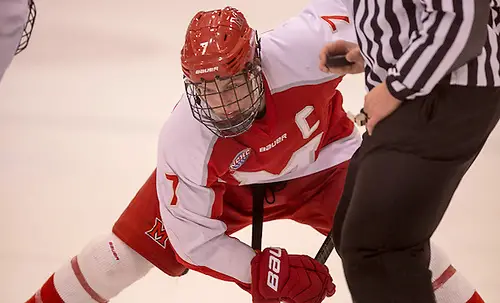 Welcome back to the Hobey Watch, everyone! It's been quite a first half of the season, and as we turn over the calendar into 2014, it's time to start sizing up the candidates for college hockey's top individual honor.
When we called it a year last April after Drew LeBlanc of St. Cloud State hoisted the Hobey Baker Award in Pittsburgh, there were three major story lines I was looking ahead to for the Hobey in 2014. In this first Hobey Watch of 2014, I want to revisit the big questions and get a sense of where we stand at the midway point of the season.
Conference calls
When sizing up Hobey candidates — and particularly when attempting to pick the top 10 finalists — conference affiliations are useful for keeping things organized. It's pretty rare when a major conference doesn't have a Hobey finalist, so with the CCHA gone and the NCHC and Big Ten now part of the mix along with a vastly different WCHA, it's worth looking at how the national picture has changed.
The most notable development on that front seems to have come from Oxford, Ohio, where Miami has a pair of intriguing candidates in sophomore Riley Barber and returning Hobey finalist Austin Czarnik. If there was ever a concern about the quality of Miami's opposition, it should be gone, given that Miami now plays in the NCHC, but the problem is that the RedHawks currently reside in the NCHC basement.
Still, that wouldn't preclude either player from getting a Hobey finalist nod, given their individual performance. Barber is the stronger goal scorer of the two, with 14 tallies in 20 games, but the whole "Hobey loves goals" argument lost some steam last year with Drew LeBlanc's win, so it remains to be seen how these guys will be evaluated.
Meanwhile, in the WCHA, Ferris State is looking strong, and with CJ Motte posting a 17-1-3 record in the Bulldogs' net, he's looking like a likely Hobey finalist. His GAA (2.07, 16th in the country) and save percentage (.932, 11th) aren't at the top level where he could be considered a true Hobey contender, but as the most notable player for a notable team, he's on track for at least a finalist nod, with the opportunity to do more if Ferris State does big things in the postseason.
Speaking of netminders …
The goalie question
The lack of a Hobey winner in goal since Ryan Miller in 2001 is one of the most familiar tropes in Hobey conversation, but last year introduced us to a pair of netminders with the potential to become just the third goalie to capture college hockey's top individual honor. As we open the Hobey Watch for another year, it's a good time to look back in on Connor Hellebuyck of Massachusetts-Lowell and Jon Gillies of Providence.
The good news for Hellebuyck is that he leads the nation in save percentage (.945) and is second in GAA (1.75), with that save percentage awfully close to the magical .950 that Ryan Miller posted in his Hobey campaign. The bad news is that he's splitting time with Doug Carr, and it's hard to see a part-timer capturing the Hobey. The real takeaway here for Hellebuyck is that he's shown no signs of a sophomore slump, and if he gets a solo run in the River Hawks' net next year after Carr graduates, he'll enter 2014-15 as a top contender for the Hobey.
As for Gillies, the Friars sophomore is two slots behind Hellebuyck in the save percentage department at .937, and while he's a bit farther down in the GAA department (1.88, ninth in the nation), the Friars are ranked seventh in the USCHO.com Division I Men's Poll and Gillies deserves a great deal of the credit. He's certainly worth keeping an eye on.
Johnny be back
When we started up the 2013 edition of this blog, it was looking as if the Hobey might finally go to the "little guy from BC."
Boston College forward Johnny Gaudreau was among the nation's top scorers, coming off of a high-profile performance as part of a gold-medal effort for the U.S. at the World Junior Championship and looking every bit the part of a Hobey winner. As it turned out, however, Gaudreau's statistical performance tailed off toward the end of the season, and when BC stalled out in the postseason, failing to capture a Hockey East title or a Frozen Four berth, Gaudreau came up short of the Hobey. Still, with little brother Matthew on his way to the Heights, the expectation was that "Johnny Hockey" would stick around for another run.
Indeed, the elder Gaudreau is back in Chestnut Hill, and once again, he's flying high for the Eagles, leading the nation in points per game and goals per game. While there are certainly other qualified candidates — including returning Hobey finalist Greg Carey of St. Lawrence, who's right on Gaudreau's tail in the points department — Gaudreau is once again in a strong position to capture the Hobey.
Given that BC's team performance in even-numbered years has been far stronger than odd years in recent memory (you have to go back to 2002 to find the last even-numbered Frozen Four that BC wasn't a part of), the pieces seem to be in place for Gaudreau. Whether he and the Eagles can keep them together — and whether the other candidates will have their say — remains to be seen.
By no means is this post meant to be an exhaustive discussion of the candidates. There are certainly more players worth discussing than Barber, Czarnik, Hellebuyck, Gillies, Gaudreau and Carey, and we'll discuss them in the weeks to come. For now, though, this should be a good start.