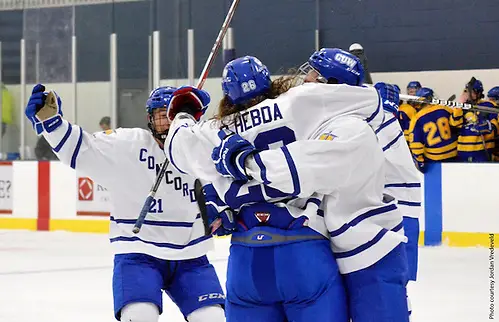 Just over halfway through the season and Concordia (Wis.) is already setting historical records for the program – a feat that Jasen Wise set out to accomplish when he signed on to coach the Falcons prior to the 2012-13 season.
"When I took the job at Concordia, my goal was to compete for conference titles," said Wise. "And I think a win streak like this and winning the most wins in school history is us moving in the right direction."
After a 3-4-3 start, the Falcons have turned things around and are riding a six-game winning streak, marking the longest in program history.
With their 8-4-3 overall record thus far on the season, the Falcons have also set the record for most wins in a campaign.
The breakdown of the roster shows the vast majority are underclassmen – 10 freshman and 13 sophomores. The youth of the team is an asset, as they have not been a part of the Falcons of years past that were used to losing.
"I think all the kids that have come in the last two years knew what the expectations were, which was to turn this program into a winning program and to create a winning tradition," Wise said. "Our locker room is very tight, they all support the mission and they are all on board. It is fun to come to the rink everyday, they work hard everyday, and they always have a smile on their face.
"They want to be a part of a program that becomes a winner."
The locker room mentality has helped young players, like freshman Domingo Torrenueva, shine. Torrenueva is a sophomore goalie who totes a 6-0-1 and has started through each game of the win streak. He has a .917 save percentage and 2.52 GAA. He started only one game last season.
"[Torrenueva] ultimately started as a third-string goaltender and has continued to work very hard," said Wise. "He wants to be in the net everyday at practice. He is competing everyday, just waiting for his opportunity. He's got the starting spot and he is taking advantage of the opportunity."
Goaltending isn't the only key to success this season. All four forward lines are successfully posting points for the Falcons. Players like freshman left wing Tanner Bull, who plays on the fourth line and on the penalty kill, has scored four goals and notched six assists.
While the Falcons are working to establish a winning program, they will have a home-and-home series against the St. Norbert, an elite Division III program, this weekend.
"I think the key for us is to focus on what we do well," said Wise. "We need to focus on what we do well and minimize our mistakes and capitalize on our opportunities. St. Norbert does a lot of things very well. If we try to have a strategy about what they do, it might slow down our process."
One thing is for certain for these young Falcons – they are moving in the right direction.