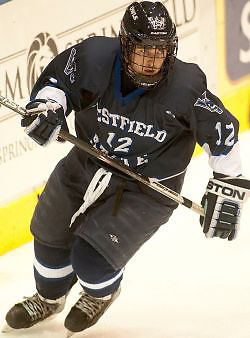 Westfield State has been Jekyll and Hyde this season.
In MASCAC play, the Owls are one of the teams that are playing well with a 5-2-0 record.
Outside the MASCAC, Westfield State hasn't been as lucky with a 1-6-0 record.
For coach Bob Miele, he has no real explanation for the polar opposites in play.
"If you look at our conference record, we have done pretty well in our conference," Miele said. "We are pretty happy with that. We haven't done so well out of conference. We don't have any out of conference games remaining."
All of the Owls' nonconference games have been close, too.
"Most of our out-of-conference games we lost have been one-goal games," Miele explained. "On [Tuesday], we lost with no time left on the clock in overtime. Sometimes, it's just the luck of the draw. We just have to play better. There's no excuses, we just have to perform."
It was Jim Gabrione's power-play goal at the buzzer for Southern New Hampshire to defeat Westfield State 5-4 three days ago.
While every game is important, Miele knows if his team wants to make a deep playoff run, those MASCAC games are keys to getting to that point.
"Every game is important to us, really," said Miele. "We take it game by game – every single game is important. In the end, yes, that's going to get us to the [NCAA] tournament, to win our conference. That's the goal there."
Miele knows to play an extended season won't be easy in a conference that has plenty of parity and experienced coaches.
Offense, though, hasn't been the issue as the Owls are averaging four goals per game led by a few underclassmen in Dalton Jay, P.J. McCadden and Jackson Leef.
Jay and McCadden are both sophomores who have 18 and 13 points, respectively, while Leef, a freshman, has fashioned 12 points.
"When everyone is healthy and going, we are pretty balanced offensively," Miele said. "The seniors are starting to come through. A couple of them do have a good number of points. I think each class has a couple of guys that can put up some points."
Vincent Perrault, one of the seven seniors on the squad, also 12 points
Miele would like to improve on allowing 3.29 goals per game, however.
"That's where our focus is on, not [allowing] so many shots and goals," Miele stated. "That's where we are at."
In goal, the duties have been split between senior Eddie Davey and junior Ian Perrier.
Davey has a 5-2-0 record with a 2.76 GAA and a .930 save percentage, while Perrier has an 0-6-0 record with a 4.01 GAA and a .894 save percentage.
"[Davey] has stepped up and won most of our games," Miele said. "Eddie Davey's done a nice job.
"Ian Perrier was our starter last year, he played the most games, had a good save percentage and good numbers. Then this year, he has had tough luck. He has played most of the nonconference games. He's a very good goaltender who has had tough luck."
Freshman goaltender Jonathan LoParco was named MASCAC goalie and rookie of the week this past week with his 25-save performance in the 4-1 win over Framingham State last Saturday.