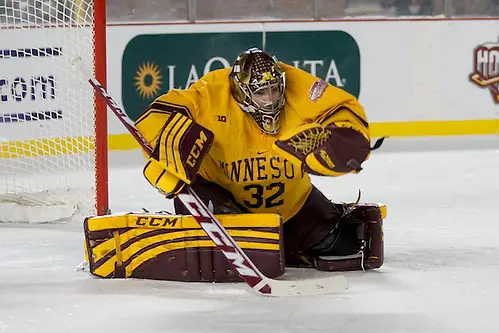 The second half of the season is about Big Ten league play. Mostly.
This weekend, though, marks the beginning of a new tradition in Minnesota, the North Star College Cup, a tournament that features four teams from within the state. Games will be played at 4 and 7 p.m. CST Friday and Saturday at the Xcel Energy Center in St. Paul, Minn.
"The thought process behind it was that there's always been talk of doing something similar to a Beanpot in Minnesota, but it never made sense because we've always been in the same conference and we played each other four times per year," Minnesota coach Don Lucia said. "When the Big Ten was being formed and the NCHC and the new WCHA, it made more sense to put this together."
Lucia said that the Golden Gophers approached other Minnesota schools to see who'd be on board. As it turned out, everybody was on board.
"We thought we could replicate the success of the Final Five," said Lucia, "but with everyone knowing in advance who'd be there. We were hoping we could grow this to be as exciting as the Final Five."
The Gophers will take on St. Cloud State in the late game of the tournament Friday. Minnesota State and Minnesota-Duluth face off earlier in the day. Lucia said that Minnesota will participate every year, and the three others in the field will rotate among the other four Minnesota Division I teams.
As for the timing of the tournament, Lucia said: "We looked at this date that it might be a good date because [college] football's over, it's the weekend before the Super Bowl and usually it's the NHL All-Star weekend. It's two good games for each team in a good venue. It's something to break up the second half."
In the second half, the Gophers — the dominant team that's not-so-dominant — will look to build on their first-half success to remain atop the Big Ten standings. It's a different kind of hockey for Minnesota from years past. The Gophers are young, with five rookie forwards and two freshmen on defense in most games.
Additionally, Minnesota lacks those two or three go-to players that can be counted on for monster points. It's a team that scores by committee, but it has one important thing going for it, said Lucia.
"I think we've been pretty consistent this year," he said. "Part of that is Adam [Wilcox] in net. He covers up some of our mistakes in critical times. We've been lucky to get different scoring on different nights. That's kind of our team; a couple of guys go dry and then someone else gets a timely goal.
"I think our defensemen have brought a lot of offense to our team, too. They skate well and they get the puck out of our zone efficiently, so that adds to our success."
And the Gophers, said Lucia, play better when they don't have the man advantage.
"If you look at history, we've had a very good power play and probably that's helped us win a lot of games whereas this year we've been a better five-on-five team," he said. "That's part of youth."
In 2012-13, the Gophers had the top power play in the country, converting at 24.6 percent. This season, Minnesota is sitting at No. 40, converting at 16.5 percent.
This weekend's tournament is the second special event in as many weekends for the Gophers. Last Friday, Minnesota beat Ohio State 1-0 in the Hockey City Classic, played in TCF Bank Stadium, where the Gophers play football.
"It wasn't as cold as it looked because the benches are heated," said Lucia. "I was colder in Chicago last year. The ice was as good as it could be. Normally in those games, you switch sides halfway through the third period. We didn't have to do that because the ice was good and the wind was not a factor."
Lucia said that while it was a good experience — one in which the Gophers picked up their first win outdoors — he's not clamoring for another outdoor game soon.
"It's an event more than a game," said Lucia. "I think you do have to be careful that you can wear those things out."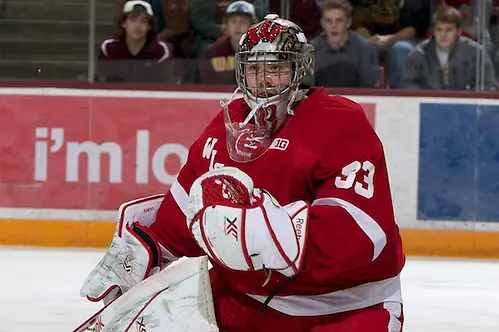 A different sheet of ice
This weekend, Wisconsin returns to play against Ohio State. The Badgers had last weekend off, having last played Michigan at home on Jan. 10 and 11, winning 5-2 and 3-1.
"Both games were very competitive, very intense," said Wisconsin coach Mike Eaves. "We had an ice storm here on the Friday night and we still had 10,000 people in the stands, so the atmosphere was great.
"The nice thing about the weekend was that I thought as a team we played well. I thought it was a complete weekend for us. As far as solidifying our team, there is still some work to do but we played well from the goal out.
"Unfortunately, we had a down week. When you play like that, you'd like to keep going."
Like all teams in the Big Ten, the Badgers have had to contend with a schedule unfamiliar both in the lineup of opponents and the number of off weeks. Eaves said that it's a challenge to keep things interesting for the players when there are so many breaks, so the Badgers tried something new.
"We gave them a day off in the middle of the week," said Eaves, "and we went to a different sheet of ice. We went curling."
The Badgers went to the Madison Curling Club in McFarland, Wis., about eight miles from the UW campus. "It gave some guys a chance to play who've never played before. It was a lot of fun."
Eaves said that it's difficult to quantify what a weekend away from play can do for a team.
"You're hoping players come back refreshed because they've had a little bit more down time," he said.
Eaves is also hoping that this weekend's games get a boost of energy from the return of students for the new semester, and while the Badgers were accustomed to playing Michigan and Michigan State in the now-defunct College Hockey Showcase, having the Buckeyes in town heightens the excitement of the series.
"It's an added dimension of Big Ten play," said Eaves. "I think they're playing pretty well. We watched their games against the Gophers and we watched their games against Michigan State and you can tell that they play really hard, disciplined hockey.
"Plus, I'm sure they'll want to play hard for Rohls."
"Rohls" is first-year Ohio State head coach Steve Rohlik, a Wisconsin alum (1986-90).
An effort worth noting
I was lucky enough to be able to catch last Friday night's Penn State-Michigan State game, and there were a couple of things about the Nittany Lions that caught my attention.
First, after coming out sluggishly in the first period, Penn State redoubled its collective efforts and made the second and third periods worth watching. After the first period, the Spartans led 2-0 on goals by Dean Chelios and Greg Wolfe; they outshot the Nittany Lions 15-11 in the first as well.
Through the second and third, though, Penn State outshot Michigan State 37-14 for a game differential of 48-29. (Yes, Spartans goaltender Jake Hildebrand did earn this week's first star. More on that below.)
The difference between the way the Nittany Lions played in the second and third periods compared to the first was remarkable. After the game, coach Guy Gadowsky said that he was pleased with the team's efforts.
"I'm not disappointed with how we played in the second and third, but in my mind, we lost the game in the first period," he said.
The second thing of note from that game is that Penn State took no penalties in the contest. Zero. Nada. None. The Nittany Lions played as clean a game as I've seen in a long time — and this from a team that led the nation in penalty minutes for much of the first half of the season and is still listed as averaging 14.6 minutes per game, 14th in the nation. Gadowsky seemed happy that I led the postgame interview with a question about the lack of minutes.
"We've been working really hard at it," said Gadowsky, "like really, really hard. We weren't a part of a conference last year, so we had club refs, we had Division III refs, we had every conference ref. We really didn't have any consistent officiating, and we've really struggled this year figuring out how to play hard with staying out of the box.
"This is a first for us and I think it's a big step for us. Give a lot of our guys credit, guys who aren't dirty players but who play hard. We've really been working hard at it. For us, we're really glad to see it. I'm just sad that that performance came without a win because I think it's important for us going forward."
Penn State lost that game 3-0, then lost Saturday's rematch 3-2. The Nittany Lions took five penalties for 21 minutes in the Saturday contest, while the Spartans had four two-minute infractions.
Players of the week
Look at those Spartans — and Sam Warning's back!
First star — Michigan State sophomore goaltender Jake Hildebrand: Hildebrand recorded the first shutout in Big Ten conference play Friday night, making 48 saves in the Spartans' 3-0 win over Penn State. It was the fourth shutout of his career and the second for Hildebrand this season. Hildebrand stopped 77 of 79 shots in Michigan State's two-game sweep of the Nittany Lions.
Second star — Minnesota junior forward Sam Warning: Warning began the season with five goals in four games … and then stopped scoring from Oct. 19 until Jan. 13, when he recorded two goals against Penn State. Now he's added a hat trick, having notched the first three goals in Minnesota's 4-2 come-from-behind win over Ohio State last Saturday. That was the first natural hat trick in Big Ten conference history, too. Warning leads all Gophers players in scoring (10-16–26) and he's second in the nation for plus/minus (plus-21).
Third star — Michigan State senior forward Lee Reimer: Reimer had two goals and two assists to help the Spartans sweep the Nittany Lions. On Friday night, Reimer was part of a line that was the team's wrecking ball; he and Dean Chelios and Greg Wolfe each had a goal and two assists in Michigan State's 3-0 win. His goal in Saturday's 3-2 win was the game-winner, a tally 3:41 into the third period that broke a 2-2 tie — a tie that the Nittany Lions achieved at 1:18 in the third on the power play.
My ballot
1. Minnesota
2. Boston College
3. Quinnipiac
4. Union
5. Ferris State
6. St. Cloud State
7. Wisconsin
8. Providence
9. Massachusetts-Lowell
10. Clarkson
11. Yale
12. Northeastern
13. Michigan
14. Vermont
15. North Dakota
16. Notre Dame
17. New Hampshire
18. Denver
19. Bowling Green
20. Minnesota State