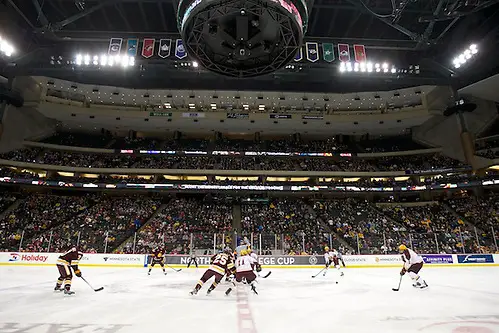 Here's Tuesday Morning Quarterback, our weekly look at big events and big issues around Division I men's college hockey.
Todd: The Beanpot wouldn't have ended in a shootout.
We talked last week about how the North Star College Cup could be the Minnesota equivalent of Boston's long-established, revered Beanpot tournament, and most reports on the inaugural event over the weekend at the Xcel Energy Center were positive. And then Minnesota and Minnesota-Duluth went to a shootout to decide the tournament champion, and that goodwill started to crumble.
I'm a shootout supporter, but I can't come up with a good reason to determine a tournament winner with it. You?
Jim: You and I are in complete agreement here. I do like the shootout in certain circumstances and believe the NHL's implementation works well. (I am not a fan of a shootout changing a league to award three points for wins instead of two; I much prefer the NHL's point system.)
All that said, a trophy should never come down to a skills competition. That is certainly a reason I think the Beanpot has so much appeal. Teams know going in they could be playing for period upon period (ironically, few Beanpot games have gone to multiple overtimes and never in a men's championship game) to win this coveted title. I understand coaches don't want to play multi-overtime games in a regular season because of the wear and tear. But this is also college hockey, where teams play 34 regular-season games. Is one or two long games really that damaging to a team?
Todd: I suppose it can take a toll on a team that loses a championship in multiple overtimes. But if you can't rebound from that, there might be other issues at play with a team in that hypothetical scenario.
In the end, I think people will forget about the somewhat-unsatisfying way of ending the tournament and see it as a success, giving college hockey another quality in-season event.
Since we mentioned the Beanpot, and since we're now in Beanpot week, what should we be looking for on Monday?
Jim: Well this is certainly a different era about to begin for the Beanpot. For the first time in 40 years, Jack Parker, a man synonymous with the Beanpot, won't be behind the Boston University bench. Add in the struggle that BU has had this season and there is a lack of luster in next Monday's second semifinal between BU and Boston College, a game that BC should dominate.
Northeastern is proving that it is a team to watch as well, so for the good of the event, most will be rooting for a Huskies-Eagles final. And regardless, anyone not a BC fan would be cheering for a Northeastern championship. Nothing against the Eagles, but people have said for years this tournament NEEDS Harvard or Northeastern to win this event. The Crimson's last title was 1993 and Northeastern's was 1988.
Todd: I often hear people ask why the Beanpot is such a big deal in college hockey, considering that it involves only teams from one city. To me, part of it is that our sport is a regional one. We embrace it.
We love to see Minnesota-Wisconsin, Michigan-Michigan State, Boston College-Boston University, Yale-Quinnipiac, Union-Rensselaer (more on that one later). Geography is such a key element in college hockey that when you get everyone from a close area together in a tournament, it connects to a lot of people.
Jim: Geography and regionalism does play a major role in college hockey and is a big part of what makes the Beanpot a tremendous success. The alumni base is another key component. Trust me that if BU beats BC next Monday night, there is not a single BU alum that will let any friends who are BC grads forget it. It's all about bragging rights in this tournament.
Speaking of regional rivalries, Saturday night's Union-Rensselaer Mayor's Cup game in Albany, N.Y., produced some unreal fireworks at the ending. The game, a 2-1 win for RPI, ended in a full-on bench-clearing brawl at the buzzer.
And it wasn't just the players. Union coach Rick Bennett could be seen on video shoving RPI coach Seth Appert, which has already led to Union issuing a two-game suspension to its head coach. There were four game DQs called as well, which all carry with them a single-game suspension. But watching that video, it's no surprise that the ECAC tacked on additional suspensions, isn't it?
Todd: I think the league had to step in and add punishments because of the exposure the event has received, if for no other reason.
The truly sad part about it all is that Rensselaer's first win over its Capital District rival in 11 games — an upset of the country's third-ranked team, no less — in front of more than 7,000 fans is being forgotten in the talk about the postgame actions. That fact could have upset some people in the league office.
Jim: I do look forward to talking with long-time Capital District writer Ken Schott, who will join Ed Trefzger and me Tuesday night on USCHO Live! to give us as much insight as he might have into this whole altercation. You said it right, though: This is a black eye for both teams and the ECAC.
Todd: I'm sure a lot of people from those schools are eager to move on from that incident, and with only five weeks left to play in the regular season for the eastern conferences (the NCHC and WCHA have six weeks left and the Big Ten seven because of its one-weekend playoff), it's a must.
Union's lead in ECAC Hockey is down to one point over Colgate and Quinnipiac, although the Dutchmen have a game in hand on both. Mercyhurst is trying to hold on in Atlantic Hockey, and Boston College is running away with Hockey East. What kind of February surprises do you think might be in store in the standings?
Jim: I think the league that could provide the biggest surprise is the NCHC. The standings are so tightly packed that I could see any of the current top five teams (Denver, North Dakota, St. Cloud State, Nebraska-Omaha, Western Michigan) winning the regular season.
I guess that is what we should have expected from a league that has so many perennial powers. But the downside is that the parity in the league still leaves the NCHC with just one team inside the NCAA bubble in the PairWise Rankings if the season ended today.
Todd: Denver and North Dakota are off this weekend, but the next four teams in the NCHC get matched up to see whether anyone will step closer to the leaders. Third-place St. Cloud State is at fourth-place Nebraska-Omaha, while fifth-place Western Michigan hosts sixth-place Minnesota-Duluth.
The Big Ten has another weekend where all six teams are in conference play, with Michigan attempting to leapfrog Wisconsin when it hosts the Badgers. And in the WCHA, Minnesota State can tie for first place with a pair of wins at Northern Michigan, but Ferris State will have two games in hand by the end of the weekend. What's up out east?
Jim: Well, we already mentioned the Beanpot which, though nonleague, will play to a packed house next Monday at the TD Garden. In Atlantic Hockey, the most anticipated series of the season will take place in Erie, Pa., when Mercyhurst hosts Bentley, both teams red hot, with first place on the line.
In the ECAC, Union, without some key players and its coach, will make the difficult trip to St. Lawrence and Clarkson. Yale will also square off against Cornell and Colgate, two key games in the standings. And in Hockey East, one of the nation's hottest teams, BC, will head to Providence for a single game on Friday night.