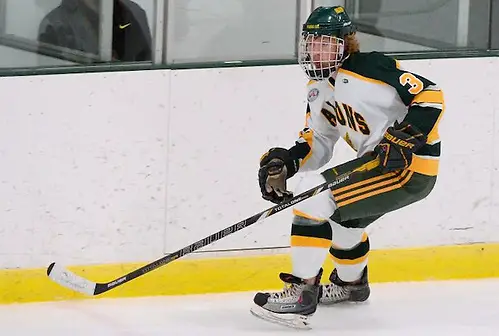 The success Fitchburg State junior defenseman Craig Halpin has had can be pointed to others around him.
Showing his maturity, Halpin deflects attention away from himself and takes a team-first approach.
"The team is really well-rounded this year," Halpin said. "The puck is moving around a lot and I have been playing on the power play this year with John Celli, who has one of the best shots in the league. On the right side, I have Max Lorenzen, who is one of the most creative guys on the ice. Then you got Ryan Connolly, who gets a stick on every single shot I take. It makes my job really easy."
For Falcons' coach Dean Fuller, Halpin just hasn't become one of the best defensemen in the MASCAC, but at the Division III level as a whole.
"It really started last year," Fuller said. "He does a lot of things for us. He runs our power play from the point and we have been really consistent there. He's a great penalty killer and obviously, he takes his regular shift."
Fuller said Halpin is a "competitive kid" and is very conscious about his plus-minus rating.
Being competitive has always been in Halpin's blood.
"I have been competitive my whole life and I got a younger brother who's three years younger than me and since we were little kids, we've been really competitive," Halpin explained.
Halpin added he would play all sports with his brother and friends growing up.
The 6-foot-1, 185 pound Irvington, N.Y., native has a goal and 12 assists in 17 games. Last year as a sophomore, he had five points on a goal and four assists.
"He probably didn't want to play as much as he wanted his freshman year, for sure," Fuller said. "I think that motivated him and he started his breakout as a top Division III defenseman last year. This year, there's no one else in the country I would rather have on my team than Craig Halpin."
In his three years at Fitchburg State, Halpin has only been whistled for five penalties. Five penalties. Total.
He obviously knows where that fine line is.
"You got to stay disciplined and use your stick the right way, throw your body around, but stand up for your teammates when you need to," said Halpin. "There is a line you can't cross to play the game the right way."
Halpin said that as an upperclassman, it was time to take the reins and lead by example. The last few weeks, he has been partnering up with freshman defenseman Dillon Wright, who made his college debut last Thursday.
"I will do whatever the team needs me to do," Halpin added. "I am more than happy to step up to that role. It's not even been teaching, it's been getting [Wright's] confidence up. He's a good player and he knows the game really well."
Halpin also said he knew what it was like to be a freshman and he had upperclassmen helping him from the transition to the college game and now it's his turn to return the favor.