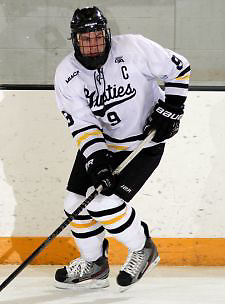 Corey Leivermann just wanted to play hockey, but because of a lack of playing time at Division I Minnesota State, he searched for a new opportunity.
Leivermann found one at Gustavus Adolphus, arriving midway through last season and playing in 13 games for the Gusties, who finished 17-8-3 and lost in the championship game of the MIAC tournament.
"Coach Brett Petersen actually recruited me out of high school, so I knew about Gustavus and had considered it before going to Mankato," Leivermann said. "I wanted to play and have an impact and I was able to get that opportunity here."
He finished with two goals and eight assists last year, but has taken significant strides this year, tallying 13 goals and 10 assists in 20 games.
The 13th-ranked Gusties are 13-4-3 overall and are in first place in the conference with an impressive 10-1-1 record.
Leivermann said his success is a huge credit to his linemates in Tyler Lapic and Jack Walsh.
"I've been playing with those two ever since I transferred in and I've enjoyed every moment," Leivermann said. "We work well together out there and they have helped create opportunities for me. I definitely owe them a lot of credit for the sucess I've had, especially this season."
Leivermann said his mindset as a player has changed as well this season as he has become more of a shooter, although he does still lead the Gusties in assists.
As for playing at the D-III level, it hasn't been too different from what he saw in D-I.
"I thought maybe there would be a big drop-off, but it's really not that much different," Leivermann said. "There are a lot of talented hockey players at this level, including other guys who have transferred from D-I schools, and the play at this level is very good."
What has helped Gustavus be very good this year is that the team is clicking on all cylinders. Not only has the offense cranked out 64 goals, but the defense has done its job as well as the Gusties have given up only 44 goals.
"Our defense does a great job of getting the puck to the forwards," Leivermann said. "They work hard to get us opportunities and it makes our jobs a lot easier to do."
It doesn't hurt having John McLean (2.02 goals-against average, 429 saves) in goal.
"He is such a great goalie and he gives us a chance to win every night," Leivermann said. "He makes big saves all of the time and it gives us a lot of confidence as a team knowing we have him in goal."
The Gusties, winners of six consecutive games, are on pace to win a league title, but several challenges still remain, including a huge road showdown with St. Thomas on Feb. 14. The Tommies are in second in the conference with an 8-0-2 mark.
"We have great team chemistry and have had an outstanding year, but we still have work to do to accomplish our goals," Leivermann said. "We have to stay focused and just keep working hard."
Cobbers Rolling: Concordia (Minn.) pushed its unbeaten streak to four games by knocking off Hamline 4-0 to complete a weekend sweep of the Pipers.
The Cobbers are now 11-6-4 overall and 5-4-3 in the conference. This marks the fourth consecutive year Concordia has won at least 10 games in a season.
Andrew Deters, the leading scorer in the league, scored his eighth goal of the season in the win. Deters has tallied a point in four straight games and seven of the last eight overall. He now has 25 points on the season.
Jordan Krebsbach, Jordan Christianson and Chris Beede all scored goals as well for the Cobbers, who held a 27-23 edge in shots. The goal for Beede was his first of the year. Kelly Andrew made 23 saves to earn his first shutout of the season.
Streak Continues: St. Olaf won its sixth consecutive game on Saturday as it rolled to a 7-2 win over St. Mary's. The win capped a sweep of the weekend series as well.
Dylan Porter scored twice for the Oles, while Matt Guerts, Dan Cecka, Peter Lindblad, Tim Tuscher and Connor Quinn also scored goals for St. Olaf, which is now 9-9-3 overall and 7-3-2 in the conference.
St. Olaf held a 35-23 edge in shots and Steve Papciak earned the win in goal as he tallied 21 saves. He is 8-6-3 on the season.