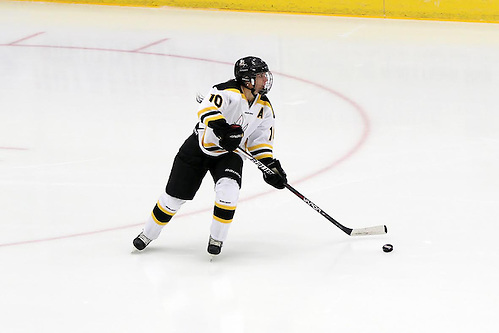 For Wisconsin-Superior coach Dan Laughlin, discourse about his team in the upcoming postseason is somewhat irrelevant.
"We are in it right now," said Laughlin of the way his club has adeptly approached the stretch run of the schedule armed with a playoff mentality.
Certainly the No. 8 Yellowjackets have equipped themselves for a deep run. Despite a loss to rival Wisconsin-River Falls last weekend that dissolved an 11-game unbeaten string, Laughlin's crew has allowed a scant six goals in its last nine games. Sandwiched in the streak were five shutouts, a clear sign that tight, close-to-the-vest hockey will be the preference for the Yellowjackets the rest of the way.
For future opponents, there is nothing enigmatic about the Yellowjackets approach.
"We stress our team defense every day; if we take care of our end, the quicker we get to their end," Laughlin said. "Obviously, good goaltending is a key factor."
Goalie Shanley Peters has eclipsed her previous bests for nearly every statistical category on the board. The Manitoba native, who was an All-American selection two seasons ago, is on her way to enhancing her presence in the Yellowjackets record book. Heading into the weekend, Peters is third in career minutes played and fourth in all time-wins with 37.
Additional scrolling of the archives gives one a heightened sense of Peters' influence on her team's successes this season.
"Shanley is a veteran goaltender; she has been through it all, the good and bad times," said Laughlin, who is in his 11th campaign with the Yellowjackets. "Being a senior, she is now in a position to use that experience and play with confidence at a very high level."
In the tough grind that is the WIAC, the Yellowjackets have been the lone conference club to have resided in the weekly poll for the entire season.
Laughlin's squad trails only Plattsburgh and Norwich in overall team defense nationally, having carved out a 1.38 goals-against average. In 2012-13 the Yellowjackets allowed 2.11 points per game.
Like Peters, blueliner Sheryl Kaskiw is a battle-tested component of Laughlin's dynamic defensive scheme. Kaskiw leads the conference in defenseman scoring (1-15-16) and paces all skaters with a plus-18.
"Sheryl is our Ryan Suter," said Laughlin. "She is a player that gets tons of minutes, can play with anybody, and is very smart with and without the puck."
Laughlin believes his club has the momentum as well as the impetus to revisit the NCAA finals, just as his club did in 2007-08.
"When players are having good seasons, it means that they are getting support from the whole of the team."