Bowling Green took three of four points from Michigan Tech in December in Houghton, but when the Huskies traveled south last weekend to Ohio for a rematch with the Falcons, redemption, revenge and retribution were not on their mind.
According to Tech coach Mel Pearson, there's no time to think about payback at this point of the season. The only thing that matters in the WCHA is points.
"We didn't talk about [redemption] once," Pearson said. "The way the standings are and the situation we were in, it was more about just finding a way to get some points in those games. We didn't talk to our team about it at all.
"The race is so tight, you have to worry about that game and not worry about what happened prior with that team or any team."
Redemption proved to be nothing but an added bonus for the Huskies following a sweep at Bowling Green.
More importantly, Tech was able to climb out of a three-way tie for seventh and into a three-way tie for fifth in the league, giving the program a chance to not only make the WCHA playoffs but host a first-round best-of-three series at the John MacInnes Student Ice Arena.
The Huskies, who were picked in the preseason to finish third by the league's coaches and even awarded a first-place vote, are just one point back of fourth-place Alaska-Anchorage and three points shy of Bowling Green.
However, Pearson knows one or two bad nights could take his team back into a battle just to make the postseason.
"For our team, we have so many things to improve on," Pearson said. "We still could be out of the playoffs. We still need to work hard to get into the playoffs.
"Every game is a must-win game for a lot of teams, not just us."
This week the Huskies host last-place Alabama-Huntsville as part of the university's annual Winter Carnival. The Chargers have just one win this season and it came in the same rink in which Tech needed overtime on Saturday to complete the sweep of the Falcons.
The Huskies may not have been thinking about past battles with Bowling Green a week ago, but this week Pearson is making sure his guys remember the Falcons.
"We reminded them how hard and difficult it was and how we had to claw and scratch and compete," Pearson said. "I said, 'Gentlemen, the team we have next weekend beat Bowling Green in Bowling Green. If you need any more information than that, you shouldn't. That's all you need to know, how difficult it was for us to beat Bowling Green.'"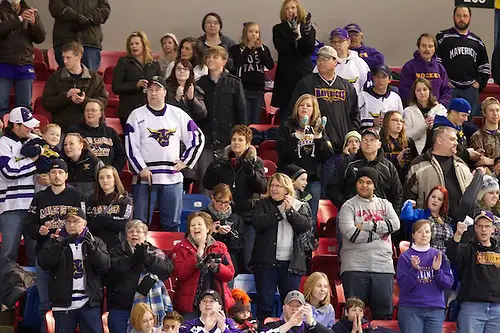 WCHA attendance takes a dive minus big barns
With big buildings such as Ralph Engelstad Arena, the Kohl Center and Mariucci Arena out of the WCHA and smaller venues now in the conference, the league's attendance figures just aren't the same.
Going into the stretch run, WCHA teams are averaging 2,464 fans per game. A year ago, the average was more than double that at 6,277.
Minnesota State leads the league with an average figure of 3,427 per game this season, followed by Bemidji State at 3,382 and Michigan Tech at 2,794. Alaska comes in next at 2,690.
In 98 games played in WCHA buildings this season, the 10 teams have drawn 241,434 fans.
The league had played to more than 1 million fans in each of the last three seasons.
Around the WCHA
• The Huskies became the first team to sweep the Falcons this weekend by winning 5-2 and 5-4 in overtime at the BGSU Ice Arena. Despite the two losses, the Falcons retained possession of third place in the WCHA. That position will be tough to hang on to since the Falcons have only six conference games remaining with three points separating third and fifth.
• There have been a lot of firsts in this first season of the new-look WCHA, and there will be another this weekend when Alabama-Huntsville plays Michigan Tech for the first time. (Congratulations, Chargers, you get the Winter Carnival weekend!) But there also will be a matchup of some longtime rivals when Bemidji State travels to Mankato to take on Minnesota State. The series dates to the schools' Division II days, and Bemidji leads the all-time series with a 47-40-13 record. Earlier this season, the teams split a series in Bemidji.
• Minnesota State and Alaska boast the league's top six scorers in conference play. The Mavericks' Jean-Paul LaFontaine (25 points) and Matt Leitner (24) sit atop the charts, followed by the Nanooks' Cody Kunyk (23) and Colton Beck (20). Minnesota State's Johnny McInnis and Alaska's Tyler Morley are tied at 19 points along with Bowling Green's Dan DeSalvo.
• Alaska Anchorage goalie Chris Kamal leads the league's goaltending race with a conference GAA of 1.67. Kamal has crossed the threshold of playing 33 percent of his team's minutes to qualify, but remember he didn't see his first action until a relief appearance on Nov. 30 at Minnesota State. Kamal has started the Seawolves' last nine games, going 6-2-1 with a .929 save percentage.
• Ferris State and Lake Superior State both are coming off their final bye weekend and will play five consecutive weekends of WCHA play to close out the season. Thanks to Northern Michigan's win Friday over second-place Minnesota State, the Bulldogs were able to hang on to first place in the WCHA. Meanwhile, sweeps by Michigan Tech and Alaska have left Lake Superior State alone in ninth place, three points back of eighth-place Northern Michigan.
• The Wildcats are also playing five consecutive weeks against WCHA opponents to close out the regular season, and it appears they'll be healthier in Big Rapids than they were the previous two weekends in Anchorage and Marquette. Freshman defenseman Brock Maschmeyer practiced in full Tuesday and Wednesday after missing back-to-back weekends with an upper body injury. Last weekend against Minnesota State, Northern Michigan got back senior defenseman Wade Epp and junior defenseman Luke Eibler. The Wildcats hit a low point in Anchorage on defense with four of their six starting defensemen injured. The only one of the four not back on the ice for practice this week is senior CJ Ludwig, who is out for the season.
• This week's WCHA players of the week are Michigan Tech forward David Johnstone (offensive), Alaska defenseman Colton Parayko (defensive) and Michigan Tech defenseman Shane Hanna (rookie).