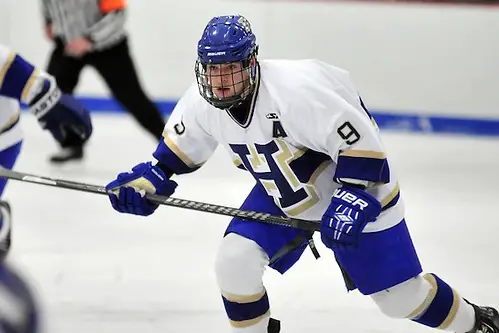 With just two weekends left in the regular-season schedule, the sense of urgency for points is not lost on teams that are truly already in playoff mode.
Case in point finds Hamilton as the Continentals are currently in ninth place in the NESCAC conference standings. In the NESCAC, being ninth or worse is a problem as the conference is unique in eliminating teams from postseason play below the top eight in the standings.
Tenth-place Tufts has already been eliminated from the playoff hunt with four games remaining, but the Continentals sit just three points out of eighth and four points out of seventh and play number-seven Connecticut College on Saturday night.
It will be a challenge to make up ground with so few games remaining, but Hamilton coach Rob Haberbusch feels his team has a chance and can compete with anyone remaining on the schedule.
"The results may not be there for us in the second half so far, but it's not over yet," stated Haberbusch. "We are trying to find those little things to get us over the hump. I tell the kids we need that extra dump in, that extra clear, the extra pass and yeah, goals. We need the little things to help turn some of these recent ties into wins. If you look at our last 10 games, we have five one-goal losses and even our win was over Tufts in overtime. This league is just so tough from top to bottom and we still are in the hunt with four games remaining. We do control our own destiny somewhat and it all starts with Tufts on Friday night. They may be eliminated and have nothing to play for, but they also have nothing to lose. They are a dangerous team and we aren't going to look past anyone at this point in the season.
"Based on some of the recent scores across the league, anything could happen, so we really need to stay focused if we want a shot at playing hockey beyond next weekend."
In close games, the element of timely goals is crucial at this point in the season and there is much the coach can be pleased about when looking among the team leaders offensively for the Continentals.
It should be no surprise that senior forward Michael DiMare leads the Continentals in scoring with a total of 27 points this season. Key to the senior's success has been staying healthy this season following an injury-plagued junior season that kept his typical numbers down. With just a handful of games remaining, DiMare still has a chance to reach the century mark in points for his career at Hamilton and seven points over the next four games would be positive for goal production for the Continentals, who have struggled overall to score more than three goals a contest this season.
Another bright spot up front has been freshman Robbie Murden, who leads the team in goals with 10 on the season, including two on the power play, one shorthanded and two game-winners.
Also heating up at the right time has been junior Pat Curtis, who added two goals last weekend against Colby and is helping add to some balanced scoring to take pressure off the combination of DiMare, Murden and Kenny Matheson.
"I think we are starting to get some of that secondary scoring recently," noted Haberbusch. "Whether it's Pat [Curtis] or Truman [Landowski], we have had some better balance recently and we are going to need that these last few games."
While the Continentals have been challenged scoring in the second half, junior Zach Arnold appears to be the man between the pipes coming down the home stretch.
With senior Joe Quattrocchi having been injured for a number of games, the Continentals have lost that veteran experience in goal and have looked to freshman Charlie Fennell and Arnold to fill the gap created by the senior's absence. While Arnold's overall record of 0-2-2 isn't going to excite anyone, his .920 save percentage and 3.11 goals-against average have been more than respectable.
Pull out a rough game against Trinity, who can make a lot of teams and goaltenders have bad days, and both Fennell and Arnold's recent play have certainly put Hamilton in position to get points and win hockey games with three of the last five contests going to an overtime session.
"Losing our goaltender the last 10 games or so has been tough, but Charlie and Zach have stepped in and played well for us," Haberbusch said. "There is some hope we might get Joe back soon, but our other two guys have played well and certainly have given us a chance to win some hockey games."
Following the final two games at home this weekend, the Continentals finish the season on the road with key matchups with Williams and Middlebury to close out the regular-season schedule. Both teams are in battles of their own for position in the standings, so there is no expectation from Haberbusch about the road to playing in the postseason tournament will be an easy one.
"We have battled all year and not necessarily with the results we had hoped for," said Haberbusch. "There are only four games remaining and all we can focus on is taking care of business in the game we are playing in. That is the only event we can control and the only game we should be focused on is the game coming up on Friday night against Tufts. It would be nice to get a 'W' to help build the confidence for this team. You hear coaches say all the time that you want your best hockey when it matters most.
"Right now is when we need our best hockey."
It is playoff hockey for Hamilton right now. It's not quite win or go home, but a good weekend against two opponents they have battled with in one-goal games the first time around should have them believing the drive to the conference tournament is still alive.