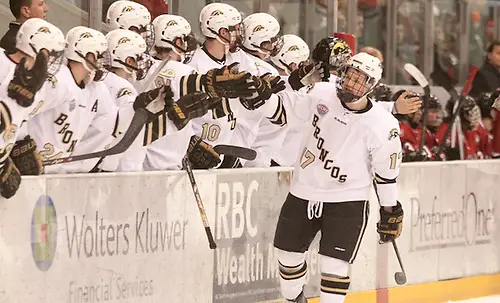 After going to St. Cloud State three weeks ago and emerging with a tie/shootout win and an outright win, Western Michigan returned home to Lawson Ice Arena for a two-game set in what coach Andy Murray says is "the noisiest crowd in college hockey."
Looking to build momentum, the Broncos fell flat, getting swept by a hot Minnesota-Duluth team.
Last weekend, the Broncos went on the road again to face Miami in Oxford, where the Broncos had gone 0-12-1 in their last 13 games. The result? A convincing two-game sweep.
A puzzle in Western's record this year has been its less-than-satisfying home record, where the Broncos are 5-6-1. On the road, they are 5-4-2, with a 4-0-1 record at neutral sites.
"Last season, we lost one conference regular season game at home, which is difficult to do, but I think first thing I'll say the quality of the league and the type of competition we face every night, I don't think it really matters where you play," said Murray. "I think it's a 50-50 scenario, and we've been fortunate the last few road series.
"We picked up some wins in St. Cloud and Miami, but really we don't approach it any different. We play the same and try to play hard and smart. The bottom line is wherever you play the games you try to win them, and actually our best record this year is neutral-site games, where we are 4-0-1. If we ever get to the Frozen Four, we might be all right (laughs). … It's disappointing for us that we have not won our games at home as much as we would like."
After a thorough 5-2 win on Friday against Miami in which Western goaltender Lukas Hafner made 27 saves, the Broncos started slowly on Saturday, falling behind 2-0 in the first period on a short-handed goal and a power-play goal. Murray responded by yanking Hafner at the 13:52 mark of the first after the second goal and inserting Frank Slubowski, who finished with 24 saves in the 3-2 win.
Although Hafner has the better stats, Slubowski has played more games. The goalie platoon however, is not by design.
"Both goalies have been tremendous for us this year," said Murray. "Frank has played extremely well in games, and Lukas as well. We don't ever go into a weekend thinking we are going to play both goalies; our plan is to just play one and to have them play really well. I think the bottom line is the team trusts and respects both goaltenders, so it doesn't matter who is in net, they're prepared to play hard for them."
One key to the recent surge by Western Michigan has been the play of forwards Shane Berschbach (12 goals, 16 assists, 1.00 points per game), and Chase Balisy (six goals, 17 assists, .82 points per game). Though both have over 100 points in their college careers, the 2012-13 season saw a significant drop in production for both.
While Murray has welcomed the pair's return to form, he is more pleased with the even-strength play of his team.
"The one thing that has been good for us, to be honest with you, is that we have struggled to score on our power play, and it's nice to see our five-on-five production be better, because last year, we couldn't score five-on-five," said Murray. "We could only score on the power play, and that hurt us at the end of the year when our power play went a little bit south on us, so it's been encouraging to score five-on-five. I think if you look at the plus/minus records of our players, we've got some really high plusses because we've been good five-on-five."
This weekend, the Broncos, who are tied for fifth in the NCHC with Denver with 26 points, travel to face Colorado College. Only four points separate Western from league-leading St. Cloud State, and CC is currently in the NCHC cellar with 14 points, but that doesn't mean Murray is taking the Tigers lightly. Back in November, WMU hosted the Tigers and needed OT to win the first game.
"I think CC might be certainly one of, if not the, most improved teams since the start of the season," Murray said. "We've been studying a lot of their games on video recently, and we know our first game against them in the first half, we won in overtime. …
"We're trying to hang in there and see if we can get points, but I expect Colorado to be really good, and if we're to get points out there, we're going to have to be really on top of our game."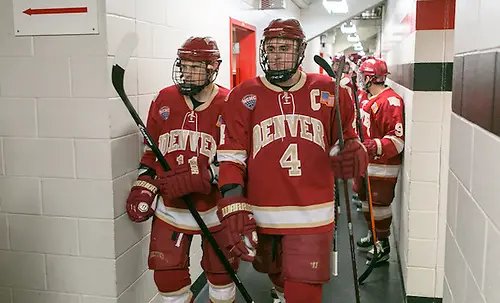 Denver looks to reverse earlier result
Back in November, Denver hosted Nebraska-Omaha for a two-game set that was one of the low points in the Pioneers' season.
In the first game, the Pioneers twice rallied from one-goal deficits, only to lose 3-2 on an overtime goal by Josh Archibald. On Saturday, Denver jumped out to an early 2-0 lead and held a 2-1 lead going into the third, but Brock Montpetit tied it and Archibald again scored an overtime winner for the visitors.
The two losses left Denver with a 3-5 record at that point and a three-game losing streak.
However, Denver seemed to use that moment to turn around its season, going 7-1-3 to close the first half of the year.
This weekend, Denver travels to Omaha looking to gain ground in the tightly packed NCHC, where six teams are within four points of each other. Asked about possibly getting revenge, Denver coach Jim Montgomery deflected the question.
"I don't think it's any revenge motivation; it's an opportunity for us to play better against UNO," Montgomery said. "I think we've improved immensely as a team since then, especially our play without the puck, but I've watched them on video and they're better since they were back then. They're a good team, but every team in this conference, there's no easy weekends. Everything is a split or there's the odd sweep, and if you can sweep, you move ahead of everybody else."
Denver's success is predicated on two things: the play of goalie Sam Brittain, and the team's power play and penalty kill, which rank fourth and third nationally, respectively. Those loom large on a team without a single player averaging a point a game.
"We have good hockey players, and for whatever reason we've had confidence in our penalty kill and our power play has an attitude and it has a pace and a tempo to it," said Montgomery. "I think our players go over the boards very confident, and I think that we have to maintain that if we hope to have success."
One thing Denver will need to concentrate on is shutting down UNO's high-flying offense, which is 10th nationally, averaging 3.27 goals per game.
"I think they're the fastest team in this league, and they go the hardest to the net," Montgomery said. "So defending our own net and making sure we keep them to the outside is going to be extremely important for us, because they shoot from everywhere but they get second- and third-wave opportunities because of how hard they go to the net.
"That's a reflection of their coach. Their coach is a great coach, and he's extremely hard and extremely intense, and that's the way their team plays."
Montgomery has been working with his coaches on the offensive struggles of his team, which is tied for 41st nationally in team offense at 2.57 goals per game. He knows that offense will need to improve if the Pioneers are to have success in the postseason.
"I think we know that if we're going to be a successful team, we're going to be a 3-2 hockey team," said Montgomery. "We have to find ways to manufacture more five-on-five goals because they get tougher and tougher and usually referees don't call as many penalties. That's going to neutralize our power play."
Going into the weekend, Denver is tied with Western Michigan in fifth place with 26 points, but is only one point back of UNO and North Dakota, and trails league-leading St. Cloud State by four points.
"I think every team in our conference has had challenges, and to be quite honest, I don't think our conference has a dominant team," Montgomery said. "I think it has eight really good hockey teams, and that's why every night is a battle. If you come prepared, the team that executes with the best effort is usually the team that ends up on top."
Players of the week
Offensive player of the week — Nic Dowd, St. Cloud State: Dowd notched four points on three goals and an assist in a crucial two-game conference series with Denver. In Friday's 2-2 tie, he scored the first goal of the game and posted a plus-1 on the game. In Saturday's 4-2 win, he assisted on the game-winner in the third period and scored two other goals, helping the Huskies rally from a two-goal deficit. He scored the first goal that sparked the rally and the empty-net goal that sealed the win while posting a plus-4 rating.
Defensive player of the week — Ethan Prow, St. Cloud State: Prow was also a key contributor in the series against Denver, scoring two goals while blocking five shots. On Friday, Prow's power-play goal in the second period gave the Huskies a 2-1 lead, and he was named second star of the game. On Saturday, Prow scored the game-winning goal in the third period and was named the game's third star. This is the second time this year Prow has been named defensive player of the week.
Rookie of the week — Jake Guentzel, Nebraska-Omaha: Guentzel helped UNO earn a series split with North Dakota by notching three assists on the weekend and a plus-1 rating. On Friday, he assisted on UNO's first goal, and on Saturday, Guentzel assisted on the game-winning goal in the second period as UNO rallied from a two-goal deficit. He was plus-2 in the game. Guentzel earned rookie of the week honors for the second time this season.
Goalie of the week — Aaron Crandall, Minnesota-Duluth: Crandall was named goalie of the week for the second consecutive week as UMD earned a five-point weekend against Colorado College and moved into second place in the NCHC. Crandall posted a .944 save percentage and 1.44 GAA on the weekend, in which UMD had a win and a shootout win. On Friday, Crandall stopped 20 in the game and all three CC shootout tries in a 2-2 tie/shootout win. On Saturday, he gave up only one goal on 32 shots and was named the first star of the game. On the weekend, he made 51 saves on 54 shots and helped UMD go 8-for-9 on the penalty kill. This is the third time this year Crandall has been named goalie of the week.