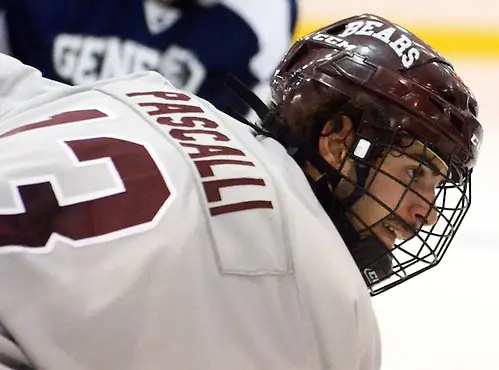 Two weeks ago, one wouldn't have liked Potsdam's playoff chances very much.
Or not at all.
At that point, the Bears were hibernating in the SUNYAC cellar, with just two standings points to their name, and with three conference foes to jump over just to land in the sixth and final playoff spot.
It's funny what a little challenge like that can do for a club.
In the blink of an eye (well, a long wink, perhaps), Potsdam is back in the thick of things, having garnered four more points in their last four games to creep to within two points of sixth-place Cortland, with two weekends remaining.
Talk about rising to the occasion. The Bears, as it turns out, haven't lost their snarl just yet.
"Every year, the SUNYAC proves extraordinarily competitive throughout the balance of a long season," said Potsdam coach Chris Bernard. "The difficulty to garner points is a testament to the parity and effort of the opposing teams. It just always seems to be more magnified down the stretch. We have a lot of work ahead of us to meet the challenge of being a playoff team."
Last weekend, the Bears hosted two playoff-bound squads – Buffalo State and Fredonia – and found a way to earn ties (and the point that goes with it) in both games, with clutch, come-from-behind efforts.
Getting the deadlocker in both games was sophomore winger Billy Pascalli.
Pascalli, who is second among the Bears in scoring (with 15 points in conference play) now has seven goals, with a game-winner to go along with his two game-tiers.
Understandably, Bernard appreciates the way Pascalli is grasping the college game.
"Billy is a very hard-working player who is adept at creating offense with his tenacity and hockey sense," Bernard said.
As many know by now, the Friday tilt with Buff State – which ended in a 1-1 draw – devolved into a penalty-filled affair, totaling 210 PIMs (the Bengals racked up 118), and saw five game misconducts handed out in the final moments of overtime.
"It was an intense hockey game and overtime logistics played a role in the postgame altercation between our teams," said Bernard. "Obviously, it is something both teams will take caution in avoiding in the future."
Both teams had to dip into their depth on Saturday to replace players serving one-game suspensions.
"That said, we are all moving ahead, with all penalties having been served," noted Bernard.
Commitments rolling in
The latest commitments to SUNYAC schools to be announced are a trio of skaters who will head to Brockport next fall.
Among them are defenseman Brian Hurlimann, who hails from nearby Hilton, N.Y., but who is currently playing for Trenton in the Ontario Junior Hockey League.
Hurlimann will join two other newbies, forwards Matt Meredith (New Jersey, EHL) and Ryan Kangas (Hartford, EHL).
Meredith, by the way, is the son of Jeff Meredith, who happens to be the coach at SUNYAC rival Fredonia, now the former boss of Brockport coach Brian Dickinson.