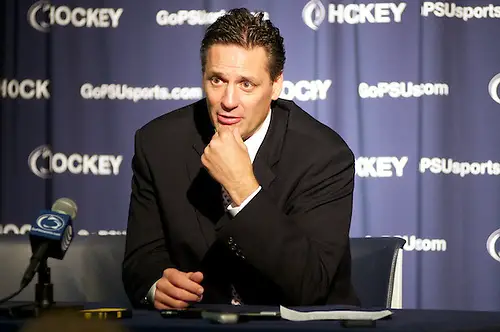 Never underestimate the power of two consecutive games, unbeaten.
When Penn State tied Michigan State 2-2 on Valentine's Day, the Nittany Lions put together their first two-game unbeaten streak in Big Ten conference play. The Saturday before on home ice, Penn State had defeated Michigan 4-0 for the program's first conference win, so the atmosphere at Pegula Ice Arena after that Friday night tie was heady, in spite of the shootout loss.
"I think they loved it," said Penn State coach Guy Gadowsky, who has been vocal about the newly minted PSU hockey faithful. "I can't say enough about how great the fans are. They've been great all year. It has been a lot of fun. All the fans know that we are working hard here."
The Nittany Lions are still in their proverbial hockey honeymoon, a second-year program playing a full Division I schedule for the first time in 2013-14.
Sitting in last place in the Big Ten with a 1-10-1 conference record, Penn State is unlikely to move beyond the cellar between now and the conference championship on the third weekend in March. Fifteen points separate Penn State from Michigan State, the No. 5 team in the standings.
That's OK, though. The Nittany Lions are enjoying the journey and learning that progress isn't always measured in terms of wins and losses.
That win against Michigan "really was tremendous," said Gadowsky. "Honest, I think we've been playing fairly well for a while. It was deserved that night, but we may have deserved it on other nights, too, and didn't get there."
So that little two-game unbeaten streak was a nice nod to forward motion. "The players do know that they've been improving quite a bit, but to get tangible results is nice," said Gadowsky.
That streak came to a halt last Saturday afternoon in a 2-1 loss, a game in which the Nittany Lions led for 30 minutes. Penn State isn't a team that is accustomed to playing with a lead — yet.
"That's something that I think a lot of teams have to learn to do," said Gadowsky. "One as young as us, we're still learning a lot. I felt like we did have a fairly good performance. The Spartans are a tough team to play. They don't give up much."
The player that seems to have exhibited the shortest learning curve on the Penn State team is sophomore goaltender Matthew Skoff. His numbers are unremarkable — 3.02 GAA, .901 save percentage — but Skoff is solid, unshakable and gaining respect.
"He's an excellent athlete," said Gadowsky. "He's tall, 6-[foot-]2, he's lanky. He's got a great work ethic off the ice. He's very good that way.
"What makes Matt Skoff, though, is that he loves to challenge shooters. He makes it fun. He makes the guys want to stay on the ice. Because of that, the guys practice harder and they want to play in front of him."
Michigan coach Red Berenson had praise for Skoff after the sophomore earned his first shutout of the season against the Wolverines on Feb. 8. "Their goalie played well," said Berenson. "This Skoff kid — they didn't know what he'd be when he first arrived, but he gives them a chance to compete."
This weekend, the Nittany Lions and the Wolverines are meeting in Ann Arbor for a rematch of the series that gave Penn State its first league win just two weeks ago.
Gadowsky, who coached Alaska for five seasons in the CCHA, is looking forward to it. "You're always excited," he said. "I'm excited to get back to Yost Arena. It's a great place to play."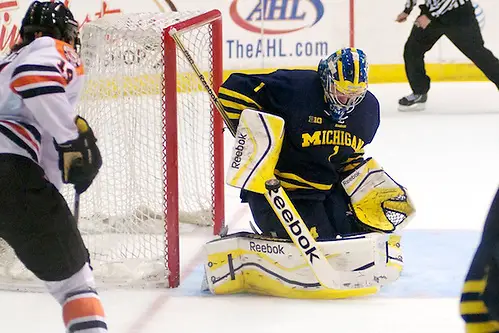 The lonely road
Michigan traveled to Minneapolis last weekend and returned home with nothing to show for it. Now the Wolverines enter their weekend at home against the Nittany Lions with a three-game losing streak, having been outscored 13-4 in that span.
"The first game Friday we came out flat and they didn't," said Berenson. "The first 10 minutes was like a clinic and then the penalties came in, and we got three penalties in the last six minutes [of the period]. It's one of those periods when one team started on time and the other was back on their heels. The score was only 1-0 at the end of it and Racine kept us in the period."
Racine is Steve Racine, the sophomore goaltender who was injured in the first half of the season and then seemingly lost the starting job to freshman Zach Nagelvoort. Racine replaced Nagelvoort early in the 4-0 loss to Penn State the weekend before, and Berenson said the sophomore earned the starting spot against Minnesota in practice last week.
"My philosophy on goalies is that if they're fighting the puck, you have to get them out of there," Berenson said. "Zach was fighting the puck that game against Penn State. He's played well for us all season. I don't know who will start this weekend and won't know until the weekend."
Berenson said that he thought his team played well against Minnesota for nearly the whole weekend but that the Wolverines "didn't capitalize" on chances — which, he said, were few.
"And any time we made a mistake, they were quick to capitalize on it, whether they put it in the back of our net or forced Racine to make a save," Berenson said.
"The one thing I felt coming out of that weekend is that we could play with that team, but we have to play better if we're going to beat them."
The Wolverines are 6-6-1 on the road.
Another team suffering when playing away is Wisconsin — but you wouldn't know it by talking to coach Mike Eaves. The Badgers are 2-7-1 on the road after picking up a 4-2 win in Columbus last Saturday after losing to Ohio State 2-1 on Valentine's Day.
"That's the difference between what you [the media] do in the business and what we do," said Eaves, laughing. "I just don't pay attention to that. I see the series as they are. We go into Boston and it's just a bad weekend. We go into Miami and we play well and take one and then last weekend."
The Badgers dropped games against Boston College and Boston University on Oct. 18 and 19 and split with the Miami RedHawks Nov. 15 and 16.
"I haven't really been bummed out," said Eaves. "We've played really good hockey on the road with the exception of that one weekend. I'm not too concerned about it. I think coming down the stretch here, we've gained experience."
Of Wisconsin's split last weekend against Ohio State, Eaves said, "There are six periods involved in the weekend and we were good for five of them."
Eaves said the energy in the Schottenstein Center was low Friday night as the stands were emptier with an attendance of 4,540. "It took us a while to get going and we fell behind," he said.
Saturday's game was better, though. "It was up and down, the crowd was into it, it was physical," said Eaves. "They made some mistakes and we capitalized on them."
When I asked him the significance of that second road win, Eaves said, "I was shocked that our record was like that. Honestly.
"In coaching, what you need to do is take a step back and take a look at the big picture. Then you need to look at the day-to-day stuff."
That road record? "That really doesn't matter," said Eaves.
A sense of urgency
With seven points separating first-place Minnesota from second-place Wisconsin, and five points separating Wisconsin from third-place Michigan — and every game worth three points — Big Ten play is picking up a sense of urgency.
In fact, the second half of the season has felt intense, Gadowsky said.
"Right from the get-go, from the start of conference play, it's felt like playoff hockey," he said. "I think it's a couple things. I do believe very strongly in a balanced schedule. When I went from the CCHA to the ECAC, I noticed the difference in a balanced schedule."
By "balanced schedule," Gadowsky means playing the same number of games against each team in your own conference. That wasn't an option for years at a time in the CCHA.
Another reason for the half-year sense of urgency is the limited number of conference games, just 20 per team. "Game No. 1 in the Big Ten season, you're jockeying for playoff position," said Gadowsky. "The fact that you have a perfectly balanced schedule, too, means that you know exactly where you stand against each team, all the time."
Berenson said that even though the Wolverines played Michigan State and Ohio State season after season in the CCHA, the Big Ten affiliation intensifies things — and now the finite number of games remaining factors into it.
"We're in the heart of the Big Ten conference schedule," said Berenson. "We have eight games left and we have to make them count. Everyone's trying to get a bye."
All six Big Ten teams go straight to the conference championship tournament and the top two teams get byes to the semifinals.
Berenson knows that the Wolverines did themselves no favors in their last three games. "We took ourselves right out of the first place race," he said. "Mathematically there might be a chance, but a lot of things that would have to happen. Realistically, we needed to split with Minnesota."
Like Berenson, Eaves has noticed some heightened awareness from the Big Ten affiliation.
"I think our people here in Madison have enjoyed it," Eaves said. "Our attendance has spiked. I'm speculating, but our students and fans are recognizing Michigan, Michigan State, even Pen State and it has piqued their interest, even people who don't know much about college hockey."
Eaves is especially keen to earn one of the top two spots in the league.
"Last year, we won three games in three nights, but it doesn't happen very often," he said. The Badgers finished in sixth place in the WCHA in 2012-13, then at the Final Five beat Minnesota State and St. Cloud State before defeating Colorado College in the league's title game.
"It's not a path I'd care to repeat," said Eaves.
Michigan suspensions
Two Wolverines players will sit out Friday's game against Penn State because of supplemental discipline handed out by the Big Ten following Michigan's series against Minnesota.
Freshman defenseman Michael Downing and junior forward Andrew Sinelli will sit for infractions in the 4-1 loss to the Golden Gophers last Saturday night.
At 5:35 in the third period, Downing's elbow found a Minnesota player's head and Downing received a major penalty for contact to the head and a game misconduct.
At 14:37 in the third, Sinelli cross-checked a Golden Gophers player and made contact to the head as well. He received a minor penalty at the time.
"I think the league, like any other league, is conscious of high hits and targeting the head," said Berenson. "I don't think either of our players meant to target the head. Downing is considerably taller than the kid he hit. His elbow definitely hit the kid in the head as well as the body.
"Sinelli overreacted. He had bumped one of their players and put his stick up [in anticipation of retaliation] and hit the kid in the head, which is unacceptable.
"They deserved it. They'll sit out."
Players of the week
The goalies continue to shine.
First star — Minnesota sophomore goaltender Adam Wilcox: Wilcox, the second star last week, stopped 63 of 67 in two wins over Michigan, with a .940 save percentage for the series. He stopped 35 pucks in the 5-3 win Friday and leads all Big Ten goalies and ranks second nationally with 20 wins this season, five wins shy of his total from his freshman season.
Second star — Minnesota freshman forward Hudson Fasching: Fasching had a goal in each win over Michigan and added an assist on Saturday, earning him his second weekly award of the season. Fasching is third among Gophers players in scoring (11-14–25) and his goal on Valentine's Day broke a three-game goal-scoring drought. He's tied for goal scoring among Big Ten freshmen (11).
Third star — Michigan State sophomore goaltender Jake Hildebrand: Hildebrand had 53 saves against the Nittany Lions as the Spartans took five of six points from Penn State; his save percentage for the weekend was .946. After making 25 saves in regulation and overtime Friday, he stopped all seven skaters he faced in the shootout. This is his fourth weekly award this season. Hildebrand's .942 save percentage tops all Big Ten goalies in conference play.
My ballot
1. Boston College
2. Minnesota
3. St. Cloud State
4. Ferris State
5. Quinnipiac
6. Union
7. Massachusetts-Lowell
8. Wisconsin
9. Cornell
10. Providence
11. Michigan
12. Northeastern
13. Yale
14. North Dakota
15. Minnesota State
16. Minnesota-Duluth
17. Maine
18. Denver
19. Colgate
20. Ohio State
Tweet us
Just a reminder to follow Drew Claussen and me on Twitter.