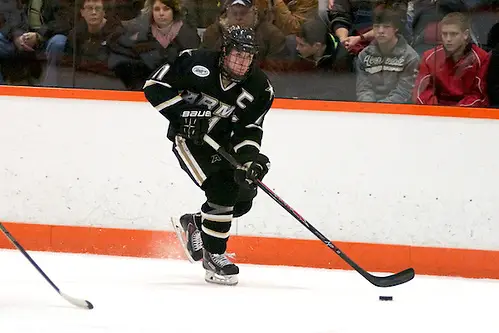 It has been a long time since Army hockey won a regular season game.
Since shutting out Canisius 2-0 on Dec. 7, the Black Knights have zero wins in 13 tries. Their lone victory was in an exhibition game against the Canadian Royal Military College.
They've fallen out of the running for a home series in the first round, clinching the 12th seed as the league's last-place team by virtue of their 6-1 defeat against Bentley last Friday.
But if there's one thing not to talk about when it comes to these Black Knights, it's adversity.
That's because adversity to West Point cadets cannot possibly be measured in wins and losses on the ice. Statistics cannot possibly measure in comparison to the lessons the players gain when they prepare for their next line of work: defending the freedoms enjoyed by the citizens of the United States of America.
As the season winds down, it's an annual rite of tradition for firsties (a colloquial term for fourth-year cadets) to receive their branch assignments. For captain and senior forward Brian Schultz, that means learning where he will be living, training, and developing his skills as a soldier.
Assigned infantry, Schultz will be working with the 2d Cavalry unit assigned to Vilseck, Germany.
"I never intended to be joining a combat unit," said Schultz, a nuclear engineering major at the academy. "But I've spent the last three years in self reflection. I got to spend three weeks at Fort Carson, Colo., working with engineers and construction before I reported back to campus, and I realized that's not what I wanted. So I branched infantry."
"Brian Schultz is going to do great things for the Army," Black Knights coach Brian Riley said. "He is a great leader, and he is going to be doing some really great things for his country. He's one of those guys that I can always count on, and he's a tremendous young man that we can all be proud of."
It's a stark reminder that the Black Knights hockey team has a greater mission. Teams who play against Army always talk about the physical nature of the team. They describe games against the team as "physically demanding," "tough," and "rugged."
They know they have to go out every night and earn points. Indeed, throughout the 13-game slide, the Black Knights lost only four times by more than two goals.
Last Saturday, trailing 4-1 with under 10 minutes left in the third, they rallied send their road game against second-place Bentley to overtime. While they ultimately fell in the extra frame, absolutely nobody walked out thinking this team was worthy of a 12th-place finish.
"Playing hockey for Army is about being in a room with 26 other guys," said Schultz. "It's a common goal. It prepares you for combat because that's what a game is every week — a form of combat. The camaraderie of playing with these guys is going to be one of the biggest leadership experiences that will prepare me for [service]."
Army takes on third-place Connecticut this weekend in a home-and-home series. Friday's game is in Storrs, while Saturday's is at Tate Rink in West Point.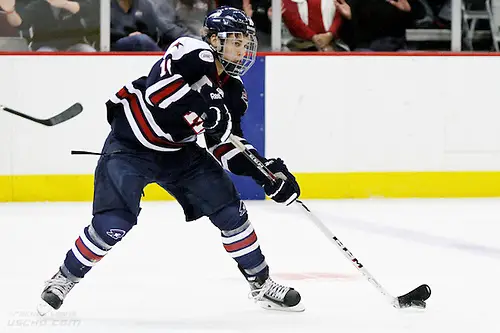 Down the stretch we come
With four games left in the regular season, it's worth a look at the standings to see who can clinch what in the upcoming games:
• Robert Morris has 28 points in fifth place but holds a tiebreaker over only Air Force in head-to-head play. That means Mercyhurst, Bentley and UConn need to finish with 36 points to ensure a first-round bye via a tie scenario. That puts magic numbers for those schools at two, four, and seven, respectively. Air Force would need to finish with 37 points, putting its magic number at eight. That means Mercyhurst (vs. Niagara) and Bentley (vs. Sacred Heart) are in position to clinch first-round byes this weekend.
• Because the Colonials already have at least a first-round home series, there are only three spots left available unclinched. Five points separate sixth-place Niagara from ninth-place (and first team out) Holy Cross. Because American International plays Holy Cross, Niagara essentially can cancel out one of those teams based on what happens. That means the Purple Eagles need two points to be playing the first round at home.
• Canisius needs three points in order to clinch the same scenario, but there's a chance it wouldn't hold a tiebreaker over AIC if Holy Cross sweeps that series. Canisius holds the tiebreaker over Holy Cross by virtue of its sweep of the Crusaders, but their split with the Yellow Jackets means the Golden Griffins would need more conference wins. Right now, they have only a game up on AIC for that.
• AIC really needs to sweep or pick up three points this weekend. The Yellow Jackets have Bentley next weekend, but Holy Cross has Army. Then again, they defeated the Falcons earlier this year and beat them to end the season last year.
• Sacred Heart essentially needs a Holy Cross-AIC split, then both of them to lose next week against their respective opponents. They can't clinch anything, but a sweep by either AIC or Holy Cross knocks them out onto the road for the first round.
That's not even looking at the possibilities of what might happen WITHOUT the clinching scenarios. The lesson as always? Al Davis had a point when he kept saying, "Just win, baby."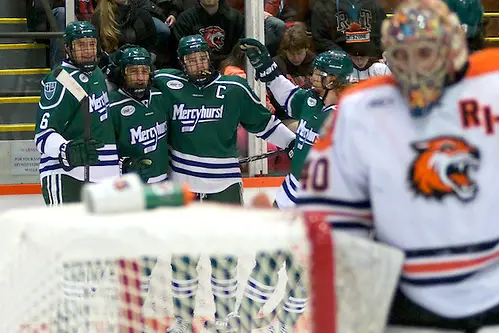 Something's wrong in Rochester
Heading into the Frozen Frontier game on Dec. 14, Rochester Institute of Technology was 6-7-2, 5-3 in Atlantic Hockey play. The Tigers tied that game 2-2 with Niagara.
Since then, RIT is 2-10-2.
It hasn't been much simpler than a look in the numbers. In the first half of the year, including the outdoor game, the Tigers averaged three goals per game while allowing just about the same number. They accumulated some steam with a five-game winning streak and six-game unbeaten streak.
And the Tigers were, once again, creeping toward the top of the standings, a place they'd occupied almost every year since joining the AHA.
Since then, the only Tigers victories came in a sweep over last-place Army. They've lost eight games by more than two goals. And most recently, they were swept by Mercyhurst, giving up 12 goals over two games. Last Saturday, the Lakers scored three goals on just eight shots in the third period.
The weirdest part about the slide is that RIT's schedule essentially set it up for a decent run in the second half. After a four-game swing east to Connecticut and Bentley, the Tigers played one game on the road between Jan. 17 and last weekend.
There are a number of reasons for RIT's slide. The defense and goaltending is fighting the puck, but the offense's scoring clip has dropped off nearly a full goal per game. But when it rains, it pours, and RIT is the unlucky recipient of the second-half collapse that inevitably infects one team per year.
Last year, Bentley finished the season with one win in its final 13 games. The year before that, Canisius went 2-9-1 down the stretch. Looking at both of those teams, though, the bad second half proved a long-term blessing in disguise. Bentley is a favorite for a trip to Rochester this year, while Canisius rebounded to win the league playoffs in their year after.
Given RIT's move to the Polisseni Center next year and its history, there's plenty of reasons for fans to not throw in the towel yet.
The Tigers play just one more home game, the season finale against Canisius, after going out west to Air Force this weekend. Having lost 20 games just once in the program's history at any level (their transitional year to Division I in 2005-06), they'll still have an opportunity to avoid hitting the dubious mark.
Connecticut swan song
With just two weeks remaining in the season, the Connecticut Huskies will also be playing out their final few games as members of Atlantic Hockey.
In a move much publicized through the college hockey ranks, UConn will leave for Hockey East at the conclusion of this season.
Friday's game against Army will mark its last game at Freitas Ice Forum until the playoffs begin, their last regular season conference game played at the rink for the foreseeable future since they've announced they'll play Hockey East games at Hartford's XL Center.
When UConn leaves, it will leave arguably a blueprint for how to build a program in a couple of short years. Before the announcement, UConn was 110-191-30 in the Atlantic Hockey era. Since the announcement in the quick haste to add scholarships, the Huskies have gone 35-24-8 with at least four games left in this season.
While there's still room for growth after they move into arguably the best league in the nation, they'll depart as a league contender.
Of note, too, is that they went 3-3-1 in nonleague play this season, including wins over Massachusetts and Providence, conference foes starting next year.
Is there anybody out there?
On Monday, I pointed out that attendance for the American International-Sacred Heart series was ludicrously low. Fewer than 100 people turned out for the game on Friday in Springfield, a 5-4 overtime thriller. 144 people reportedly showed up in Milford on Sunday to watch another back-and-forth, see-saw affair.
One of the biggest complaints against both AIC and Sacred Heart is their lack of fans, and numbers don't lie: The Pioneers and Yellow Jackets rank 58th and 59th, respectively, in Division I attendance. It's a troubling number because these are teams capable of playing some exciting hockey.
The Yellow Jackets are in the midst of one of their most successful seasons, one in which they could be in line for a home series come playoff time. I'm not saying they need to be selling out the Olympia Ice Center, but that's a place where 250 people could be loud and make it a hostile environment.
I issued an open challenge to the AIC students (if they're out there!), and I'll do it again today: Show up and support this team. It is more than deserving of it, and if the program is to continue to grow, the fans will need to get on board somehow and somewhere.
USCHO players of the week
I was so sure of who I wanted, I didn't even wait for the AHA to release its findings before I could get a chance to agree or disagree!
Offensive player of the week: American International's Jon Puskar: Puskar had a tremendous weekend in the explosive offensive series with Sacred Heart, scoring three goals and two assists. He had a two-goal, two-assist night in the victorious effort on Saturday, scoring three points, including the eventual game-winning goal, in the third period alone. He has 32 points on the season, marking the third consecutive year and seventh time an AIC skater has 30 points in Division I. He is five points away from tying the program record of 37 set in 2000-01, and his 16 goals are tied for second-best with Adam Pleskach in 2011-12, three off the record.
Goalie of the week: Robert Morris' Terry Shafer: Some people point to performances and say it has to be an overall body of work. I prefer to think of the bounce-back win performance to be twice as hard, if only because it requires turning all momentum around in your favor. Shafer made 34 saves in a 5-3 loss to Niagara on the road on Friday night, just his second loss in 2014. He rebounded in a huge way, making 44 stops in a 5-0 shutout of the Purple Eagles. He made 15 saves in the third period alone, a period in which Niagara outshot RMU 15-6. Shafer evened his record to 12-12-4 on the season, backstopping his team along the way to within striking distance of a first-round bye.
Rookie of the week: Army's Parker Gahagen: I'm giving the rookie of the week honors to a goalie who gave up five goals and lost. Watching Gahagen on Saturday night, I said multiple times, "We're watching the birth of the next Army goaltender." He made 35 saves on the night, including 14 in the first period. He held the fort on one of the league's best offenses and one of the country's best power-play units, and he made several acrobatic saves. He ended up engaging in a goalie duel in the third period with one of the league's best in Branden Komm, one he was actually winning for a solid portion of the time. It was one of those performances you had to see to believe. Statistically, Gahagen gave up five goals and lost. His GAA is well over 4.00, and he was reduced to an 0-6 record. But he showed more than enough potential to make Riley optimistic about the stretch run and the future.