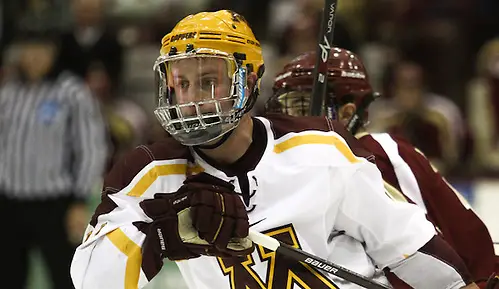 When looking at the nation's scoring leaders, the top two teams in the Big Ten are represented, but not by many players.
Minnesota's Sam Warning ranks tied for No. 48 in the nation with 30 points this season. Two of the players with whom Warning is tied are Wisconsin's Michael Mersch and Mark Zengerle. Those three are the only players from the two schools that make an appearance in the nation's top-50 scorers.
As Minnesota and Wisconsin battle during the remainder of the season for the Big Ten crown, they will do it in similar fashions — with balanced scoring, but with different types of players.
After leaning on stars like Nick Bjugstad and Erik Haula to light the lamp the past couple seasons, Minnesota found itself lacking a lot of star power last fall. With the early departures of Bjugstad, Haula, Nate Schmidt, Zach Budish and Mark Alt, it also lacked experience.
With six games remaining in the season, it's possible that Minnesota's leading scorer could finish the season with less than 40 points. The last time that happened was the 2010-11 season when senior transfer Jacob Cepis led the team with 29 points. Minnesota finished that season 18-14-6 and lost in the first round of the WCHA tournament to Alaska-Anchorage.
This season, the Gophers have done fine spreading the wealth, thanks to a couple key freshmen and a dynamic sophomore goaltender.
Hudson Fasching and Justin Kloos both have 25 points in their freshman season, tied for third on the team in scoring. All in all, Minnesota has 12 players with 10 or more points this season, the same number it finished with last season. With six regular season games remaining, one would imagine that Justin Holl (eight points) or Jake Bischoff and Brady Skjei (seven) might be able to jump into the double-digit range.
In games were the Gophers haven't been able to get many pucks to the back of the net, Adam Wilcox has been the difference. The Gophers have won seven one-goal games this season.
Wilcox has a 20-4-5 record and 1.97 GAA, ranking seventh nationally.
Going into the season, Wisconsin's talented group of upperclassmen was one of the main reasons the Badgers were the preseason favorite to win the Big Ten.
Mersch and Zengerle are tied for the team lead in points with 30. The Badgers also have 12 players with 10 or more points, which is also the same number they finished with last season.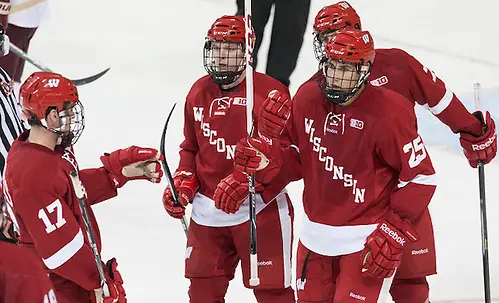 However, coach Mike Eaves said that he didn't think his team was firing on all cylinders after last weekend's sweep of Michigan State.
"I don't think so; I think we have more," Eaves said. "There are some adjustments we could make in the [forward] lines to see if we have more there. In our bye week we're going to tinker with them a little bit."
Like the Gophers, goaltending has also been a strong complement to Wisconsin's balanced offense. Joel Rumpel has a 16-4-1 record, 1.82 GAA and is the third-rated goaltender in the nation.
"He played great for us last year down the stretch as well, and having a guy like him on our backstop every night really helps us out," Wisconsin senior Frankie Simonelli said. "Our team emphasizes a lot on our team defense and we wouldn't have good team defense if we didn't have a good backstop back there. So definitely kudos to him with how he's been playing and hopefully he can keep it going down the stretch."
Michigan and Ohio State's road to a strong finish starts by playing each other
Michigan and Ohio State opened up Big Ten play with a home-and-home series back in November. The Wolverines won 4-3 at home and picked up a 5-4 victory in Columbus.
With six games remaining in the season, the two are three points apart in the standings and the Buckeyes will get a chance to even the season series this weekend when the two schools play another home-and-home series.
The Michigan team that will take the ice this weekend is coming off of one win in its last five contests. The Wolverines had lost four games in a row, two to Minnesota and two to Penn State, before defeating the Nittany Lions 5-2 last Saturday.
"I think it was just about guys bearing down and not taking a shift off," senior forward Derek DeBlois said after last Saturday's win. "We kind of got embarrassed in our own building last night, and that is unacceptable being at Michigan, so we knew we had to bounce back."
Despite scoring a goal during Friday's game, junior Alex Guptill found himself in the press box watching Saturday's contest. Guptill is the Wolverines' third-highest scorer and was a healthy scratch.
Michigan also lost defenseman Mac Bennett to an upper-body injury on Saturday. Coach Red Berenson said that Bennett was week-to-week on Monday and that he will be evaluated again next week.
The Buckeyes three-point deficit to Michigan means a win and at least a shootout win would catapult Ohio State over the Wolverines. Both teams have been pretty good at home — Michigan is 8-2-2 and Ohio State is 13-4-1 — but the game in Columbus will be played at Nationwide Arena.
Three stars of the week
First star — Wisconsin senior forward Michael Mersch: Mersch had three goals and one assist in the Badgers' sweep of Michigan State last weekend. All three goals came on the power play, a unit that was clicking all weekend for Wisconsin. The senior from Park Ridge, Ill., leads the Big Ten in goals (19) and conference goals (11). This is Mersch's third Big Ten weekly honor of the season.
Second star — Wisconsin junior goaltender Joel Rumpel: Rumpel stopped 55 of the 57 shots he saw in the two-game series against Michigan State. He had 24 saves in Friday's 5-2 victory and recorded a 31-save shutout during Saturday's contest. Rumpel has nine career shutouts and two this season. He leads the Big Ten in save percentage, GAA and winning percentage. This is Rumpel's third Big Ten weekly honor of the season.
Third star — Penn State freshman forward David Goodwin: Goodwin had two goals and one assist in Penn State's road split with Michigan. He scored two goals, the second being the overtime winner, in Friday's 5-4 Nittany Lions victory. This is Goodwin's first Big Ten weekly honor.
Big Ten in the poll
Here's how the six Big Ten teams stand in this week's USCHO.com Division I Men's Poll.
No. 2 Minnesota (last week — No. 2)
No. 6 Wisconsin (LW — No. 8)
No. 13 Michigan (LW — No. 10)
This week's matchups
Ohio State at/vs. Michigan (Friday at Yost Ice Arena, Sunday at Nationwide Arena)
Penn State at Minnesota (Friday and Saturday, Mariucci Arena)
U.S. Under-18 team at Michigan State (Saturday, Munn Arena)