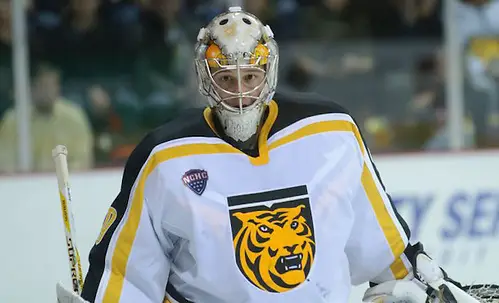 It's interesting how a win over an archrival can be just the spark a team needs.
Colorado College, which has struggled all season long, is hoping for just such a spark after sweeping Denver last weekend to capture the Gold Pan, awarded to the team that wins the season series of four games between the schools.
"It's all smiles right now," Alexander Krushelnyski said after Saturday's game, a 3-1 win for CC in which Krushelnyski notched his 100th career point at CC. "Tonight was a special night. It's a little surreal, kind of soak it all in. It's my last year here, and I'm enjoying it. Nothing makes me happier than to bring the Gold Pan back. It was an incredible team win. I think this weekend, guys played phenomenal."
For a CC team that won only two games, plus one tie/shootout win, between its season opener on Oct. 18 and a 3-3 tie against Western Michigan on Feb. 14, the Tigers' three-game win streak has them upbeat. These Tigers players can also look at last year's group for inspiration.
"We're playing decently at the end of the year again," said CC coach Scott Owens. "We've done that three out of four years, but unless we can score a little bit more and have a little more success on the power play, it might be tough at the end."
Last year, CC went through a 3-11-6 streak that started with a loss to Denver on Nov. 16. After tying Denver on the road on Feb. 8, the Tigers came back and beat Denver in OT the next night. That win seemed to wake CC up.
They went .500 down the stretch, then beat Denver in the first round of the WCHA playoffs in three games and upset North Dakota and Minnesota in the WCHA Final Five before falling to Wisconsin in the WCHA title game.
"It's a little different because we could score," Owens said of the comparison to last year. "We were eighth to 10th in the country in scoring last year, and now we're third to last, but that D-corps is pretty good. They complement each other and make good plays and Josh [Thorimbert] is playing like a veteran, senior goaltender. It's been good for us that way."
That lack of offensive production has seen CC lose a lot of close games by a goal or two. Over its last four games, in which CC has gone 3-0-1, the Tigers have scored three goals or better in each game.
"The team is clicking," said Thorimbert, who made 51 saves in the two games against Denver. "We're playing really well. Everyone's playing well defensively, putting the puck in the net opportunistically. There are some big goals. We knew the scoring would come. We knew we just had to stay with it and keep battling and keep playing our game."
In talks with several CC players, the emphasis they put on success was continuing to battle and not give up, as well as their work ethic.
"I don't want to sell any of us short; guys have worked hard for this all season long," said Krushelnyski. "We might have not seen results, but the work ethic from every single guy on this team in incredible. I think now it's starting to pay off for us down the stretch. Guys have a real good 'Don't give up' mentality."
This weekend, CC will face off against Nebraska-Omaha, one of the few teams against which the Tigers had success during the first half — they got a tie and win against UNO at home in December.
"We play a very good Nebraska-Omaha team, very good offensively," said Owens. "It will be tough for us, but at least we can do that knowing we have the Gold Pan in our players lounge."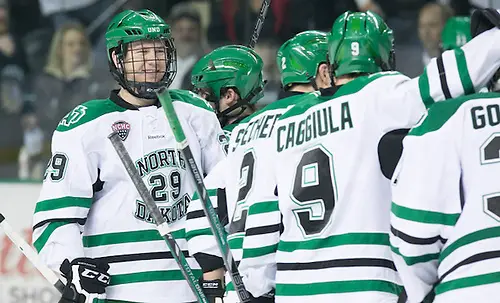 North Dakota streak continues
It's no secret that North Dakota is one of the hottest teams in the country. Since losing at home to St. Lawrence on Friday, Nov. 29, UND has gone 14-2-1 and climbed the standings to a first-place tie with St. Cloud State.
"That loss against St. Lawrence was a pretty tough one in our building," said North Dakota coach Dave Hakstol. "We scratched and clawed for a win on Saturday; it wasn't a pretty win, but we got a win. We've been scratching and clawing every day since then, in practice and in games.
"I think we are playing with good confidence now. We know what we are as a team, and we know we have to play 60 minutes to win games."
Coincidentally, North Dakota and St. Cloud face off this weekend, likely with the NCHC title on the line. UND owns the tiebreaker due to a greater number of conference wins. The second tiebreaker is head-to-head record; St. Cloud owns that so far, thanks to a sweep of UND in November.
The NCHC would name St. Cloud and UND co-champions if the two remain tied at the end of the regular season in points. In that scenario, UND would be the top seed for the tournament, unless St. Cloud were to make up the one-win differential.
While some coaches might study film of a previous game against an opponent before such a big series, Hakstol said there are more important things to work at on the ice.
"We really haven't looked at that series," said Hakstol. "We're just worrying about week in and week out here, making our game a little bit better. Back in November, they were the better team. They won two games in our building. They deserved to win those games. We're playing a little bit different hockey right now, but we have a tough task going into their building where they play very well. It's obviously a great atmosphere for college hockey."
If you look at North Dakota's stats, two things become evident: There isn't one dominant offensive force (or even two or three dominant ones, as when Ryan Duncan, T.J. Oshie, and Jonathan Toews skated together), and defense has been a critical component of UND's success. Since the St. Lawrence loss, UND has given up more than two goals only three times; two of those were losses.
"I think we've played reasonably good defensive hockey and played pretty well without the puck over the last six weeks," said Hakstol. "The six-goal night against Nebraska-Omaha [on Feb. 8] was some good play by them and some sloppy play on our part.
"It's probably a combination of a lot of little things. I think guys just paying attention to detail and working real hard without the puck, trying to limit the number of power-play opportunities we are giving our opponents, and then obviously goaltending."
North Dakota has successfully used two goaltenders this season. Zane Gothberg, who earned NCHC goaltender of the week honors for his play last weekend, has started 21 games. However, when he was injured during practice in late January, Clarke Saunders stepped in and played well.
"We don't talk too much about who's going to start the next game," Hakstol said of his two goalies. "We have two goaltenders, and like we always do, we'll make our decision either Thursday night or Friday morning for our starter on Friday. There's no game plan going in terms of platooning or just riding one guy."
North Dakota, which at one point was outside the top 20 in the PairWise Rankings, has climbed to 10th and is a strong candidate to make the NCAA tournament again. While Hakstol and his players know where they stand, they aren't making it a primary area of focus.
"We don't spend a whole of time studying and worrying about it," said Hakstol. "We know where we're at. We put our effort into trying to practice well and prepare well and win games, because ultimately, that's the determining factor of if you are going to be standing when the NCAA tournament comes around. It's whether you win or lose games; it's not what the PairWise says today or two months ago."
Brittain, Walters finalists for Senior CLASS Award
Denver goaltender Sam Brittain and Nebraska-Omaha forward Ryan Walters are among the 10 finalists for the Senior CLASS Award, which is awarded during the Frozen Four in April. The Senior CLASS Award (Celebrating Loyalty and Achievement by Staying in School), celebrates student-athletes who excel in four areas: community, classroom, character and competition.
Brittain has started 30 of 32 games for Denver and has posted a .931 save percentage and 2.09 GAA, both in the top 10 nationally, while earning four shutouts, good for third nationally. He is also third nationally in minutes played. He twice previously made the WCHA all-academic team.
Walters is second on his team in scoring with six goals and 22 assists in 30 games. He was a WCHA scholar-athlete and member of the WCHA all-academic team last season and made the Dean's List at UNO.
The winner is chosen through a combination of votes by fans, media and Division I coaches. Fans can vote for a player here.
Players of the week
Offensive player of the week — Josh Archibald, Nebraska-Omaha: Archibald notched four points on the weekend to help Nebraska-Omaha earn a split with Western Michigan. On Friday, he scored UNO's third goal early in the third period and assisted on the empty-netter at the end in UNO's 5-1 win while recording a plus-2 in the game. On Saturday, he scored UNO's first two goals, the second on a power play to put UNO up 2-1 before Western Michigan struck back and won the game 5-3. Archibald leads the NCHC in goals with 26 (he is second nationally). He has notched 27 points in conference play, which also leads the NCHC. This is the third time this season that Archibald has earned offensive player of the week honors.
Defensive player of the week — Eamonn McDermott, Colorado College: McDermott notched a pair of assists and a plus-3 rating while helping Colorado College sweep archrival Denver to claim the Gold Pan trophy, awarded to the team that wins the season series. It was the first time all year that CC had swept a series. McDermott was a force on a penalty kill unit that went 7-of-8. On Friday, McDermott assisted on the first goal of the game and blocked four shots while finishing plus-2. On Saturday, he blocked four shots and assisted on the game-winner in the third while posting a plus-1.
Rookie of the week — Luke Johnson, North Dakota: Johnson posted two goals and two assists while helping North Dakota sweep Minnesota-Duluth and move into a tie for first place in the NCHC with St. Cloud State. In Friday's 3-0 win, Johnson posted a career-high three points on two goals and an assist. He opened the game's scoring in the first period on a power play, assisted on the second goal and scored the final goal while earning a plus-2 rating. On Saturday, Johnson had an assist on a power-play goal in the second that tied the game at 2-2 and sparked a North Dakota 6-2 win. This is the second time this season Johnson has earned rookie of the week honors.
Goaltender of the week — Zane Gothberg, North Dakota: Gothberg allowed just two goals in North Dakota's weekend series with Minnesota-Duluth while posting a .970 save percentage and 1.00 GAA. He earned a shutout on Friday by stopping 33 shots, and on Saturday made 21 saves, including 23 in the last two periods of UND's 6-2 win. Zothberg, who is unbeaten in his last 12 starts, earned goaltender of the week honors for the second time this season.